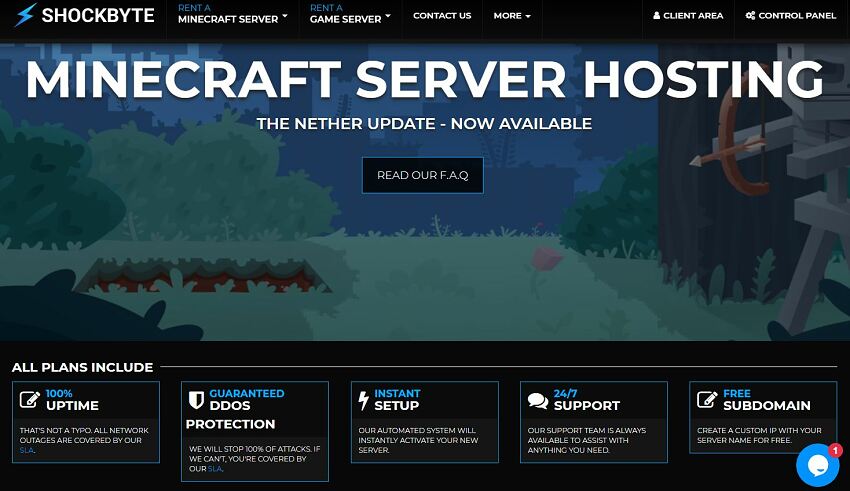 Australia-based Shockbyte began its journey in 2013 and has established a respected name in the gaming community. While Shockbyte is mainly focused on hosting Minecraft servers, it also rents out other game servers such as Valheim, Arma 3, Hytale, Rust, and Ark: Survival Evolved.
Shockbyte houses its servers in data centers in North America, Europe, Australia, and Singapore.
The Shockbyte English website is easy to browse and has a reasonable amount of information about its services.
Features and Ease of Use
When you rent a Minecraft server from Shockbyte, you'll share it with other users (players). That's why it's important to make sure that those servers are powerful enough to handle the player base and give you control of your gameplay – especially with Minecraft's enhanced visuals of creatures, characters, weapons, and more.
Shockbyte supports different versions of Minecraft servers, including CraftBukkit, Spigot, Forge, BungeeCord, Sponge, Snapshots, Vanilla, NukkitX, and PocketMine-MP. 
Here are some other key specs of Shockbyte's gaming servers:
Raid 1 NVMe SSD drives

DDR4 ECC RAM

1 Gbps network port

Intel Xeon E5-1650v4 (4.00GHz) CPU
What does that mean? It means that Shockbyte has pretty powerful hardware but not the absolute best in its tier. Find out how Shockbyte compares with other hosts in this top web hosting comparison.
There are a few technical features (for the geeks) that I like about Shockbyte, such as NVMe SSDs that perform even faster than SSD drives (6 times faster). I also like that it allows an up-to-date Java Edition and includes a Java Version Switcher. Shockbyte also supports different mod packs such as ATLauncher, Feed-The-Beast, and Technic. Also, it's compatible with MCPE, MCPC and supports custom JAR.
You can instantly set up your server and change its location/type, plugins, and mods without making any alterations to your settings.  
To make your gameplay more enjoyable, all of Shockbyte's Minecraft plans come with these features by default:
100% uptime

DDoS protection

Unlimited SSD storage

Unlimited bandwidth

Unlimited slots

Full FTP access (also enables you to migrate your existing server)

Multicraft CP

Color-coded console

Task scheduling

Free subdomains and MySQL databases
Pricing and Support
Shockbyte offers an impressive range of Minecraft hosting plans – 12 preset plans as well as a custom package you can personalize depending on your needs. The RAM varies from 1 GB to 16 GB.
Price-wise, Shockbyte's Minecraft servers range from cheap to moderate depending on your choice of plan – the Dirt package is the most affordable, whereas the Titan package is the most expensive.
On the downside, Shockbyte only provides a 24-hour money-back guarantee to test its Minecraft server hosting service. This period is not enough time to fully try and evaluate Shockbyte before making a decision.
The website has a very good knowledgebase and FAQ section that covers most major topics. If you want to get in touch with the customer support team, you can use the live chat or open a ticket (both are available 24/7). Shockbyte also has a YouTube channel with video tutorials.
I reached out to the live chat team inquiring about Shockbyte's servers, and the agent courteously provided valuable and informed assistance. Nevertheless, I came across several customer reviews mentioning difficulties with the customer support. Perhaps I was fortunate to encounter the aid I required.