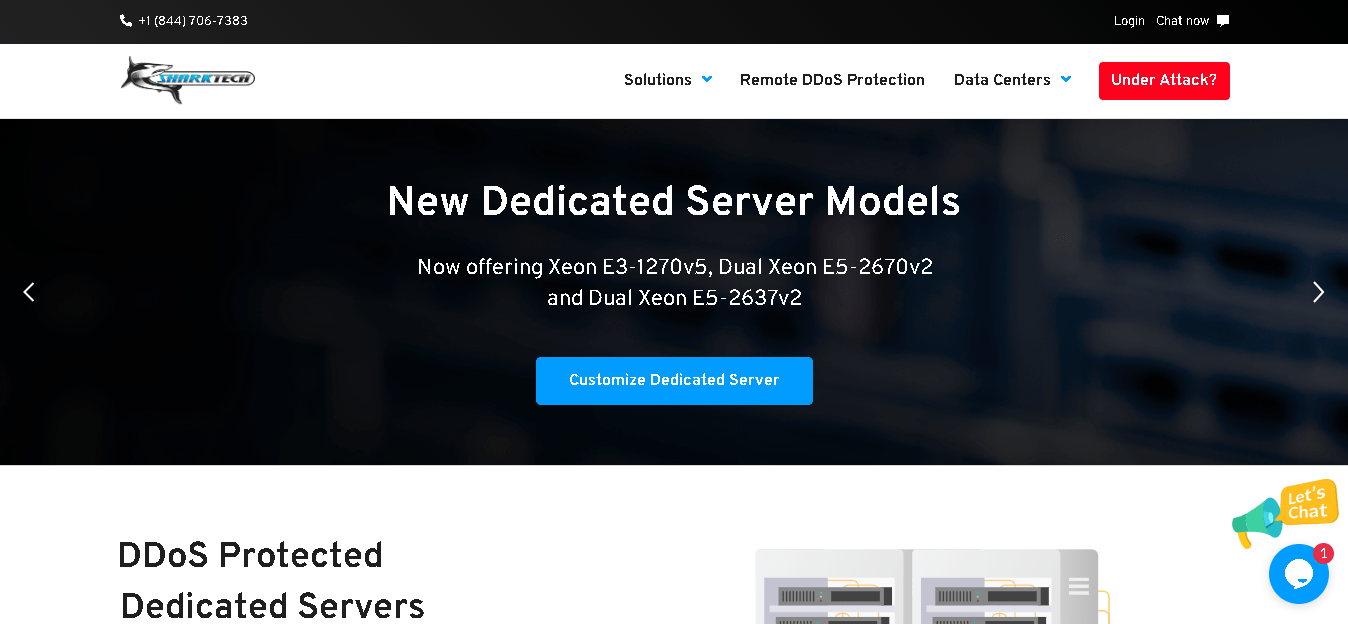 To compare the best web hosts, we hosted the same WordPress website on each one and tested performance, customer service, and value for money.
Check out the results here.
Sharktech is headquartered in Las Vegas, Nevada, U.S.A., and it has four data centers located in Los Angeles, Denver, Chicago, and Amsterdam. Its 25 employees support more than 5,000 clients with colocation services, dedicated servers, VPS, and DDoS services.
Features and Ease of Use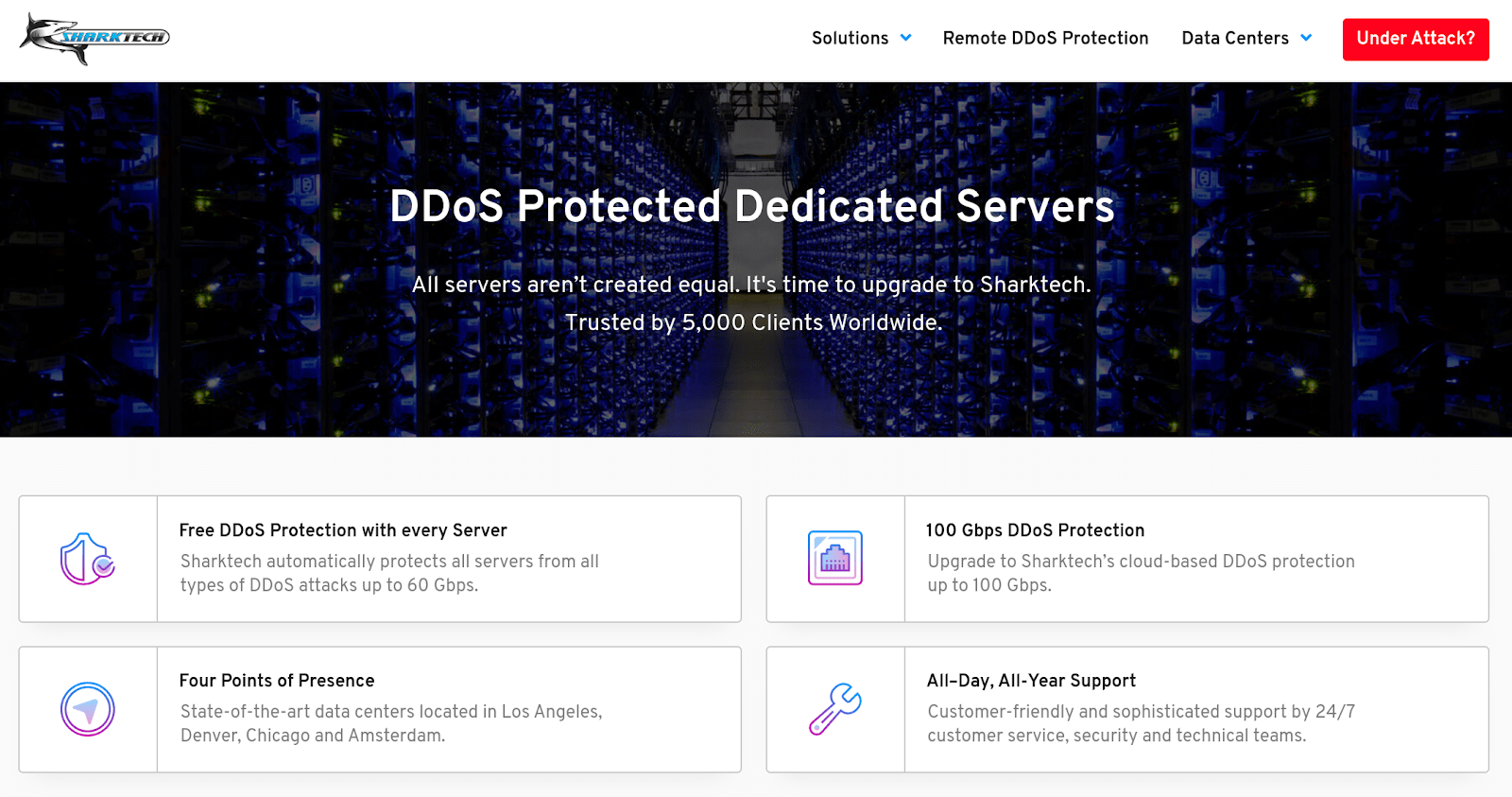 Sharktech's server solutions include the following standard features:
DDoS protection
SAS, SSD storage
RAID 5, RAID 10
Linux, BSD, Windows OS
Free setup
Servers are housed in four state-of-the-art data centers located in Los Angeles, Denver, Chicago, and Amsterdam. All the DDoS-protected servers with IPv4 addresses run on Intel Xeon and Dual Intel Xeon processors with a dual storage system that includes SAS and SSD storage in RAID 5 and RAID 10 configurations, and they are connected to 100 Gbps ports.
VPS solutions use servers with between 12 and 16 cores, and users can choose Windows, Linux or BSD as the operating system platform. Remote backups place backup data in an entirely separate data center from the originating data center.
Sharktech makes a big thing about its DDoS mitigation services that include a network intrusion detection system to tackle multi-layered DDoS attacks, plus remote network DDoS protection that deals with advanced attacks on web servers, applications, hit-and-run attacks, and significant threats.
This provider doesn't offer SSL certificates, but it does encrypt all sensitive information using SSL technology to safeguard clients' data and files.
Pricing and Support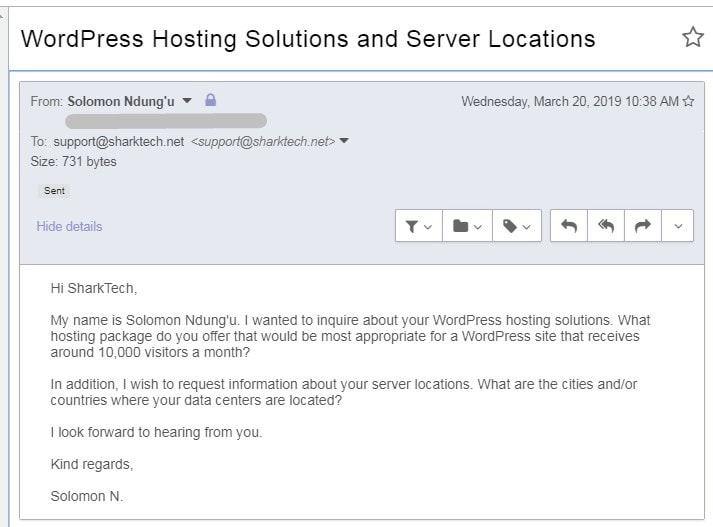 Sharktech's server plans are competitively priced. Customers can commit to a monthly subscription through this vendor's flexible billing cycle. All its prices are listed in U.S. dollars. Dedicated server clients have access to free setup.
This company claims to offer a "six 9's network uptime guarantee" (99.9999%) yet customers occasionally report with its servers. Indeed, this provider's servers have been a cause for concern for many customers; they've complained of system instability and incessant fluctuations.
Sharktech offers no money-back guarantee. In fact, the vendor categorically states that it does not give refunds under any circumstances whatsoever, but this is not as unusual for VPS and dedicated server solutions as it would be (for example) for shared web hosting plans.
You can reach out to Sharktech's 24/7 support team through live chat, email, telephone, and the ticketing system. However, I didn't receive a response to my initial email as a prospective customer.
The Sharktech website has a very sketchy knowledgebase.
How much does Sharktech cost?
Sharktech offers multiple plans priced highest to lowest. The price depends on which type of hosting plan you choose. You can see the updated pricing table (updated weekly) below.

Which Sharktech plan should I get?
My recommendation is to start with a cheaper plan. You can always upgrade later on. Sharktech can help you with the migration to a more expensive plan. The increase in visitors many times takes longer than expected and you shouldn't pay a lot of money until the need arises. Of course, your needs may vary, and you can consult with a hosting expert from Sharktech here.

How good is Sharktech's customer support?
Sharktech is not ranked as one of our top web hosts. But that can also be a result of Sharktech being a small, under the radar, hosting provider. There are advantages to a small hosting company – as a customer, you are more important to them. You can also check out our comparison of the most popular web hosting services here.