Servermx is an IT service provider of the company "Coranto Informatica di Antonio Cordeddu," a sole proprietorship firm with headquarters in Selargius, Cagliari, Italy.
According to its LinkedIn account, the hosting vendor was founded in 2013 and has a management team of up to 10 employees. It offers reliable and secure email hosting for individuals, companies, and organizations featuring WebMail, SMTP, POP3, and IMAP4.
Features and Ease of Use

Servermx provides an easy-to-use control panel specially dedicated to each one of its email-users. After you sign up for its services you also get access to the following standard features:
Attachments up to 50 MB

Catch-all account

Auto-responder email

Email aliases

Forward

Dropbox connector

CalDAV/CardDav
Its six email services – SUPER MX1, SUPER MX2, SUPER MX5, SUPER MX10, SUPER MX35, SUPER MX50 – come with 1GB, 2GB, 5GB, 10GB, 35GB, and 50GB space for each mailbox, respectively. The email services allow unlimited domain names under each account and you can customize as many domains as you want.
Customers can install and integrate their services with Dropbox connectors to help them manage their files in their Dropbox folders. Its email services allow access to SMTP, POP3, and IMAP mail servers, that work in seconds on your computer or any mobile device.
Although the vendor does not specifically say where it hosts its servers, it does state that it uses redundant servers housed in different geographic locations across the globe.
This vendor has also equipped its email services with multi-layered anti-spam filtering systems that efficiently detect unsolicited emails and stop email-borne threats before they reach your network. This is essential in restoring the user's productivity.
Pricing and Support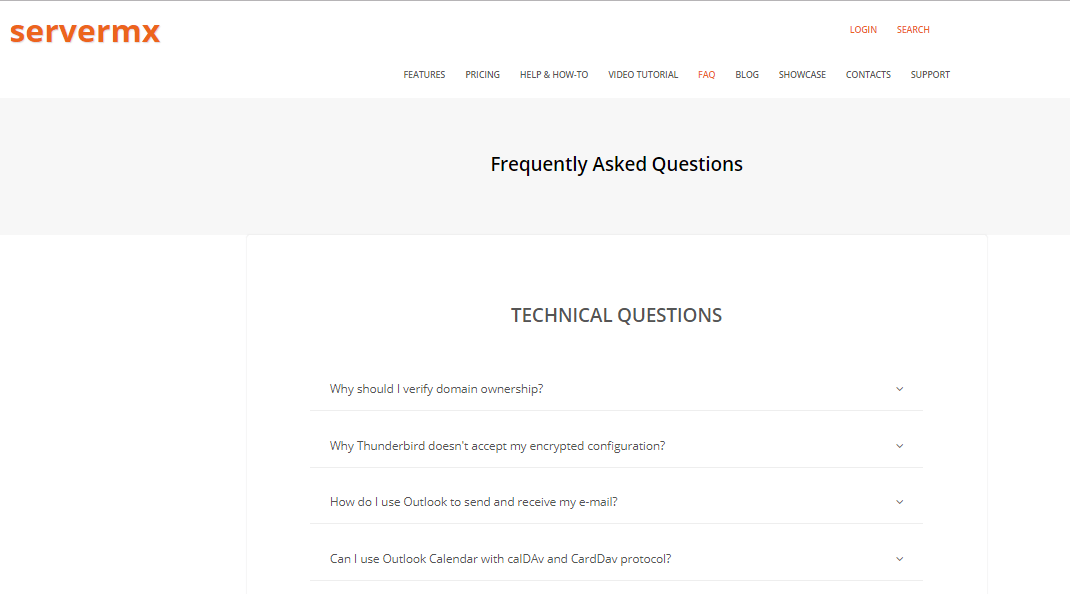 Servermx pricing plans are pocket-friendly and you get the value of your money when considering the features included. The plans come with monthly billing cycles, and their prices are listed in euros with a currency converter available with each plan to help users understand what they are paying for in their preferred currency.
There are coupons on its websiteas of the time of writing this review: 10% discount for biennial subscriptions, and up to 50 % off for customers who choose the 5th and 6th mailbox plans.
Servermx offers a minimum server availability of 99.5%, but its mail services are non-refundable.
Please feel free to contact Servermx through telephone and email, and don't forget to check out their social channels on Twitter, LinkedIn, or YouTube. Regrettably, the vendor lacks a ticketing system or live chat at the moment, and my email query to their support team remained unanswered.
Servermx has a help center with "how-to tutorials" and DIY customers can also check out its video tutorials or blogs for more about its hosting services.