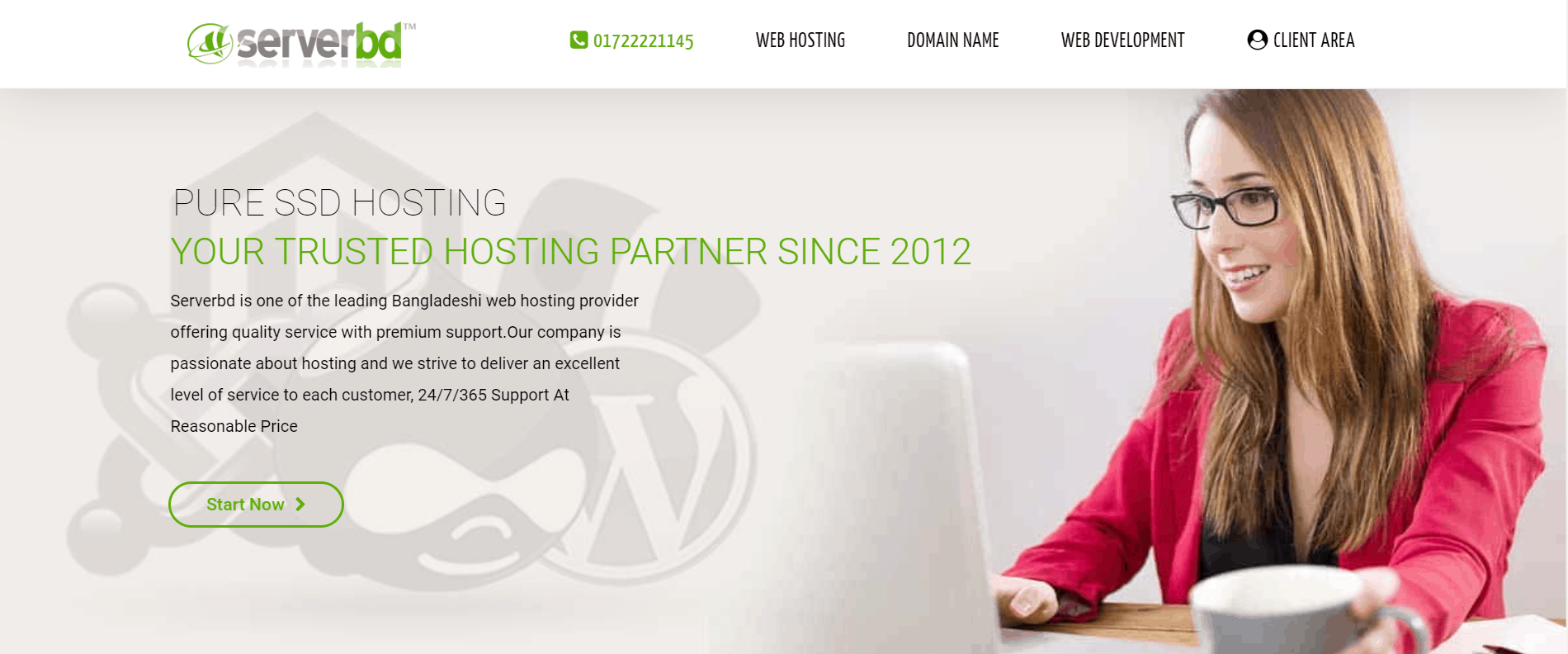 Since 2012, Serverbd has been providing different hosting options to businesses and individuals throughout Bangladesh. Their services include domain registrations, shared hosting, VPS hosting, Cloud hosting, along with premium hosted emails and SSL certificates
Features and Ease of Use
Under shared hosting, you will find five hosting plans with incremental storage and bandwidth.
1) Starter plan – 500MB storage with 10 GB monthly bandwidth
2) Economy plan – 1GB storage with20 monthly bandwidth
3) Basic plan – 2GB storage with and 40 GB monthly bandwidth
4) Deluxe plan – 5GB storage 100 GB monthly bandwidth
5) Giga – 10GB storage with 200GB monthly bandwidth

With any of the above plans, you get a good number of feature and tools to set up and manage your website and web space. Key features include:
Cloud Linux OS
24/7 support
DNS control
Daily backups
Domain transfers
99.9% uptime
Unlimited Domain add-ons
Fully managed VPS
Multiple PHP versions
Softaculous Auto Installer
Signing up with them, you get access to your admin section through cPanel, which allows you to manage the different areas of your hosting account. You can easily set up email accounts, add subdomains, access your databases, etc., all from your browser. On top of that, you are guaranteed top speeds because of the SSDs used on their servers as well as the LightSpeed web server.
Another area that they really excel is security. You cannot underscore the importance of having your website pages and data safe. They perform a daily three-step backup of your data from three different locations. This guarantees protection against data loss. And if you accidentally delete your data, you can easily restore it through your cPanel R1soft tool. The servers themselves are also secured using the Cloud LinuxOS.
The Softaculous auto installer, with over 100 open source apps, is also included. Using the installer, you can set up a database drive CMS website on Joomla or WordPress, or create a forum using the phpBB. You don't need any coding experience or knowledge.
Pricing and Support
Although their prices are in Bangladeshi Taka (BDT), once you convert them, you will realize how reasonably priced their packages are.  You can order and pay for a hosting plan using Skrill, PayPal, BKcash, or local bank deposit.
I can't say much about the customer service other than they offer two support channels. You can either make a call or open and submit a ticket. If you'd rather they call you, you can also make a request and they will get back to you later on. From the reviews I have seen online, the customer support comes across as friendly and helpful. However, that being said, I would like to see at least an email option also available.