According to the Serv-Tech.ru website's copyright footer, this hosting company has been in existence since 2014. The firm is based in Moscow, Russia, although this information is not clearly stated on its website; I had to consult with one of their reps for confirmation.
It offers a range of hosting products, namely shared web hosting, leased and rented virtual servers, dedicated servers, colocation services, and domain name registration services. The Serv-Tech.ru website is available in English and Russian.
Features and Ease of Use
If you don't have a domain name already, Serv-Tech.ru provides free .ru or .rf domain names as part of welcoming new customers. Upon signing up, users get access to a free control panel as well as ISP Manager 5 panel on their servers for easier management of their hosting resources. Other standard features included in its hosting services are:
Dedicated IPv4 address
MySQL database servers
Installed free SSL certificates
Desired version of PHP
Free daily backups
Free website migration
Serv-Tech.ru web hosting facilities are currently hosted in Tier III Dataline data centers located in Moscow, Russia.
Its servers are optimized for speed and reliability and are equipped with SSD technology for quick loading speeds of its customer's website. On these servers, users can install multiple OS distributions available, including CentOS, Debian, Ubuntu, Windows, or any OS distributions that you might own.
The hosting provider also provides users with CMS installation for Joomla, WordPress, Drupal, UMI CMS, 1C-Bitrix, and Modx.
The vendor's shared web hosting services are distinguished by the available resources: disk capacity, number of sites hosted, and databases. And you can easily change them at any time to support your growing business. Customers also get access to free daily backups that are stored on remote servers.
Pricing and Support
At Serv-Tech.ru, we offer hosting services with the flexibility of paying only for the resources you use. Our hosting plans come at fair prices and are advertised with a minimum contract duration of one month. All prices are listed in Russian rubles.
Although the hosting firm boasts of keeping your website running non-stop, it shies away from committing to an uptime network guarantee. That said, the vendor offers its users a seven-day free test period.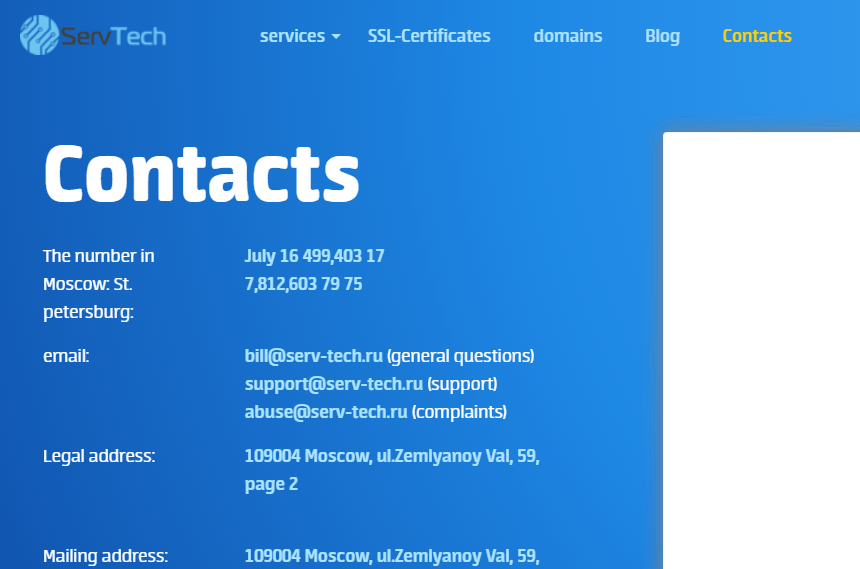 Current and potential customers can reach out to the Serv-Tech.ru support desk via email and live chat. Unfortunately, the hosting company does not seem to have telephone support or a ticketing system. The support staff is available round-the-clock and boasts of attending to its customer's queries within 10 minutes at any time of day.
I sent a query via email to this vendor's support team but never got a response.
Serv-Tech.ru does not have a knowledge base, although it does have several FAQs on its website.