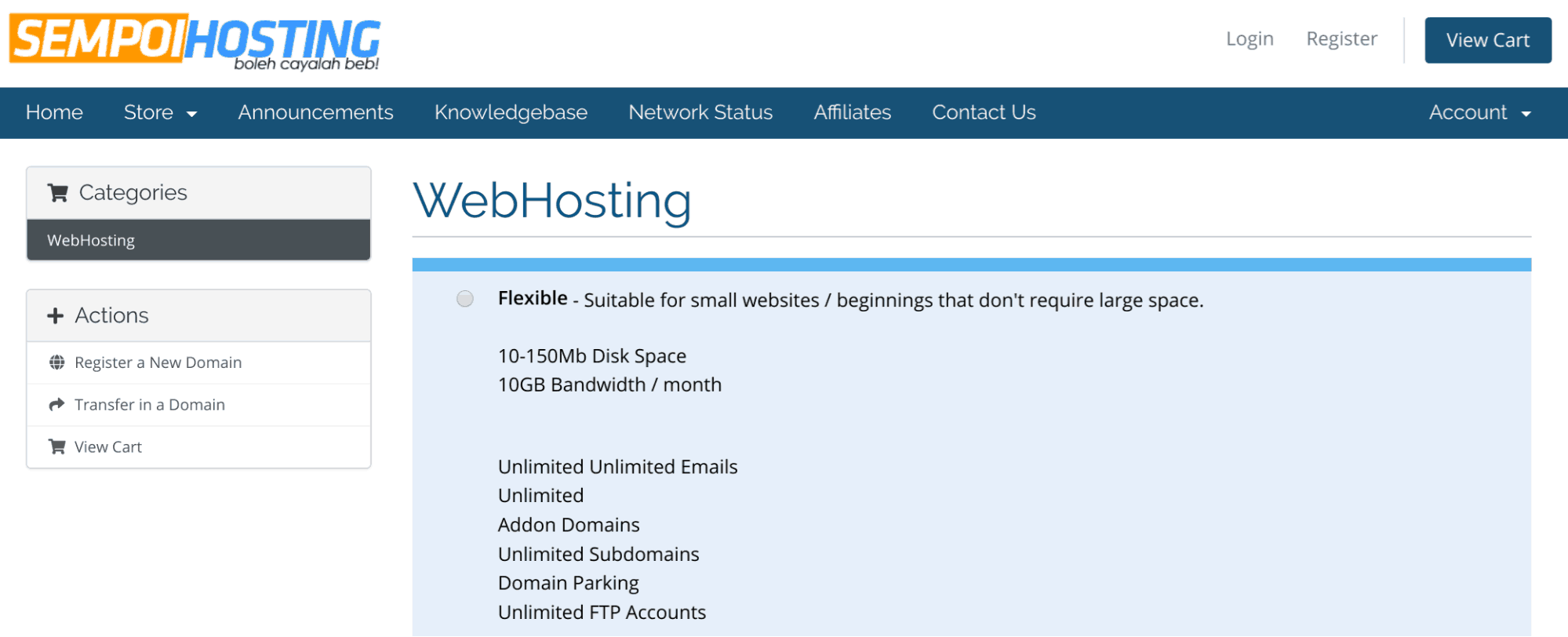 Sempoihosting is a Malaysia-based hosting company founded in 2005. With more than a decade in the hosting industry, this vendor has the necessary experience to provide reliable hosting solutions. It has in the recent past upgraded its infrastructure to offer quality and reliable hosting solutions to its customers in Malaysia and beyond. The Sempoihosting website is only available in the Malay language.
Features and Ease of Use
Sempoihosting's web hosting services include the following standard features:
Monthly bandwidth
Unlimited email
Unlimited MySQL
Unlimited addon domains
Unlimited subdomains
Unlimited domain parking
Unlimited FTP accounts
In March 2016, Sempoihosting added new hosting infrastructure, including new servers and technologies to enhance service availability and improve performance. The servers are equipped with the LiteSpeed Web Server that improves loading speeds by up to 40 times compared with Apache web servers.
Servers also come with SSDs and MariaDB databases, and one of the outstanding features is the R1Soft Server Backup Manager that customers can use to backup and restore their websites with just a few clicks. Backups are saved for 30 days.
The three hosting solutions – Flexible, eXtra, and SupereXtra – are distinguished by increasing resources. The Flexible package includes 10 MB to 150 MB disk space and 10 GB monthly bandwidth and is best suited to individuals and small websites. The eXtra package comes with disk space of between 1 GB and 5 GB, and monthly bandwidth of 30 GB. The most advanced SupereXtra package is designed for medium-sized businesses and comes with a free domain, 10 GB disk space, and 100 GB monthly bandwidth.
Sempoihosting's web hosting solutions do not offer any security features such as SSL certificates or SiteLock solutions. If you require these features or are interested in VPS or dedicated servers, you will need to explore other options.
Pricing and Support
Sempoihosting's Malaysian ringgit prices are low, especially since even the starter package seems to offer unlimited resources. But while resources are high, features are few. Sempoihosting offers a single annual billing cycle, which is quite inflexible. There is no uptime guarantee and no refund policy.
You can contact the Sempoihosting support team via the telephone number listed on their social media channels, or message them through those channels. Alternatively, you can submit a ticket, but in all cases, the support desk is not available 24/7, and there is no live chat.
When I opened a ticket, the vendor's automated email system sent back a response with my ticket number and a promise that I would "be notified when a response is made by email." They never did!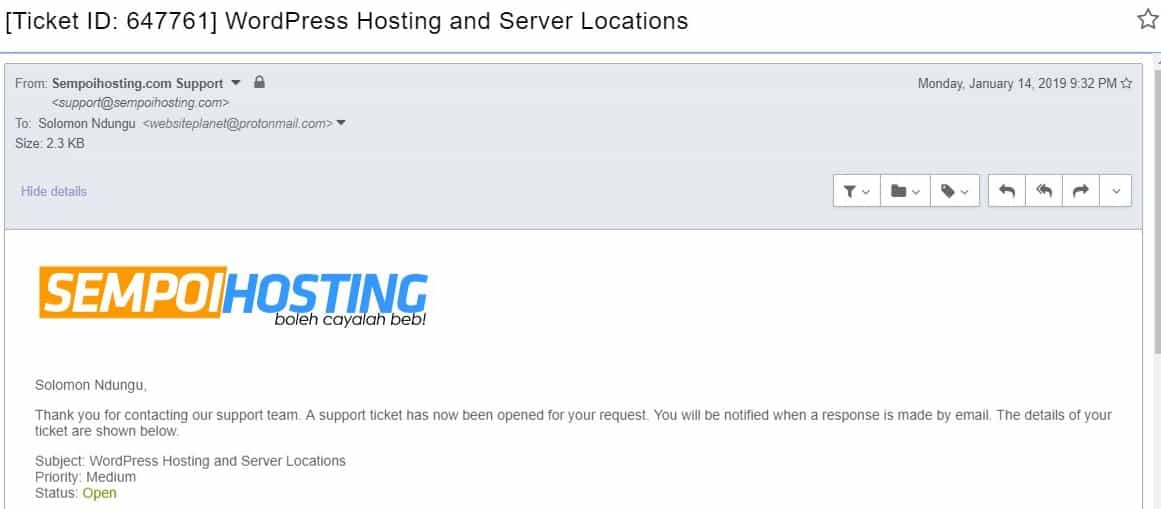 Unfortunately, Sempoihosting's knowledge base doesn't impart much knowledge at all, so you don't even have the option of supporting yourself.