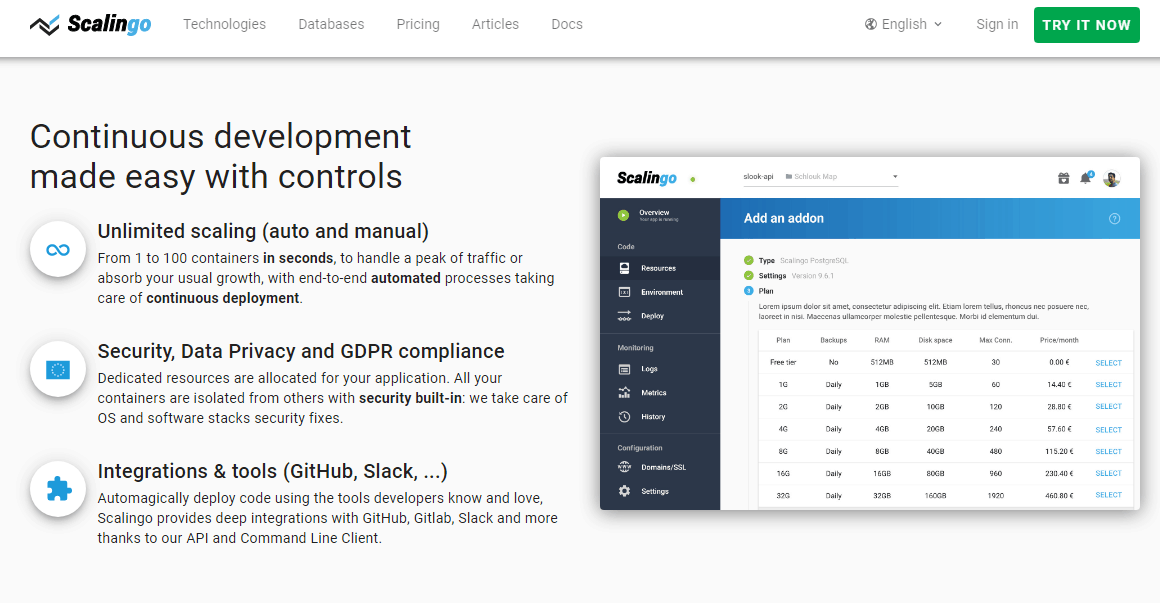 To compare the best web hosts, we hosted the same WordPress website on each one and tested performance, customer service, and value for money. Check out the results here.
Scalingo is a France-based hosting company providing web developers with production-ready application hosting services. Its services have served more than 300 teams and hosted more than 2500 applications from more than 17 countries worldwide. Its hosting services are backed by a Tier III data center located in Paris, France. The Scalingo website is available in two languages: English and French.
Features and Ease of Use
Scalingo does not offer typical web hosting solutions such as shared web hosting, reseller hosting, VPS, and dedicated server solutions. Instead, it offers production-ready applications that empower software development teams for easy management of their projects.
These cloud-related hosting solutions include PHP hosting, MySQL hosting, PostgreSQL hosting, MongoDB hosting, Redis hosting, Elasticsearch hosting, Ruby hosting, and Java hosting, among other services. The web application hosting solutions come with the following standard features:
Real-time metrics, queries, and logs

Collaborators and roles

Built-in security features

Custom domains

Let's Encrypt SSL certificates

Databases as a Service (DaaS)

GitHub integration

99.9% SLA 
Scalingo website services come with user-friendly web application controls that make it easy for website developers to work with. The vendor has availed unlimited scaling of application and users can scale both automatically and manually to help them handle the highest traffic or absorb any unusual growth, ensuring a smooth and continuous web development process.
What's more, the vendor has allocated high-end dedicated resources on its client's web application. These resources include built-in security features that take care of the OS as well as fixing the security threats of software stacks.
Scalingo solutions provide deep integration with tools such as GitHub, Slack, and Gitlab, for easy deploying of code by developers. The hosting plans also include daily backups services to safeguard files and databases.
Pricing and Support
Scalingo has a pay-as-grow model of payment to help developers optimize their hosting costs. However, it has not listed the prices of these services and you'll need to contact the vendor for more details about pricing.
All the same, the hosting vendor offers a 30-day free trial period along with a 99.9% uptime network guarantee.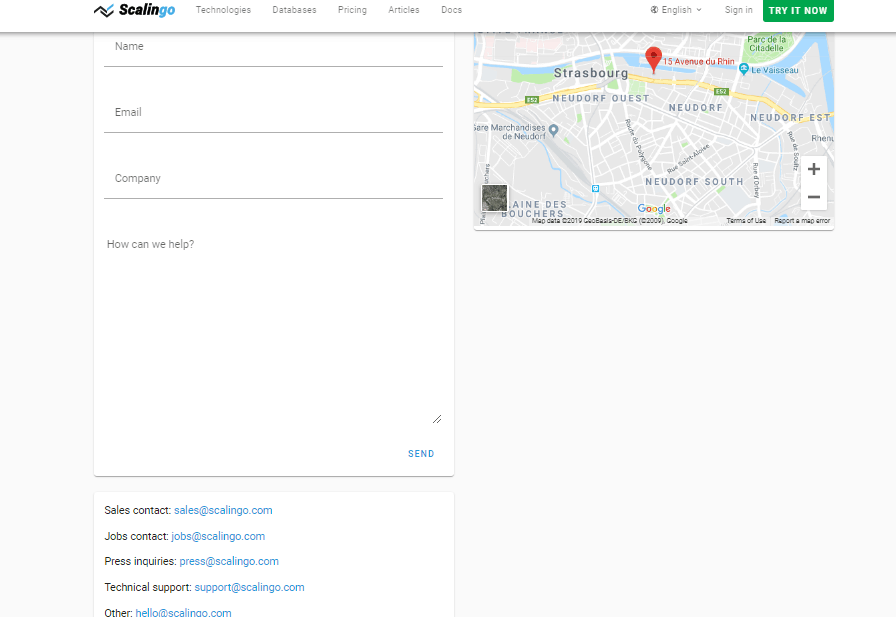 Customers can reach out to Scalingo's technical support team via email or contact form. You can also get in touch with the vendor via its social media channels, including Facebook and Twitter. Unfortunately, the vendor does not have a telephone number, ticketing system, or live chat support. It took them just six hours to respond to the query I sent them via email.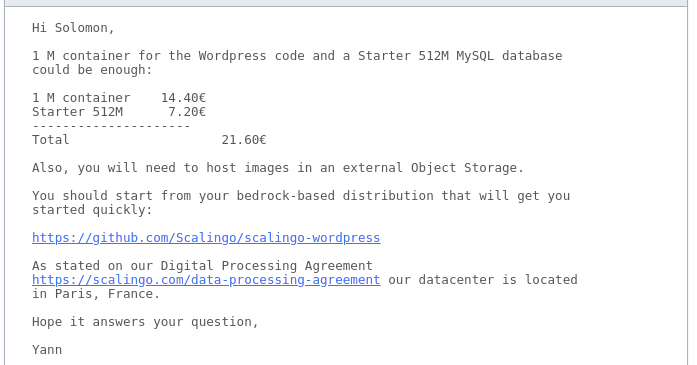 Scalingo has yet to put up a knowledge base section on its website.
How much does Scalingo cost?
Scalingo offers multiple plans priced highest to lowest. The price depends on which type of hosting plan you choose. You can see the updated pricing table (updated weekly) below.

Which Scalingo plan should I get?
My recommendation is to start with a cheaper plan. You can always upgrade later on. Scalingo can help you with the migration to a more expensive plan. The increase in visitors many times takes longer than expected and you shouldn't pay a lot of money until the need arises. Of course, your needs may vary, and you can consult with a hosting expert from Scalingo here.

How good is Scalingo's customer support?
Scalingo is not ranked as one of our top web hosts. But that can also be a result of Scalingo being a small, under the radar, hosting provider. There are advantages to a small hosting company – as a customer, you are more important to them. You can also check out our comparison of the most popular web hosting services here.