Santranico is a truly international web hosting provider with registered offices in the U.K., U.S.A., and Algeria, and with hosting services delivered from data centers in the U.K., U.S.A., Australia, Finland, and Bulgaria. 
Their website is in English.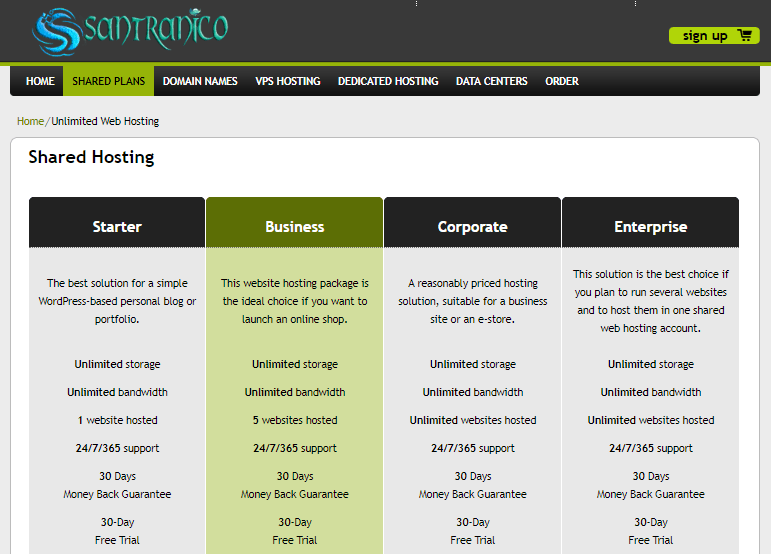 Features and Ease of Use
Santranico offers shared hosting, virtual private servers, dedicated server rental, and domain registration. As standard, their shared hosting plans come with the following features:
99.9% network uptime guarantee

 

Daily data backups

 

Domain registration (free with some plans)

 

From one to unlimited add-on domains

 

Free SSL certificate generator

 

Unlimited disk space and bandwidth
Santranico offers some beginner-friendly features including their home-grown Hespia control panel (which they consider to be better than cPanel), a one-click installer (for only 50 programs), and a website builder with more than 800 readymade templates. For experts, they support for PHP 4, 5, and 7, plus advanced scripting languages like Node.js, Python, and Perl.
They also provide website visitor certificates, SSH and FTP access, and application-specific hosting for WordPress, PrestaShop, OpenCart, Joomla, Drupal, and Moodle.
All plans come with unlimited disk space and unlimited bandwidth (with the usual caveats that 'unlimited' can never really mean truly unlimited). Also, whilst this provider purports to back its 99.9% uptime guarantee with an SLA, they do not actually offer any compensation if they fail to meet this mandate.
With world-class data center partners in various parts of the world, you get to choose where you want your website to be hosted.
Pricing and Support
Whether you're looking for U.K., U.S., or Australian hosting, you will see prices displayed initially in U.S. dollar amounts, but you'll see the equivalent GBP, EUR, AUD or CAD equivalent amounts at the checkout.
Unfortunately, their prices are pretty high when compared to other companies with servers in the same locations. But that said, they do include unlimited bandwidth, unlimited disk space, and a free shared SSL certificate. You pay extra for domain registration.
They provide a 12-month billing cycle as their only option, but you might feel more comfortable with their 30-day free trial and 30-day money-back guarantee, which can help alleviate any concerns about committing for such a long duration.
Santranico's 24/7/365 customer support service commits to one-hour response times, with the actual average response time being 20 minutes. You can contact the company via an online contact form, email, live chat, telephone or ticket. When I tried their live chat, they picked immediately and provided a polite, well-informed response within seconds. Their support center also includes video tutorials and FAQs, and there is a link to check the status of your server.
How much does Santranico Web Hosting cost?
Santranico Web Hosting offers plans from $6 to $23. The price depends on which type of hosting plan you choose. You can see the updated pricing table (updated weekly) below.

Which Santranico Web Hosting plan should I get?
My recommendation is to start with a cheaper plan. You can always upgrade later on. Santranico Web Hosting can help you with the migration to a more expensive plan. The increase in visitors many times takes longer than expected and you shouldn't pay a lot of money until the need arises. Of course, your needs may vary, and you can consult with a hosting expert from Santranico Web Hosting here.

How good is Santranico Web Hosting's customer support?
Santranico Web Hosting is not ranked as one of our top web hosts. But that can also be a result of Santranico Web Hosting being a small, under the radar, hosting provider. There are advantages to a small hosting company – as a customer, you are more important to them. You can also check out our comparison of the most popular web hosting services here.