To compare the best web hosts, we hosted the same WordPress website on each one and tested performance, customer service, and value for money.
Check out the results here.
Safenames is primarily a domain registration company, but has also extended their portfolio of services to include different kinds of hosting including cloud servers, dedicated servers, and colocation. Founded in 1997, they're headquartered in the U.K. but have offices all over the globe.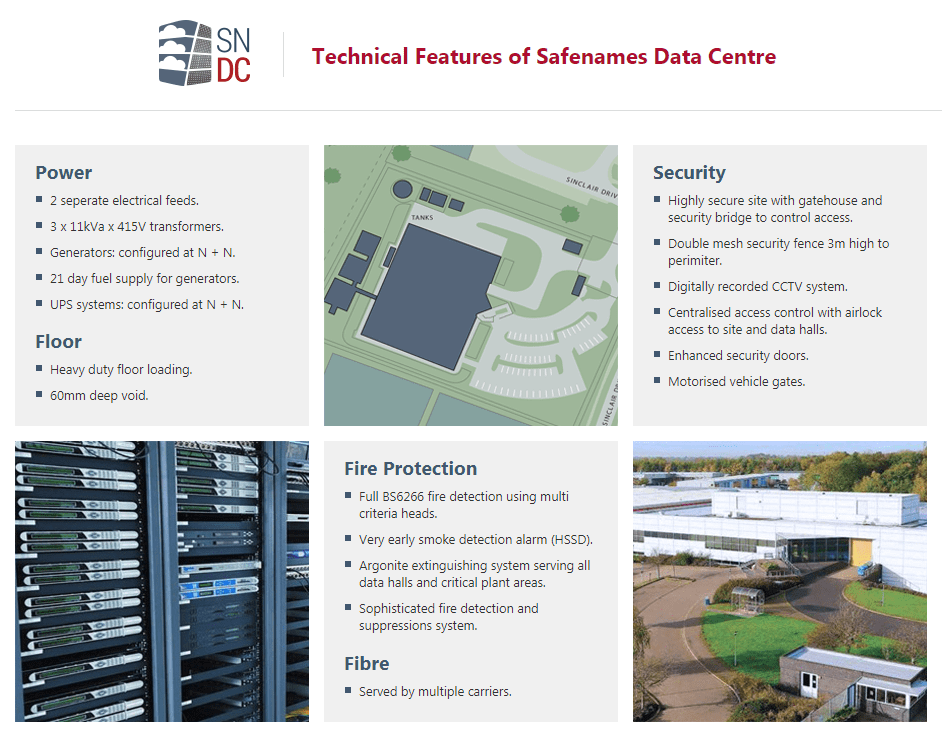 Features and Ease of Use
Safenames offers cloud server and dedicated server hosting, so their solutions are more appropriate for companies with complex needs or enterprise-scale operations rather than individuals looking to carve out a basic online presence. Their dedicated hosting services are primarily for customers that have online businesses and receive a lot of traffic and frequently process online payments. Their end-to-end solutions target medium to large-sized organizations, providing them with solutions built on reliable infrastructure. Most of the hardware used in the setup of their servers come from renowned companies like IBM, Dell and Compaq.
Both Windows and Linux operating systems are available with their dedicated hosting services. Applications running on MSSQL, MySQL and PostgreSQL can easily be run on their systems. Excellent server monitoring protocols ensure all the hardware and necessary protective measures are in place, achieving an average 99.9999% uptime. Server backups are always available and users can easily restore their website to a previous state.
Since they operate their own Tier 3 data center, they have the ability to accommodate all sorts of customer requirements. This includes scaling up in the future if your business takes off. As long as you can tell them what your exact requirements are, they will happily make the resources available.
Pricing and Support
Safenames doesn't offer any packages for you to choose from. Rather, you have to get in touch with them with your exact requirements and ask for a quote. They only list the minimum prices their services would cost and while that isn't a clear indicator of their pricing structure, it does confirm that they're neither a budget hosting service nor an overly expensive option. They've got excellent SLAs in place as well, and they have the capability to fulfill any type of business requirements around the world.
You can easily get in touch with them using their local telephone numbers and email addresses for each country they operate in. However, they don't offer live chat support, and their response time is up to three days, which is quite lengthy by today's standards. Nevertheless, when I emailed them over the weekend to inquire about their pricing structures, they surprisingly replied within a few hours.
How much does Safenames cost?
Safenames offers plans from $99 to $1999. The price depends on which type of hosting plan you choose. You can see the updated pricing table (updated weekly) below.

Which Safenames plan should I get?
My recommendation is to start with a cheaper plan. You can always upgrade later on. Safenames can help you with the migration to a more expensive plan. The increase in visitors many times takes longer than expected and you shouldn't pay a lot of money until the need arises. Of course, your needs may vary, and you can consult with a hosting expert from Safenames here.

How good is Safenames's customer support?
Safenames is not ranked as one of our top web hosts. But that can also be a result of Safenames being a small, under the radar, hosting provider. There are advantages to a small hosting company – as a customer, you are more important to them. You can also check out our comparison of the most popular web hosting services here.