Rusonyx was founded in 2001 bringing VPS technology to Russia and has developed technologies that have revolutionized the tech world, like container virtualization. Rusonyx prides itself on having efficient servers which are known to meet the Tier 3+ reliability level in addition to the international standards.
Features and Ease of Use
Rusonyx offers different kinds of hosting services that have good features across packages. It offers the following features for its shared hosting services:
Large HDD Storage
SSD Storage
Plesk Control Panel
PHP
MariaDB 10.1
Up to ten sites
Up to ten MySQL Databases
SSL certificate
Virtuozzo licenses
99.98% Uptime Guarantee
Convenience is one of the most attractive features in web hosting and this is exactly what Rusonyx has in store for you. There is a convenient control panel with a main panel as the central place for managing services like bill payments, ticketing support, and other additional services. There's also a mobile application compatible with Android, iOS, and Blackberry, which lets you monitor the status of your server anywhere and anytime.
Dealing with high loads and intensive projects has been made easier with Rusonyx. The incredible thing about this service is that you get a server that is actually ready for work with a very high-quality administration service, instant server activation, and compatibility with 64bit OS. If you're skeptical about using an untried service, not to worry, you can take advantage of the offer of seven days of free VPS hosting.
Pricing and Support
With the high level of innovation and intellect in the Rusonyx team come very affordable packages, with each package better than the previous and tailored to meet all your hosting needs.
Rusonyx also offers well-illustrated payment methods and great promotions to their customers as a way of showing appreciation. The company can be contacted via phone, email, and live chat, with 24/7 support and a listed average response time of 17 minutes.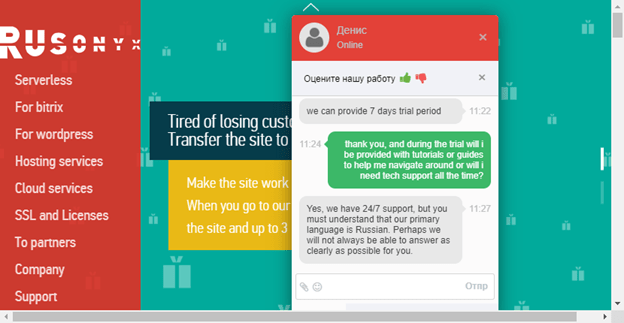 There is also a highly informative knowledge base that will provide answers to all your questions and give you valuable insights into the various aspects of the web hosting services. The website and support system primarily use Russian, but you can also receive assistance in other languages, and their response time is quite good.