Over the years, Ribap Hosting has grown to be an expert at providing superior quality and reliable web hosting services serving business enterprises worldwide.
As stated by its copyright footer, this hosting company has been around since 2004. It is based in the United States, but it has offices in the U.K. and Australia, as well. The Ribap Hosting website sells a range of hosting products, including shared web hosting, VPS, dedicated servers, and CMS hosting (WordPress, Joomla, PrestaShop, Drupal, Moodle).
Features and Ease of Use
Ribap Hosting boasts of meeting and surpassing the basic criteria for hosting all types of websites, including WordPress-driven sites, among others. Some of the standard features you can expect from its hosting solutions include:
Unlimited disk space

Unlimited traffic

Free domain name

30-day free trial

Latest edition of Apache

MySQL databases

PHP support

One-click WordPress installation
With Ribap Hosting, you get to choose a hosting plan from three locations – the United Kingdom, the United States, and Australia– based on the ideal location closest to your business. Other data center locations include Bulgaria and Finland to ensure fast website access for visitors across Europe and the Russian Federation.
Although the hosting company offers application hosting services, users can also easily install over 40 popular scripts, including Joomla, OpenCart, WordPress, and Drupal, thanks to the one-click app installer. Customers are also offered tools such as website builders and cost-free web design themes with everything fully automated to help them easily launch and design their websites even without any coding skills.
All of the plans come with daily backups, and with dedicated servers, backups are also a bonus feature. The backups are created on the vendor's servers and you get to choose the right kind of RAID hard disk for data protection in the case of disk driven hardware failure.
Pricing and Support
Ribap Hosting web hosting plans are not the cheapest, although they offer features with very few limitations. The hosting plans come with inflexible billing cycles, where users have to subscribe to a minimum contract of at least one year. Prices are in several currencies: U.S. dollars, euros, British pounds, Australian dollars, and Canadian dollars.
All of the vendor's web hosting packages include a 30-day free trial period, which users can enable as soon as they create an account. Also, the vendor offers a 99.9% uptime guarantee and if you are unsatisfied with its hosting speeds, you can make use of its 30-day money-back guarantee policy.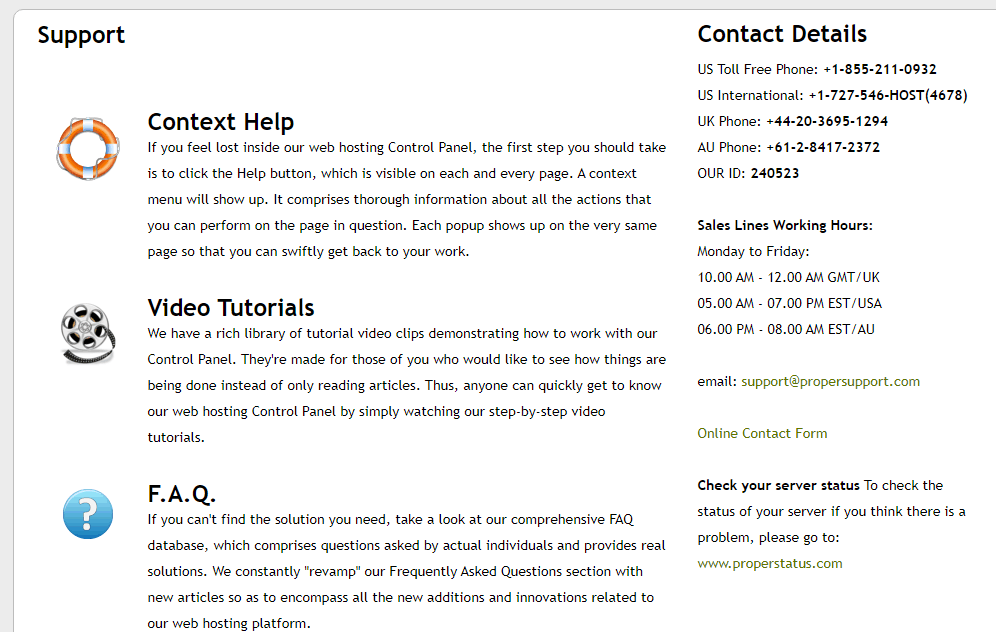 Customers can access sales lines on Monday through Friday during working hours, depending on their location. The support desk is additionally accessible through the ticketing system, email, or live chat.
For more information, DIY customers can checkout its help center with quite a lot of helpful articles as well as video tutorials available on the vendor's website.