The idea to launch RevenueServer was conceived in 2013, by a then 18-year-old teenager who is now the current CEO, Daniel Jacob. The hosting company's operating address is in Queensland, Australia.
Due to its persistence in offering world-class hosting services that are driven by cutting-edge technology, today this company has a growing client base of 18,000+ consisting of individuals and companies worldwide. It sells bulletproof services (web hosting, Swiss VPS, and streaming servers), offshore servers, and offshore hosting solutions.
Features and Ease of Use
RevenueServer's cloud solutions are powered by the easy-to-use cPanel control panel with rock-solid security for guaranteed privacy. As standard, the hosting solutions come with the following features:
Unlimited monthly bandwidth
Unlimited MySQL databases
Free SSL certificates
Nginx + API support
100% uptime guarantee
DMCA ignored
Free data migrations
With its hosting plans, you get to experience blazing fast page loading speeds since your website account is hosted on ultrafast SSD storage servers. Your website data is integrated with DDoS protection preventing dreadful online threats and DDoS attacks.
In addition to the cPanel control panel, users can install other panels on their VPS: Plesk or Webuzo. But if you purchase a control panel from the vendor, it will take care of installing the control panel for you.
Its virtual servers are hosted in several locations across Europe, including Russia, Romania, and the Netherlands. This allows users to choose the location closest to their target audience to offer the lowest latency and best possible webpage loading times.
Although its hosting solutions are built with cloud infrastructure, the vendor restricts shared hosting customers from uploading audio, video files, or big backups as they require more resources that could interfere with the performance of shared accounts.
Pricing and Support
RevenueServer offers fairly priced hosting plans. Additionally, it provides discount coupons for certain plans: 70% off on DMCA ignored hosting and 20% off on offshore VPS hosting, along with a lifetime free domain name and SSL certificates. The prices are listed in U.S. dollars.
All dedicated servers are connected to a high-performance network with a 99.95% uptime guarantee, while its SSD offshore VPS solutions guarantee up to 100% server availability. All the same, once payment has been made, there are no refunds.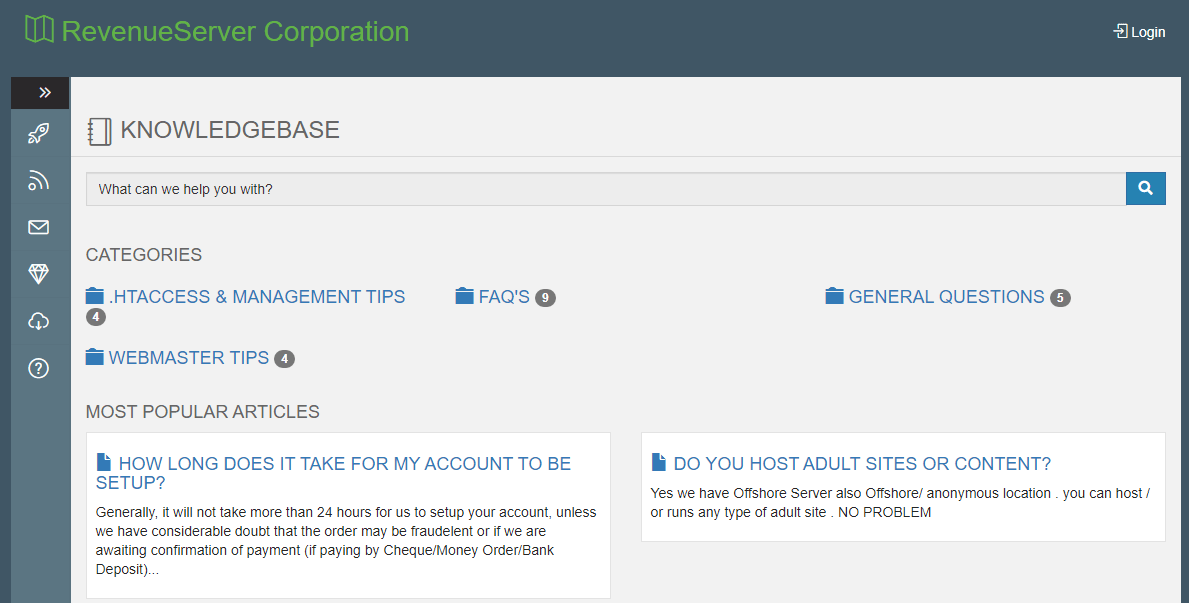 For assistance, customers can reach out to RevenueServer via the ticketing system or live chat. That said, the vendor does not seem to have a telephone or email support. Its technical support staff is available 24/7 and boasts of fast response times within 10 minutes.
All the same, I sent them a message via the ticketing system but did not get a response.
The website has a blogging section, although its knowledge base is quite limited.