RedX is a small hosting company that simply isn't a match for big brands like
Hostinger
. The bigger hosting companies simply offer a better price for similar configuration.
For over 18 years, RedX, an Israeli website hosting vendor, has been the go-to hosting solutions provider for many people and businesses in Israel and beyond. Over the years, the company has gained a reputation as a one-stop hosting service provider for those who want a simplified solution for their websites. The RedX website is only available in Hebrew.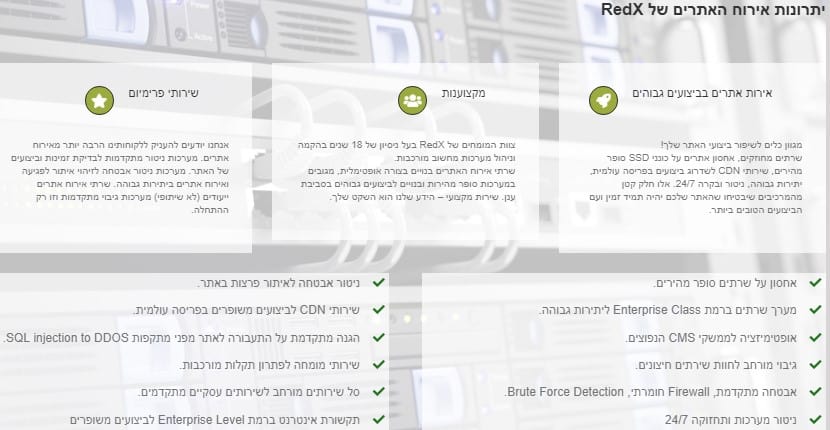 Features and Ease of Use
Over the years, RedX has continued to perfect is service offerings to its customers across Israel. Today, these are some of the features it typically includes in its different hosting plans:
Free technical support for all packages
No setup fees
99.9% system availability guarantee
Instant deployment
Several tools and databases for self-management
These are some of the features that have contributed immensely to the growth of RedX so far, and are likely to continue shaping its growth patterns well into the future:
Comprehensive one-stop shop – RedX is designed by some of the most experienced web hosting professionals in Israel as an all-inclusive, hosting solution for businesses whatever the size. The solution is flexible enough to align with the particular needs of any user.
Becomes better with time – RedX has been practicing the principle of actively using customer feedback to improve its service offerings. Today's hosting solutions are a reflection of over 18 years of customer feedback
Round the clock service monitoring – RedX hosting solutions offer operations services specifically designed for critical systems and round-the-clock monitoring. The vendor has system experts who constantly monitor every aspect of the servers to identify and address any critical issues, thus preventing system malfunctions.
Pricing and Support
RedX offers reliable and robust hosting solutions backed by powerful servers in data centers across Israel. The cost of RedX hosting plans is within reason, especially given the many features you get with each plan. Indeed, I found that RedX hosting prices are pretty much the standard prices you will get for website hosting. RedX has no money-back guarantee, no free hosting package, and no free trial period for any of its hosting plans. That said, it has thousands of satisfied customers who would vouch for its hosting solutions.
The RedX support team ensures that you receive satisfactory answers to every question you ask about its hosting plans. It is available 24 hrs a day, 7 days a week. The company also offers VIP customer support, full end-to-end support for any of their customers who need it as well as round the clock personal support services. These premium support services are quite unique and have long made the company stand out among the industry's leading hosting vendors in Israel. What's more, this support team is professional and has a fast response rate.
To get in touch with RedX customer support, you can use their live chat feature, give them a call, chat with them on WhatsApp, use their customer service portal, or send them a message via their website contact form. In my experience, RedX support team delivers the premium support services that it promises its customers. The support team responded to my email in under 10 minutes and the live chat was practically instantaneous.