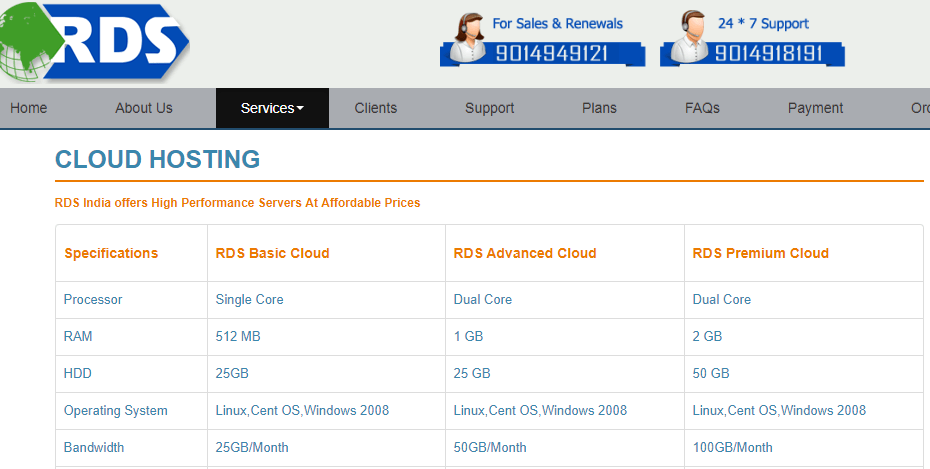 Ramadevi Software Pvt. Ltd., popularly referred to as RDS India, is a web hosting company founded in 1995. The hosting firm was started with a vision to providing reliable hosting solutions at very affordable prices to its customers in the Indian market and abroad. Today, RDS India has emerged as a leader in web hosting, data center solutions, and dedicated servers as well as web design services.
Features and Ease of Use
RDS India web hosting solutions come with the following standard features:
cPanel/Plesk control panel

PHP, Perl, ASP support

MySQL, MS Access, and MSSQL databases

FTP accounts

Windows or Linux servers

24/7 technical support

IIS or Apache web servers
RDS India has extensively invested in creating a state-of-the-art development center equipped with the latest hosting infrastructure. It markets itself as one of the few hosting companies in India that owns over 50 web servers housed in California, in the United States. The data center is integrated with OC12 lines connectivity that connects all of its servers, ensuring high availability of the servers.
The hosting company's web solutions run on Intel Xeon processors with Duo and Quad-core processors and come protected with two-tier firewall systems. This way, the security and reliability of the servers are always guaranteed so that customers can put their focus solely on building their websites.
However, all of its servers only use the traditional HDD storage system, which is quite slow when compared with modern SSD storage systems that most vendors have deployed on their servers.
RDS India hosting solutions are powered by either Linux or Windows OS platforms; these include Windows 2003 and 2008, as well as CentOS Linux servers that come with cPanel control panel and multiple Parallels Plesk control panel.
RDS India maintains that customers should be responsible for making their own backup copies. Its hosting services also do not include free SSL certificates, but the firm offers SSL certificates as add-on packages.
Pricing and Support
RDS India web hosting plans are quite cheap, especially the Linux server plans. While some of its hosting solutions are billed monthly, others include only annual pricing options. Prices are listed in Indian rupees.
This vendor's in-house hosting systems provide the industry-standard uptime guarantee of 99.9%. That said, none of RDS India web hosting services include a free trial or money-back guarantee.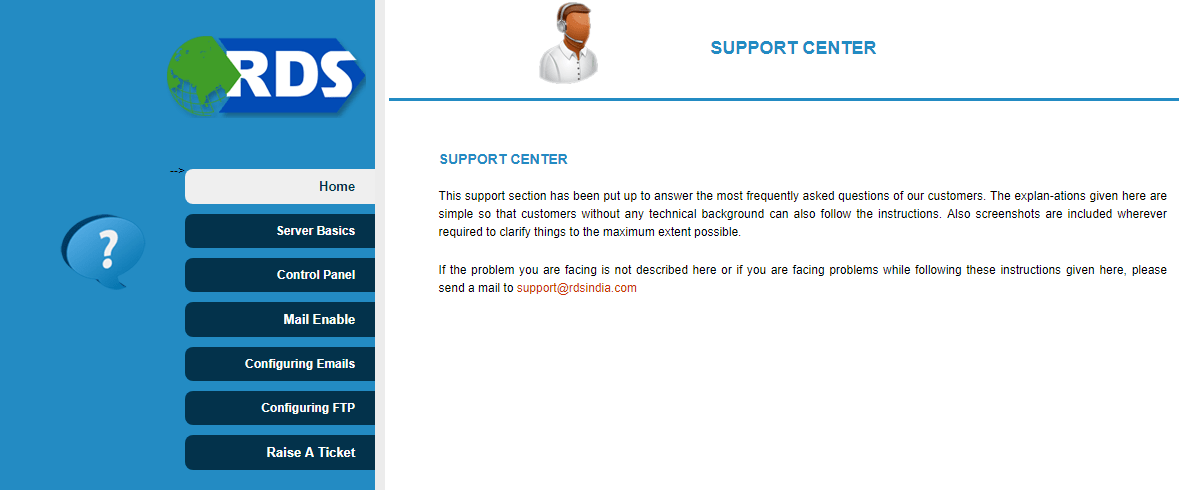 Potential customers can contact RDS India's customer support desk via several channels: telephone, email, or ticketing system. However, the link to the ticketing system is invalid. Moreover, the vendor does not have live chat support. Customers can access the support service from only 10:00 AM to 6:00 PM India Standard Time.
RDS India has set up an FAQ section with supportive Q and A articles.