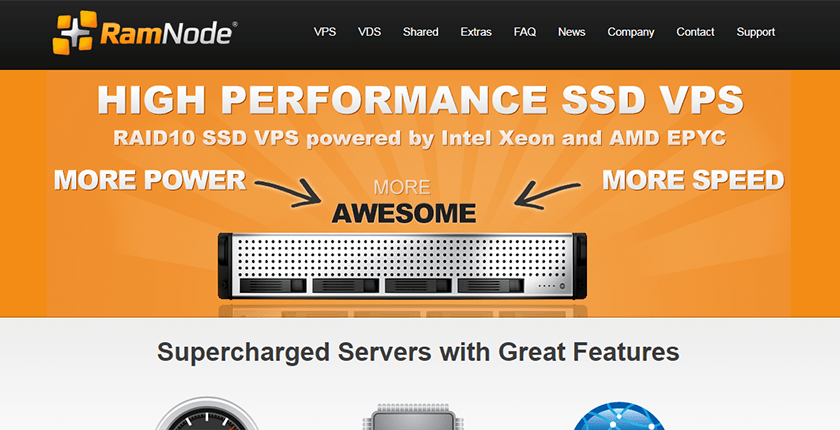 To compare the best web hosts, we hosted the same WordPress website on each one and tested performance, customer service, and value for money. Check out the results here.
RamNode is a U.S.-based hosting company that's been in business since 2012. They offer share storage solutions providing unlimited domains, ample storage, and a 99.9% uptime guarantee. It is a solid choice for most personal and small business websites.
Features and Ease of Use
RamNode offers standard shared web hosting with above-average uptime and one of the best auto-installers in the industry. Some of the basic features include:
Free migrations for cPanel-based websites
99.9% uptime
Softaculous auto-installer
cPanel access
Daily backups
Free website migrations
RamNode provides multiple value-added features that cater to various needs, such as conducting email marketing, hosting multiple sites, or managing sites with strong encryptions like E-commerce sites. Some of their value-added features include:
Unlimited SSL certificates
Unlimited bandwidth
Unlimited domains
Unlimited emails
Unlimited databases
This site is appropriate for most personal sites and most small business sites. The platform is straightforward but appears to lack the features that power users look for.
While RamNode doesn't offer a drag and drop builder, they do provide the Softaculous auto-installer which will install WordPress and over 300 different scripts including CRM software, E-commerce software, and more. The site uses the latest cPanel technology, allowing power users to set up their websites quickly.
Pricing and Support
RamNode only offers two forms of shared hosting, Shared, and Reseller. With shared hosting you get unlimited databases and bandwidth with 15 GB of storage. With Reseller, you can set up sub-accounts to sell hosting to others. You get the same features as Shared with 100GB of storage.
Shared hosting should be more than adequate provided you don't host multiple sites requiring massive storage requirements. You don't have to sell hosting to take advantage of the Reseller hosting. It is not much more expensive, and you get 100GB of storage.
Note that RamNode does not offer free domains for their plans, nor do they offer domain registration services. You must sign up for your domain name separately and transfer it to RamNode.
RamNode's support is decent but has room for improvement. Their knowledge base is impressive and has answers for over 400 topics. Otherwise, your only option for contacting technical support is through an online ticket.
RamNode offers an unusual form of support, an IRC community support forum. That's right, a web-based, old school IRC chat channel. The channel is quite popular, and the members are helpful. However, they are not members of RamNode's support staff.
Hosting services should, at a minimum, offer online chat support for their customers, so the lack of live chat and phone support is disappointing.
How much does Ramnode cost?
Ramnode offers plans from $4 to $8. The price depends on which type of hosting plan you choose. You can see the updated pricing table (updated weekly) below.

Which Ramnode plan should I get?
My recommendation is to start with a cheaper plan. You can always upgrade later on. Ramnode can help you with the migration to a more expensive plan. The increase in visitors many times takes longer than expected and you shouldn't pay a lot of money until the need arises. Of course, your needs may vary, and you can consult with a hosting expert from Ramnode here.

How good is Ramnode's customer support?
Ramnode is not ranked as one of our top web hosts. But that can also be a result of Ramnode being a small, under the radar, hosting provider. There are advantages to a small hosting company – as a customer, you are more important to them. You can also check out our comparison of the most popular web hosting services here.