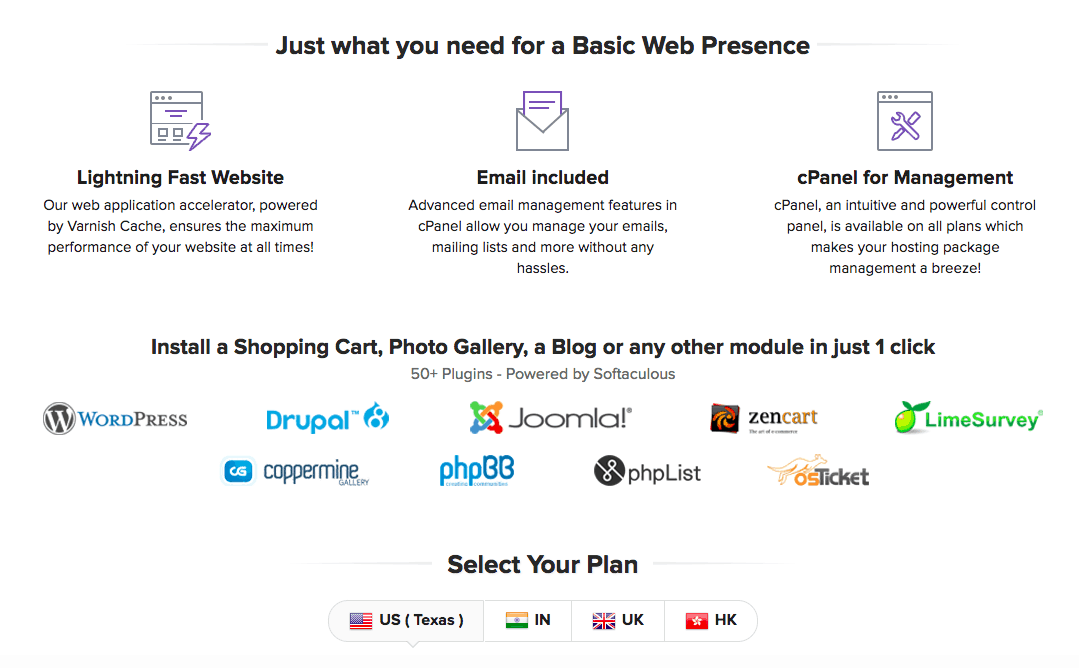 QUALITY DOMAIN SOLUTIONS (QDS) is an Australian based hosting provider offering a wide range of services. Uniquely, its
data center is a cluster of globally distributed redundant servers
. The website is available in English.
Features and Ease of Use
QDS offers a range of services from domain registration to website hosting and website building tools. The shared hosting plans come with the following core features:
99.9% uptime, not backed by an SLA
Data backups every five days
Domain registration available
Up to unlimited add-on domains
SSL certificates available
Unmetered disk space and bandwidth
This company has servers distributed all around the world, so when you select your hosting package, you can choose whether you would like your servers to be collocated in the U.S., India, U.K., or Hong Kong.
Obviously, with this model, it would be impractical for QDS to own all of the data centers, however, always bear in mind the downsides (slower response time to issues and increased risk of overselling resources) of using a company which collocates, instead of owning its own center.
In terms of features, there's a lot, which is great. Beginners get a Softaculous one-click installer, which comes with a low number of programs (50 as opposed to 300 or 400 offered by other companies), however, all of the popular programs are included e.g., WordPress, Joomla!, and Drupal.
There's also integration with a few different website building tools; Weebly, Website Builder, and Impress.ly (for apps), as well ready-made themes, plugins, and logos for you to use on the website. Of course, these all come at an extra cost, however, it's helpful for beginners to get started easily.
Experts will find support for PHP 5.2.x to 7.1.x, Perl, Python, RoR, CGI, and cURL, along with MySQL databases, and cron jobs to ensure your site runs smoothly. There's currently no SSH access, if that's important to you.
If you're a high traffic website and you can't afford downtime, be aware that the uptime is 99.9%, with no corresponding service level agreement.
Pricing and Support
The prices are great, considering the level of resources. For example, both of the Linux shared hosting plans come with unmetered disk space and bandwidth (the only difference is that the lower package comes with three domains, while the highest comes with unlimited), and there are also combo plans that include everything you need including domain names, SSL certificates, website building tool, etc.
Plans can only be bought in three month terms, which is unusual, however, considering the prices, it's understandable. There is a no argument, 30-day money-back guarantee as well.
You can reach out to the sales, technical, or billing department of support via email and phone, or simply use the generic contact form on the website. Although there is mention of a knowledge base, attempting to access it triggers a security error. Additionally, when I tried to contact support via email, despite their claim of 24/7 availability, the email address bounced back, so I cannot provide feedback on the quality of the customer service team.