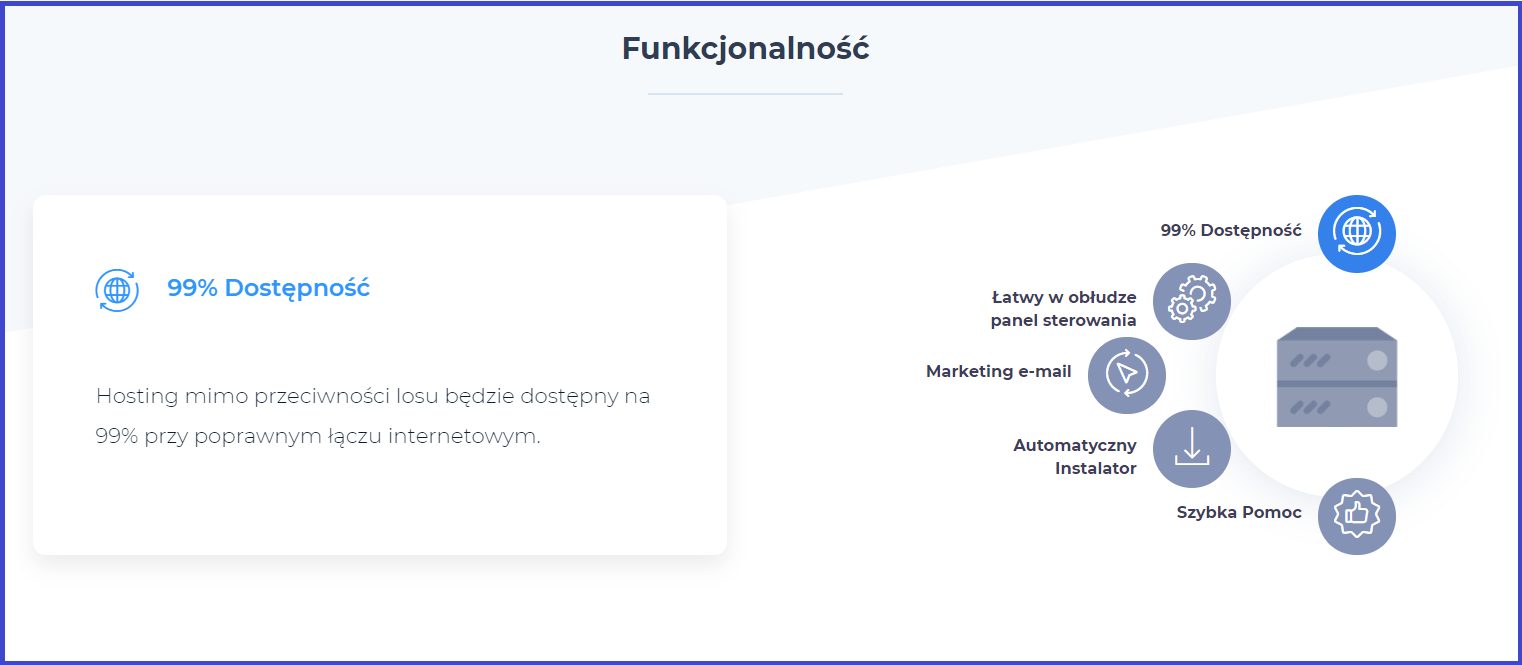 Polski.Host is a Polish hosting provider that provides shared hosting. It's one of the most limited hosting providers I've come across, and from the looks of its website, it's relatively new.
The Polski.Host website is very limited in information and only available in Polish. I had to use Google Translate to retrieve the information for this review. All the prices are in Polish zloty.
Features and Ease of Use
Polski.Host only offers two shared hosting plans – Lite and Small. The plans vary in storage, the number of MySQL databases, and the number of additional domains. Both plans come with the following features:
cPanel control panel
Softaculous one-click installer
SSD storage
99% uptime guarantee
cPanel has a user-friendly management interface where you can control all aspects of your website, including managing files, domains, FTP accounts, backup intervals, and much more. It also has numerous useful built-in tools.
The Softaculous one-click installer allows you to install applications and scripts responsible for building your website's content. The supported applications include WordPress, Joomla, Drupal, Magento, OpenCart, phpBB, Typo3, and hundreds more.
Both plans are powered by SSD storage, which performs much faster than regular HDD storage when it comes to website data processing. Faster data processing results in better loading speed, stability, and overall site performance.
Polski.Host doesn't provide VPS hosting or dedicated servers, so if you're looking for more resources, this is not the option for you. Alternatively, you can check out our top web hosting comparison.
Pricing and Support
Even though Polski.Host's prices look cheap, they're hardly a bargain when you consider the limited resources and features included.
The prices are based on a monthly contract, but you can choose to pay monthly, quarterly, semi-annually, or annually. The only accepted payment method is bank transfer.
It doesn't provide a money-back guarantee, but it states in its terms and conditions that if the service is down, it will refund the last payment made.
Since the website is limited, I turned to the knowledgebase for some answers. Unfortunately, this was a total failure since it is empty.

The next step was to contact customer support, which you can only do via email and support ticket. I tried both channels, and I haven't received a reply yet more than a day later.