Croatia-based Plus Hosting was founded in 2002. It is the
largest website hosting provider in Croatia
, but also serves customers worldwide with support in English and Croatian.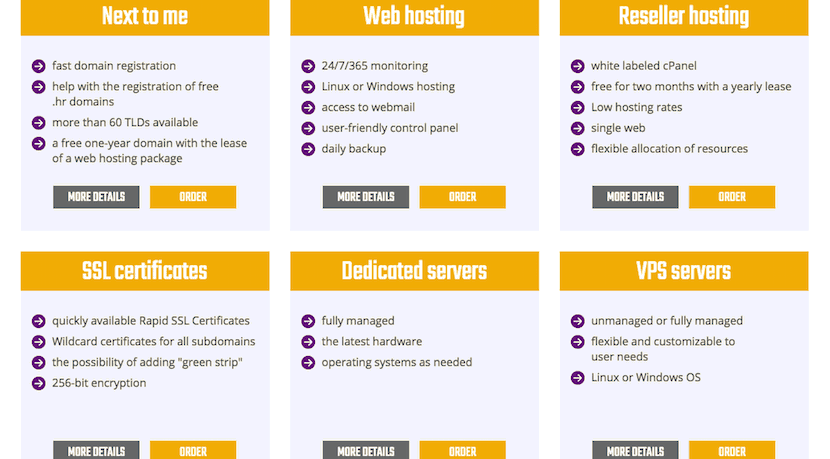 Features and Ease of Use
Plus Hosting provides a full set of website hosting services including domain registration, Linux or Windows website hosting, reseller hosting, SSL certificates, dedicated servers, and VPS servers.
As standard, Plus Hosting plans include:
99.9% uptime, except for any planned server maintenance
Automatic daily, weekly or monthly backup options
Free domain registration
Extra domains, subdomains, and parked domains
Free SSL for Linux plans
1 GB to 20 GB space, dependent on the plan
One thing I really like about Plus Hosting is their reliability, thanks to their excellent infrastructure including Croatia-based data centers and a very advanced network with 10G optical fiber and a combined bandwidth of more than 40 Gbps through several Tier 1 and Tier 2 providers. After having spoken to their support, it was clear that they pride themselves on upgrading their services and finding ways to improve the overall quality.
I also really like that fact that they don't skimp on their value-added features. Most packages include lots of extras such as free SSL, free email addresses, plus free additional domains, subdomains, and parked domains. They also offer some nice touches such as free Google Ads vouchers and 24/7 support.
Getting set up with Plus Hosting was relatively easy. You can sign up 100% online, but their checkout page is pretty confusing, and it took me several attempts to understand which package to purchase. That said, the browser translation of their Croatian website turned out to be excellent English because they do not use too much technical language.
Pricing and Support
Plus Hosting's pricing is higher than other Croatian website hosting providers. However, I would be willing to pay the extra for the added extras including the free domain that would be an added cost other Croatian providers.
The only available billing terms range from one to five years. There is no free trial, no freemium plan, and no no-obligation monthly contract. They do offer discounts of between 10% and 25% depending on how many years you pay for up-front, which may well be a good deal for committed website developers but is not so interesting to a casual and cautious user like me.
Having said that there is no free trial, I can confirm that there is a 30-day money-back guarantee, which might amount to the same thing. But it's not applicable to domain registration, VPS, dedicated servers, SSL certificates or expert service. A quick live chat also confirmed that you can switch plans anytime at no cost.
Plus Hosting offers 24/7 email support, plus phone and live chat support between 8 am and 12 am every day. I found the lady on live chat to be extremely helpful. She answered the phone within one minute and answered all of my questions quickly and politely. When she did not have the answer at hand, she provided me with the email address of the appropriate team member. Overall I am very happy with their dedication to customer service and satisfaction.