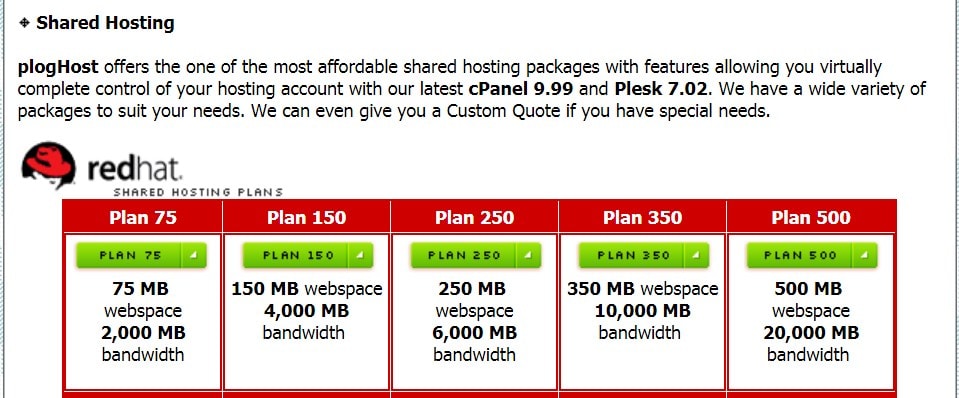 Established in 2003, plogHost is an internet service provider located in the Philippines. The firm started off as a web hosting provider targeting local bloggers. In January 2004, it changed to plogHost Internet Services after registering with the SEC. Later on, it became a subsidiary of RP Nuclei Solutions Corporation after integration.
With this development, it was able to provide an array of new services including CMS, system integration, E-commerce, web development, asset management, email management, and server management solutions to its clients in the Philippines and across the world.
It provides a wide range of web hosting solutions, including shared web hosting, reseller hosting, fully managed dedicated servers, and domain name registration services. Its servers are all hosted in their state-of-the-art data centers located in Dallas, Texas. It has a notable presence in Japan, Belgium, Austria, the U.S, the U.K, and Saipan. The plogHost website is available in English.
Features and Ease of Use
plogHost hosting solutions incorporate the following standard features:
RedHat Linux OS
Apache servers
PHP 4,5
PhpMyAdmin
WHMcPanel, Plesk control panel
CGI, Perl, SSI support
MySQL databases
ASP, ASP.NET
Spam Assassin
All plogHost servers are hosted in state-of-the-art datacenters called The Planet, located in Dallas, Texas. It uses high-end infrastructure on its data center from leading manufacturers such as Juniper and Cisco.
The data centers provide power redundancy, fire suppression, security, and HVAC as well as network connectivity. Moreover, the servers are connected to a redundant and fully meshed backbone network with six providers.
This vendor's shared web hosting solutions servers are powered by RedHat Linux and Windows OS. Its shared web hosting plan on RedHat Linux OS includes five packages.
The basic package comes with 75MB disk space and 2000MB bandwidth. Its advanced package includes 500MB disk space and 20,000MB bandwidth. The shared hosting plan on Windows OS includes five plans. The starter package comes with 50MB disk space and 1000MB bandwidth. The advanced package includes 500MB disk space and 10000MB bandwidth.
Its dedicated servers are fully managed. The vendor offers daily and weekly backups on an incremental basis. However, customers are advised to do their own backup downloads from their control panel, which provides a daily zipped archive for all databases and account files.
Pricing and Support
plogHost hosting plans are pretty expensive compared to other vendors of its caliber in the Philippines. It has one billing cycle and customers can make monthly payments. The prices of its hosting plans are listed in Philippine peso.
Its customers have access to either a full or partial refund in a span of seven days after placing the initial order. That said, customers who have used over 50% of data transfer allocated aren't eligible for the refund. Moreover, the refund policy isn't applicable to domain name registration services customers or those who violate the terms and conditions. There is no uptime guarantee either.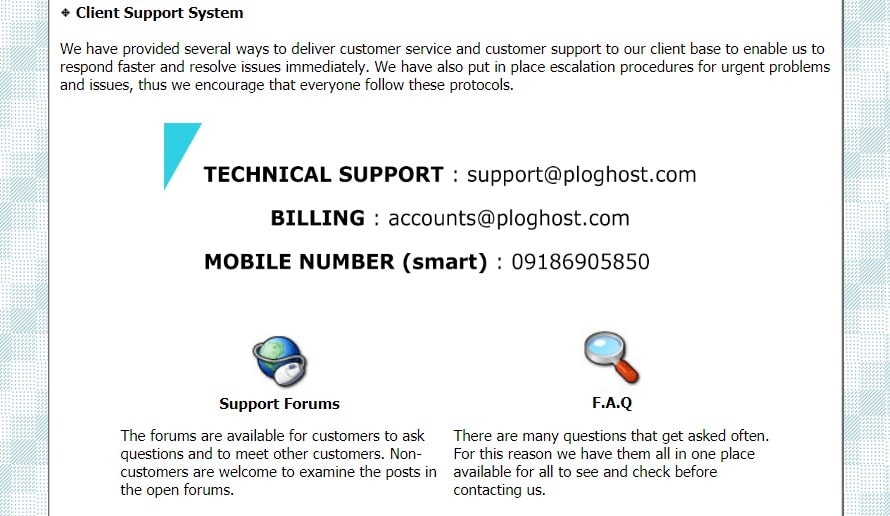 To contact the plogHost customer support team, webmasters can use telephone, email, or the ticketing system. Unfortunately, there is no live chat support available. The vendor's support team has specific hours and can be reached from Monday to Friday, starting from 9:00 AM to 6:00 PM.
While the plogHost website seems to include forums, an FAQ section, tutorials, and help guides, links to those resources return errors.