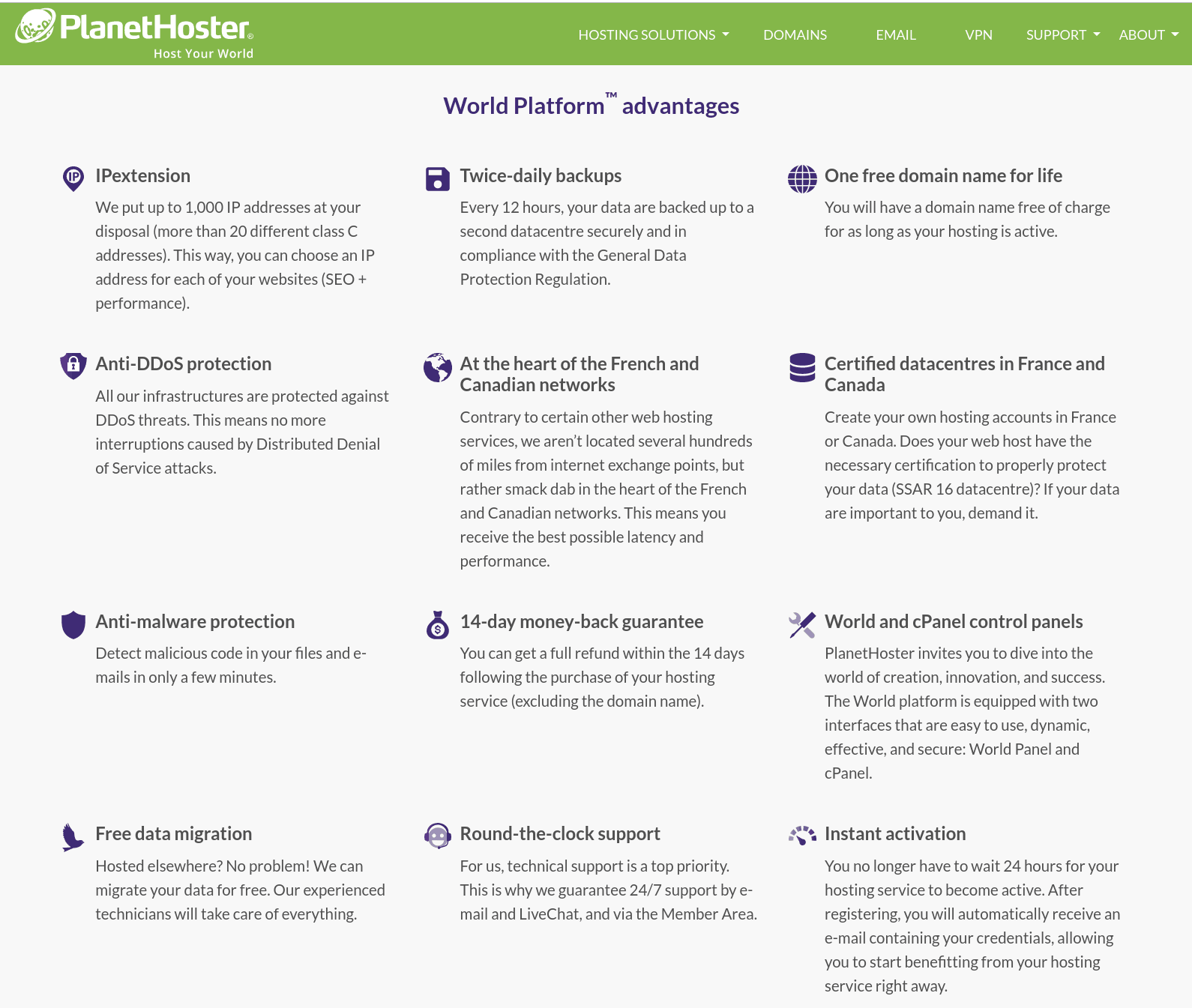 To compare the best web hosts, we hosted the same WordPress website on each one and tested performance, customer service, and value for money. Check out the results here.
PlanetHoster is based in Paris (France) and Montreal (Canada), and it has been providing web hosting services since 2007. This hosting provider has served over 60,000 customers and 100,000 websites using its hybrid cloud infrastructure.
The PlanetHoster website is in English.
Features and Ease of Use
PlanetHoster offers two paid website hosting solutions: the "World Platform" shared hosting and the "Hybrid Cloud" managed hosting. It also offers the free "World Lite" hosting plan.
The "World Platform" paid plan includes unlimited disk space and monthly bandwidth, and an unlimited number of databases, email accounts, and websites.
The standard configuration is 8 CPUs, 16 GB RAM, and 16 Mbps I/O, but customers can customize their hosting from a minimum 1 CPU and up to 24 GB RAM and 24 Mbps I/O. Crucially, you can distribute your total resource pool across entirely separate hosting accounts running on independent infrastructure.
In addition to the flexible resources, you also get the following features:
A free domain for life
Dedicated SSL for each domain
SSD storage
LiteSpeed available
14-day money-back guarantee
Free website migration
Website builder
Daily website backups
Anti-DDoS
Unlike many hosting providers that charge extra, PlanetHoster provides basic Let's Encrypt SSL certificates for free with every hosted domain. These certificates include automatic installation and renewal.
Before committing to a paid plan, customers can try the free "World Lite" hosting plan. It comes with 750 MB of disk space, two FTP accounts, two email accounts, two MySQL databases, an SSL certificate, and unlimited parked domains. It also includes the SiteBuilder module, and customers can choose the French or Canadian data center.
Pricing and Support
Pricing for PlanetHoster's website hosting plans is very competitive considering the unlimited data included. For around the price of a fast food meal per month, you also get high-end features like 100% website isolation, dedicated SSL for each domain, and a free domain with an annual hosting subscription.
PlanetHoster's plans are around 15% to 30% less expensive than top North American or European unlimited hosting providers.
You can purchase plans on terms from six months to three years, with discounts of 8% off a two-year term and 15% off a three-year plan.
24/7 customer service can be contacted via telephone, a ticketing system, or live chat. I summoned support immediately via the live chat channel: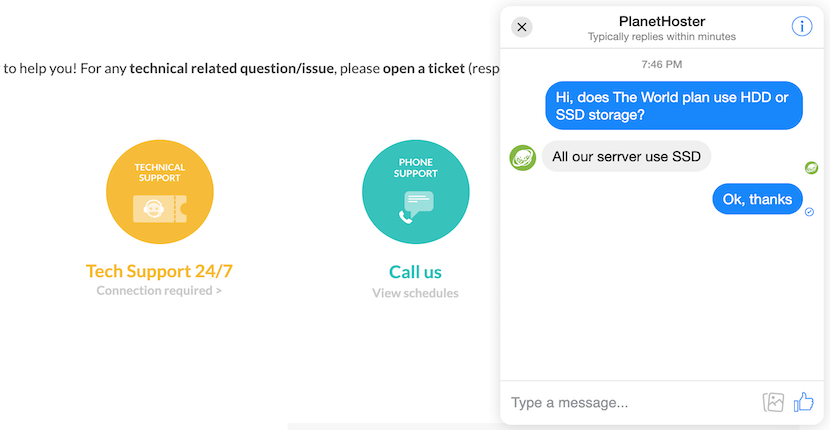 How much does PlanetHoster cost?PlanetHoster offers multiple plans priced highest to lowest. The price depends on which type of hosting plan you choose. You can see the updated pricing table (updated weekly) below.
Which PlanetHoster plan should I get?My recommendation is to start with a cheaper plan. You can always upgrade later on. PlanetHoster can help you with the migration to a more expensive plan. The increase in visitors many times takes longer than expected and you shouldn't pay a lot of money until the need arises. Of course, your needs may vary, and you can consult with a hosting expert from PlanetHoster here.
How good is PlanetHoster's customer support?PlanetHoster is not ranked as one of our top web hosts. But that can also be a result of PlanetHoster being a small, under the radar, hosting provider. There are advantages to a small hosting company – as a customer, you are more important to them. You can also check out our comparison of the most popular web hosting services here.