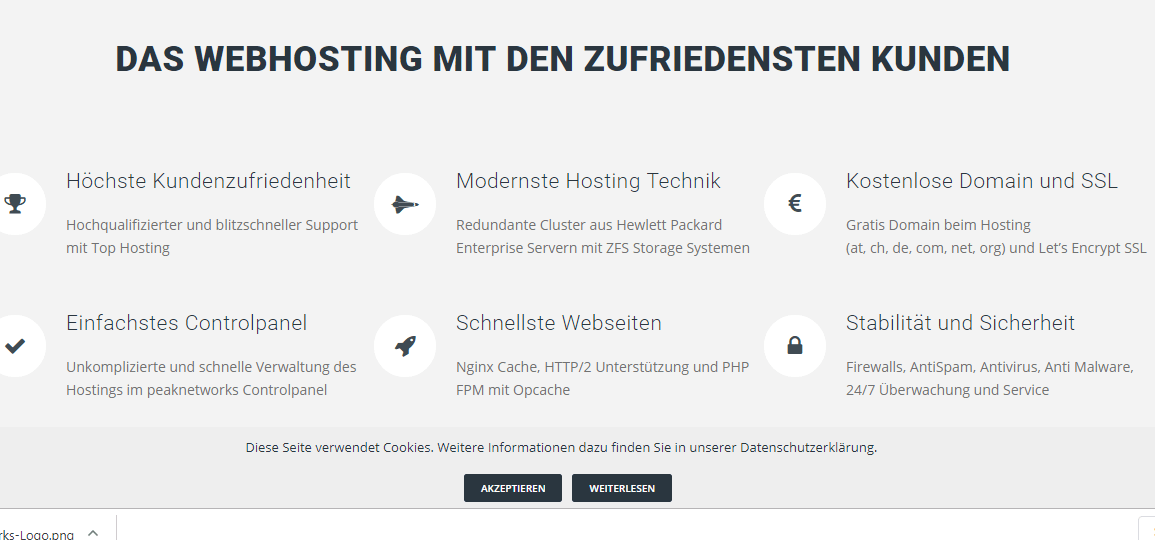 peaknetworks is an Austria-based web hosting company that began its operations towards the end of 2013. Though this company has only been in Austria's hosting space for just over five years, it has nevertheless captured a significant market share. The vendor is in the list of the top 20 web hosting companies in Austria with its market share of 0.06%. It also has a significant presence in Switzerland. The peaknetworks website is only available in German.
Features and Ease of Use
peaknetworks hosting solutions come with the following standard features:
PHP FastCGI 5.2 and PHP FPM 5.4 to PHP FPM 7.3

Many applications, including WordPress, Joomla, Dokuwiki

Free Let's Encrypt SSL Certificates

Unlimited email accounts

Easy-to-use control panel

MySQL databases

Free domain
peaknetworks has in the last few years been recording double-digit growth, a clear testament of its excellent hosting solutions. It has two data centers, one in Innsbruck, Austria and another in Zurich, Switzerland.
All of the server infrastructure that makes up its hosting architecture is self-owned; the vendor never outsources hardware or software from third parties. This all but guarantees top performance for its clients' websites. And to speed up the websites it hosts, the vendor uses Nginx as a reverse caching proxy in front of an Apache 2.4.
This hosting firm provides its own proprietary control panel, which is constantly being improved to make it an extremely easy-to-use admin interface. The vendor offers PCI-DSS compliant web hosting solutions, yet another layer of security in its efforts to deliver secure hosting all year round.
peaknetworks offers daily complete backups for seven days retroactively, as well.
Pricing and Support
peaknetworks says that it values quality and transparency, insisting that it does not have any hidden charges or additional costs that users will come to find out about in the years following their initial purchase of a hosting plan. Its plans are somewhat expensive, with the only consolation being the understanding that the price will remain the same even in subsequent years. The prices are listed in Swiss francs.
I could not find any information on this vendor's website regarding its refund policy or uptime guarantee.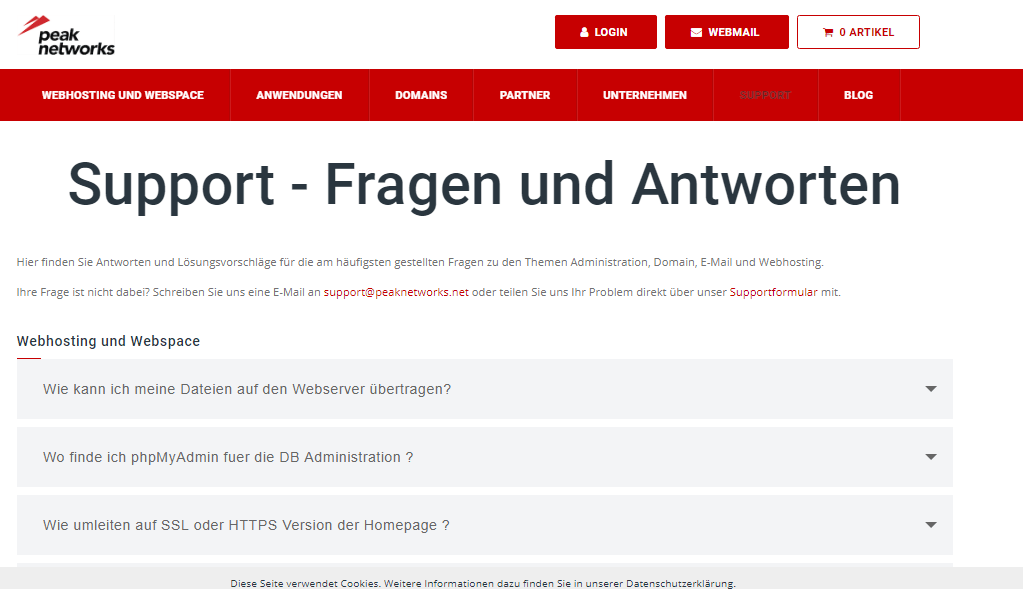 You can contact the vendor in a number of ways: by telephone, support email, or website contact form. The vendor has not provided a ticketing system or live chat on its website.
The support team responded to my email query in less than two hours.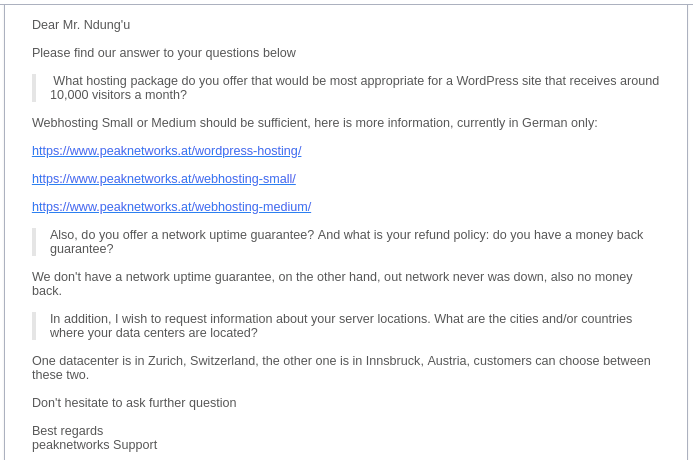 peaknetwork has included hosting tutorials in its FAQ section, which also doubles as its knowledge base.