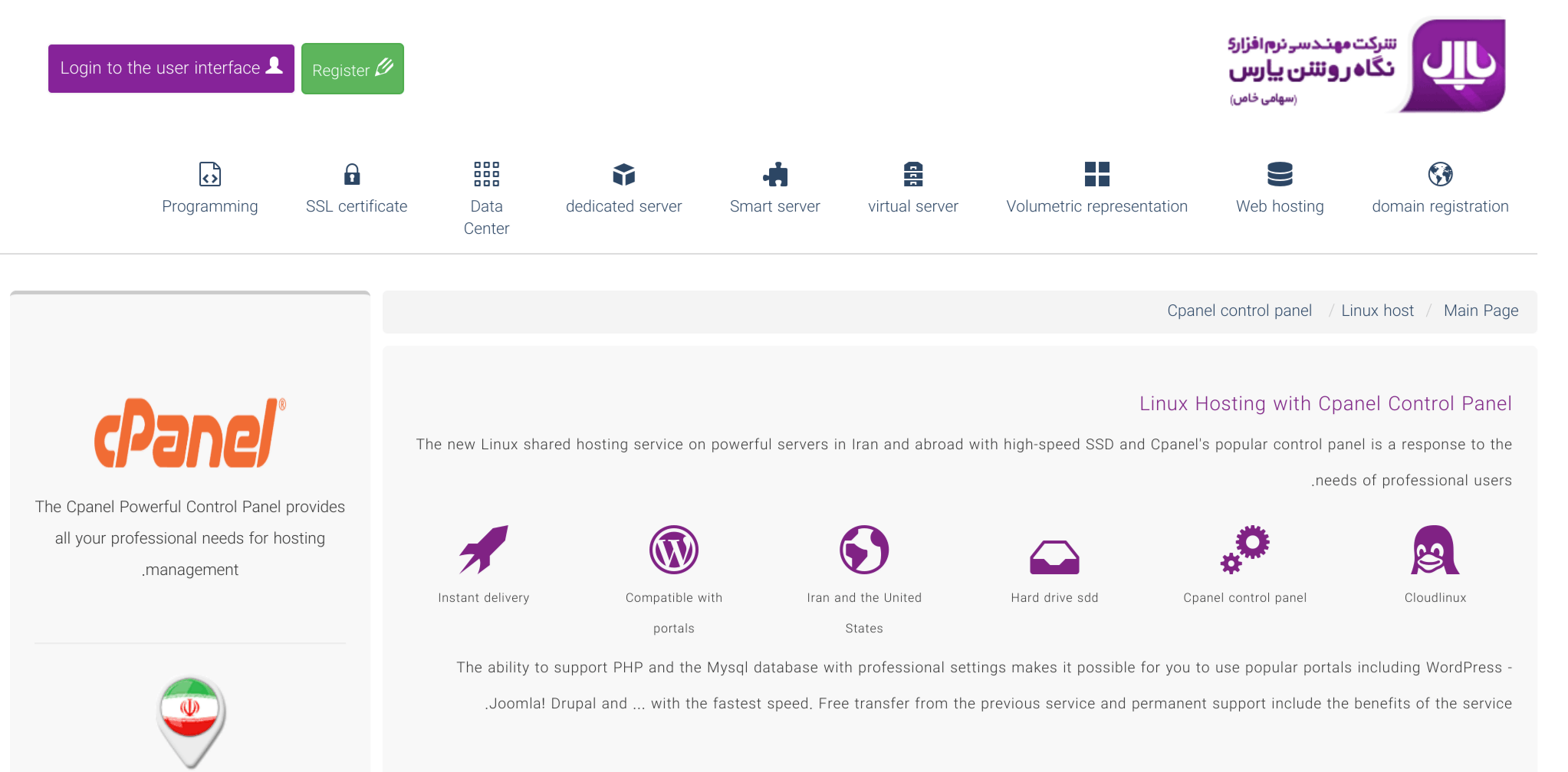 Parsdev (aka. Rosal Pars Co., Rospars Co., or Roshan Pars Co.) is an Iranian company with more than ten years of professional hosting experience. With
four data centers located in Iran and abroad
, this vendor is able to provide quality hosting solutions to its Iranian and international customers. These services include shared web hosting, smart server services, VPS, dedicated servers, SSL certificates, and domain name registration services.
The Parsdev website is only available in Persian.
Features and Ease of Use
Some of the features included in Parsdev's hosting solutions are:
cPanel/DirectAdmin control panel
PHP selector
High-speed SSD servers
SSL certificates
MySQL databases
Daily and weekly backups
Support for both Linux and Windows OS
The hosting solutions support several versions of PHP, MySQL databases, and the ability to use and manage popular CMS applications like WordPress, Joomla, and Drupal. SSL certificates are not free but are offered as add-on packages.
Parsdev performs daily and weekly backups for all its shared servers. It stores three backup copies on separate backup servers to all-but guarantee data recovery following a disaster. You also have the ability to back up your server at any time.
This provider uses data centers not only in Iran but also in the United Kingdom and the United States. These data centers house high-speed SSD servers powered by reputable brands including HP and Supermicro.
Pricing and Support
Parsdev's hosting plans are pretty cheap, but they come with only basic features and resources suitable for low-demand businesses.
The hosting prices are listed in Iranian rials, and the minimum contract length is one year, with no money-back guarantee to make you feel better about making the minimum commitment. There is also no uptime guarantee as far as I can see.
Purchasing a hosting plan is not as easy as I would like since you have to sign in or sign up for a new user account before you can place an order.
This company claims to provide 24-hour support, but I couldn't make contact by telephone. There are no other contact channels – email, ticket system, or live chat – as far as I can see. On the plus side, Parsdev provides pretty decent self-support resources in the form of an educational blog: