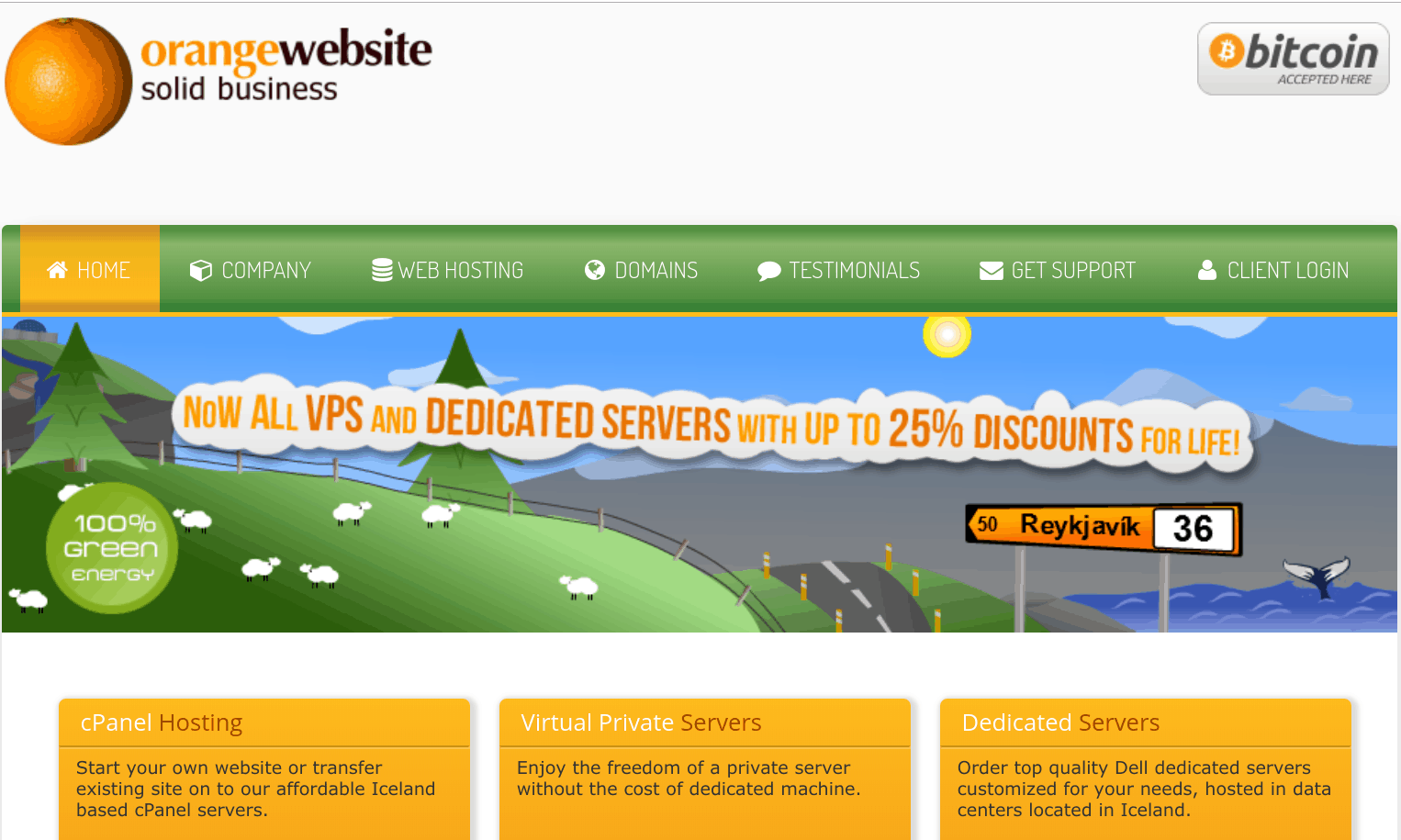 To compare the best web hosts, we hosted the same WordPress website on each one and tested performance, customer service, and value for money.
Check out the results here.
A web hosting subsidiary of IceNetworks Ltd., Icelandic host OrangeWebsite has been providing web-related services from Reykjavik since 2009. This provider focuses on freedom of speech, and it has created a safe and private environment for publishing content without fear of censorship.
OrangeWebsite serves clients all around the world from a clear and simple English-language website.
Features and Ease of Use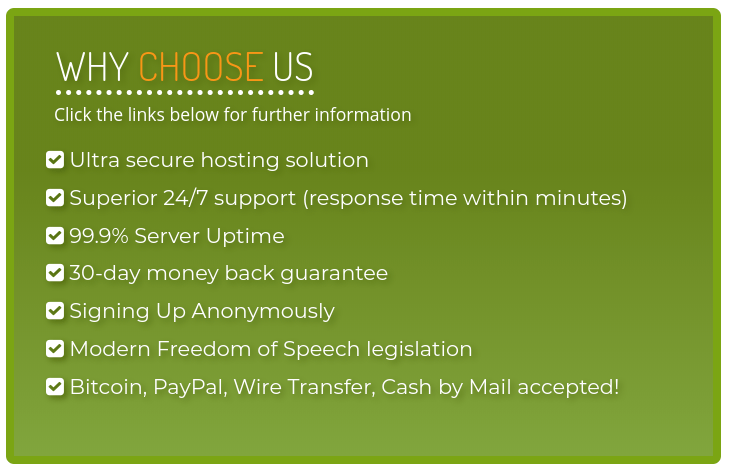 OrangeWebsite offers a variety of hosting solutions, including shared hosting, VPS, and dedicated server hosting. It also offers anti-DDoS and domain services. Some of the notable shared hosting features are:
99.9% uptime guarantee

cPanel

Free site builders

Advanced DDoS protection

One-click installer

100 GB to 2,000 GB traffic

1 GB to 20 GB web space

Free SSL certificates
When your hosting account is activated, you get access to the cPanel control panel with a free Let's Encrypt SSL certificate already enabled, and with JetBackup to back up your cPanel files and settings every other day. The integrated Softaculous one-click installer comes with more than 330 scripts for WordPress, Drupal, Boonex, Dolphin, and more, and the SitePad website builder comes with more than 350 responsive themes that you can use to create a website of any kind.
All four shared hosting plans come with a variety of features, such as SpamAssassin, osCommerce, Shopping Cart, and Green Site Seal. You also have PHP support, phpMyAdmin, MySQL databases, Remote MySQL connections, and Cron jobs included. However, shared hosting does not offer SSH access.
Moving up from shared hosting, OrangeWebsite offers seven levels of fully-managed VPS hosting with full root access, a dedicated IP address, and 24/7 technical support. It also offers four dedicated server plans that are more expensive but include free setup, a dedicated IP address, and up to 15 TB bandwidth.
What really sets OrangeWebsite apart is its approach to anonymity and its use of 100% green renewable energy. All servers are housed in a sophisticated Icelandic data center that provides a safe haven for data storage.
Pricing and Support
OrangeWebsite's shared hosting plans are affordable, and they come with no setup fees plus some nice freebies such as an SSL certificate, a site builder, and the Softaculous auto-installer. On the downside, you do get limited web space and bandwidth.
The VPS plans offer higher storage and bandwidth allowances, and they're cheaper than the dedicated server subscriptions that offer the highest storage and bandwidth allocations.
OrangeWebsite's billing system encourages anonymous payments via cryptocurrencies such as Bitcoin, but you can also pay via PayPal, wire transfer, check, or Western Union. Reading through this provider's terms and conditions (thrilling, I know) reveals that the 30-day money-back guarantee for new customers only applies if you pay by PayPal or Bitcoin. Other payment methods are non-refundable; therefore, any refund will be credited to your hosting account.
I can say that OrangeWebsite's support is simply superb, apart from the sparsely populated knowledge base that contains only 14 articles. For one-to-one support, you can contact the company 24/7 via email or a support ticket. I received an informative reply almost immediately when I submitted an exploratory test ticket: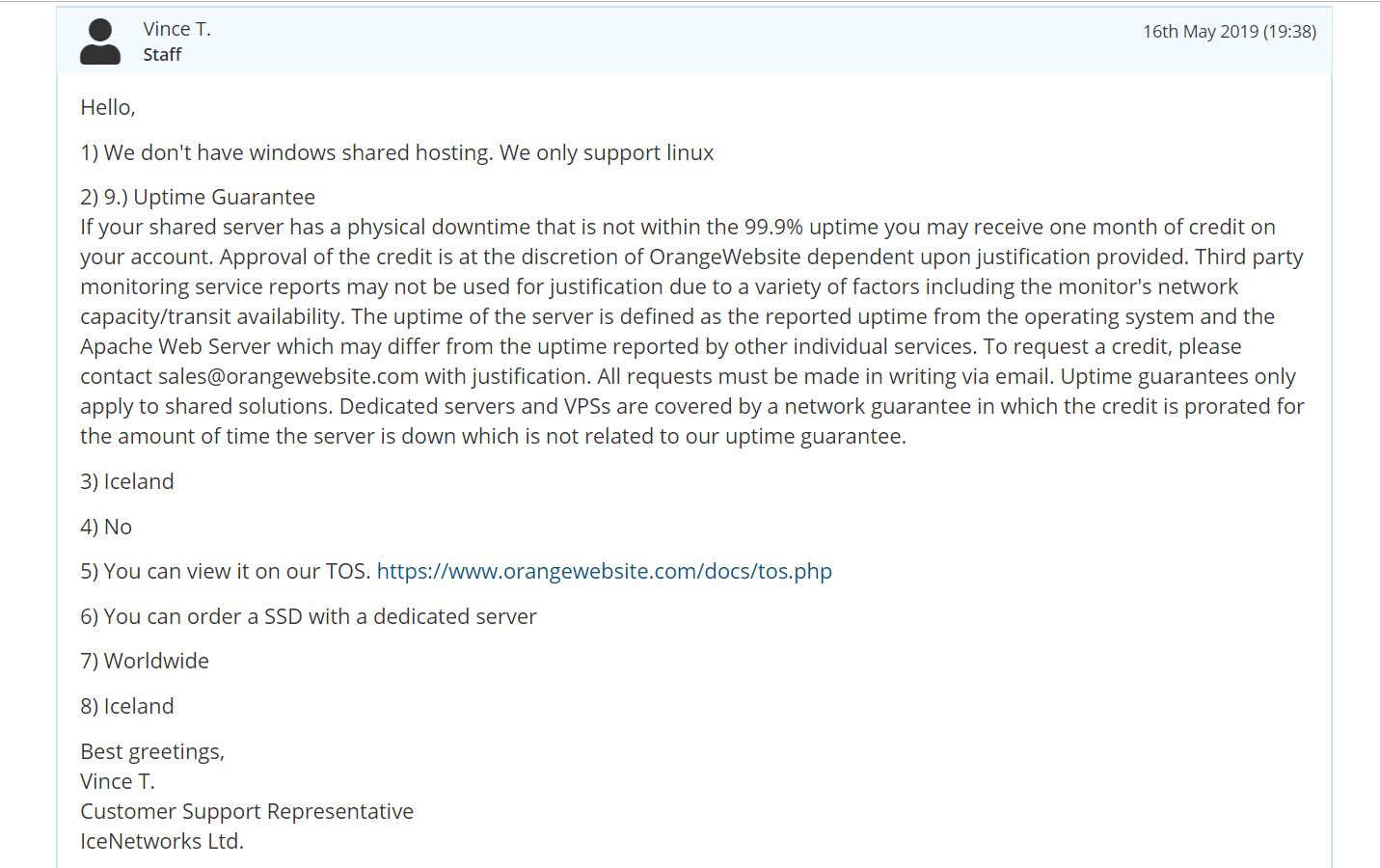 How much does OrangeWebsite cost?
OrangeWebsite offers plans from $4 to $28. The price depends on which type of hosting plan you choose. You can see the updated pricing table (updated weekly) below.

Which OrangeWebsite plan should I get?
My recommendation is to start with a cheaper plan. You can always upgrade later on. OrangeWebsite can help you with the migration to a more expensive plan. The increase in visitors many times takes longer than expected and you shouldn't pay a lot of money until the need arises. Of course, your needs may vary, and you can consult with a hosting expert from OrangeWebsite here.

How good is OrangeWebsite's customer support?
OrangeWebsite is not ranked as one of our top web hosts. But that can also be a result of OrangeWebsite being a small, under the radar, hosting provider. There are advantages to a small hosting company – as a customer, you are more important to them. You can also check out our comparison of the most popular web hosting services here.