To compare the best web hosts, we hosted the same WordPress website on each one and tested performance, customer service, and value for money.
Check out the results here.
Omnis Network is an American web hosting provider headquartered in Tempe, Arizona. Founded in 1999, this company has served over 400,000 domains and web hosting accounts and has had a perfect BBB rating since their inception. Though they only have a single data center located in their hometown, they serve customers distributed across the globe, including in countries such as Panama, Azerbaijan, Sierra Leone, and Egypt. From the very beginning, the objective of Omnis Network was to provide affordable, enterprise-level web hosting services for individuals and businesses of all sizes.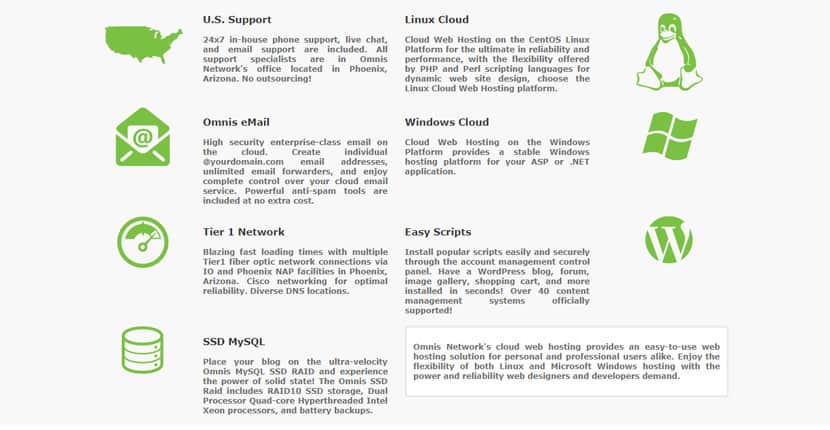 Features and Ease of Use
Omnis Network offers a full range of shared cloud hosting, VPS, dedicated servers, and colocation services. The standard features in their shared cloud hosting plans include:
Unmetered disk space and bandwidth
Unlimited websites
Unlimited email accounts
Unlimited MySQL databases
Unlimited forwarding accounts
Free domain name for the first year
99.9% uptime guarantee
Website builder
Popular CMS installers
Support for PHP 5.6 and 7.2, Python, Perl, Ruby, ASP, ASP.NET, Javascript, and AJAX
This all looks pretty good on the surface, but there are definitely limitations. For instance, the free website builder only allows you to create three webpages maximum — probably the stingiest allowance I've ever seen. Their free domain name registration is also only applicable for top-level domains under a certain price range.
Omnis Network faces another significant issue with numerous complaints from customers who have signed up for their unlimited hosting plans. These customers soon discover that the more they utilize this unlimited service, the more the vendor imposes bandwidth restrictions. Omnis Network fails to provide sufficient transparency and user-friendliness in their plans. Instead of notifying their customers about the depletion of their unlimited quota, they simply make the feature unavailable. This can be highly detrimental to a business website. Furthermore, their database server frequently experiences downtime.
Pricing and Support
Omnis Network's hosting plans are quite expensive compared to offerings from leading competitors. Though annual and biennial payments can cut the subscription costs significantly, their prices are still higher than other major brands in the industry. In addition, you can find some of the features that Omnis Network only includes in premium plans being offered for free by other vendors.
Furthermore, while Omnis Network offers a 99.9% uptime guarantee, they don't commit to compensating their customers in the event that they don't live up to this promise. This is significant downside given that uptime guarantees have become an industry standard. What's more, Omnis Network doesn't readily display their server uptimes, making it hard for customers to successfully file complaints. On the bright side, they do offer a 30-day money back guarantee, so you can try them out and get a refund if you find they're not a great fit for you.
Their technical support team is available 24/7 via telephone, email, and live chat. If you're an existing customer, it's best to contact them through the ticket system in your client portal. Unfortunately, while their support team is helpful, it's not uncommon to be connected with a rude, unfriendly representative, sometimes making you feel like you interrupted them on a more important task. Their knowledge base also has very little information, which isn't good news for the DIY enthusiast.
How much does Omnis Network cost?
Omnis Network offers plans from $6 to $8. The price depends on which type of hosting plan you choose. You can see the updated pricing table (updated weekly) below.

Which Omnis Network plan should I get?
My recommendation is to start with a cheaper plan. You can always upgrade later on. Omnis Network can help you with the migration to a more expensive plan. The increase in visitors many times takes longer than expected and you shouldn't pay a lot of money until the need arises. Of course, your needs may vary, and you can consult with a hosting expert from Omnis Network here.

How good is Omnis Network's customer support?
Omnis Network is not ranked as one of our top web hosts. But that can also be a result of Omnis Network being a small, under the radar, hosting provider. There are advantages to a small hosting company – as a customer, you are more important to them. You can also check out our comparison of the most popular web hosting services here.