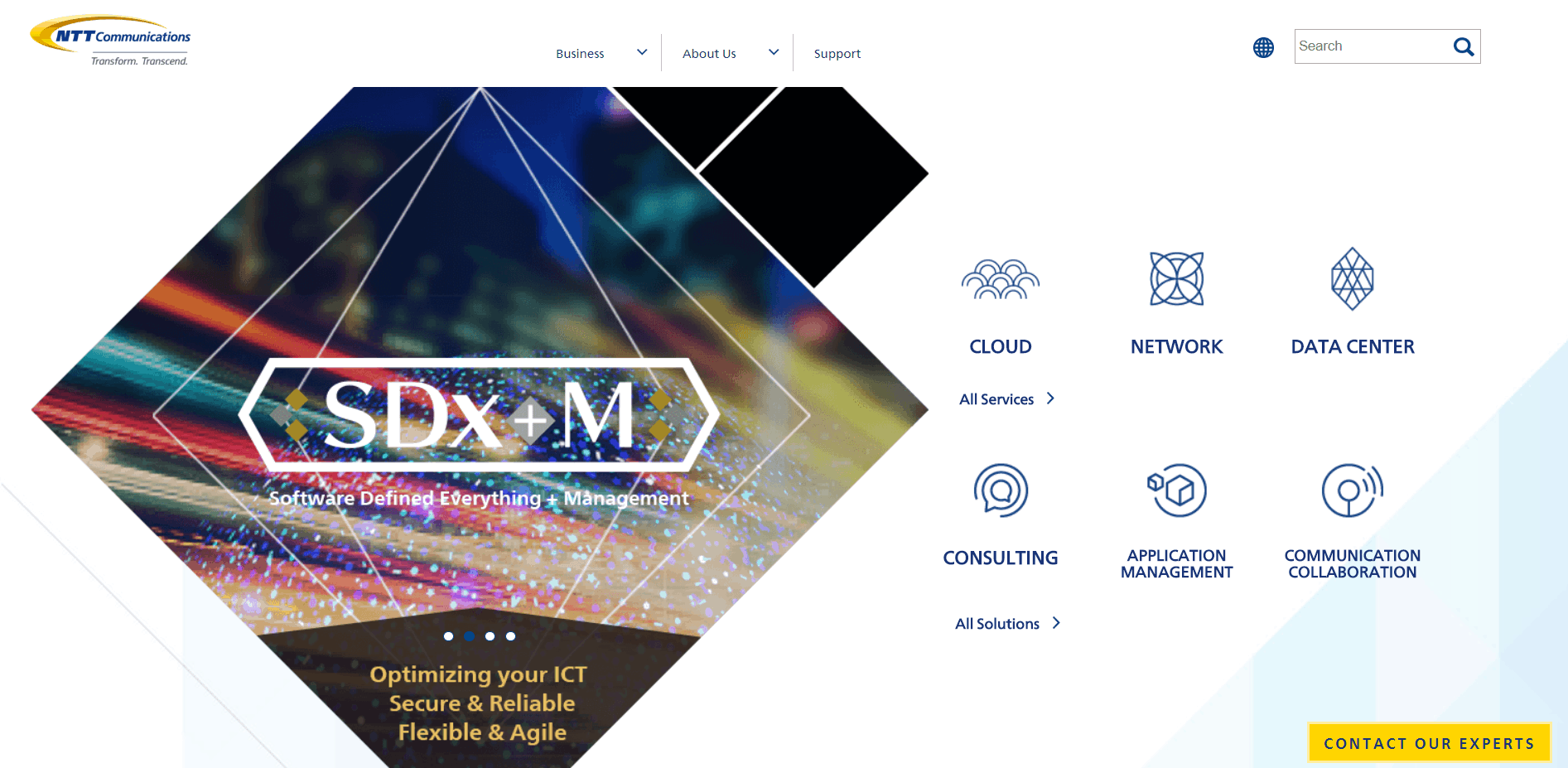 NTT Communications
is an IT and communications giant with a presence in over 110 cities worldwide and forms part of the Fortune Global 100 company.
They currently have over 10,000 clients for their Enterprise cloud hosting platforms and offer their services in a number of languages, such as English and Japanese.
As a parent company with multiple subsidiaries, NTT Enterprises has data centers all over the world and they are owned directly by NTT or one of their child companies. Their data centers are located in China, Japan, U.S., Germany, U.K., Malaysia, Singapore, Spain, France, and Australia.
Features and Ease of Use
As you would expect from a service that caters to enterprise and big business customers, NTT provides high-end cloud server space with all the essentials:
Relational databases plus management tools
DNS management
Content Delivery Network (CDN)
Provisioning and monitoring services.
For enterprise-level clients that operate in a lightning fast environment with intensive requirements, the following are must-have features:
Instant, Automated Cloud: Through their automated process, NTT can spin up a cloud server for your use in a matter of moments.
Pay-as-you-go: You can pay by the hour so that you don't waste any money and can have ultimate flexibility.
Secure and Redundant Infrastructure: With distributed servers spread over the globe as well as superior security protocols, your data and products are safe.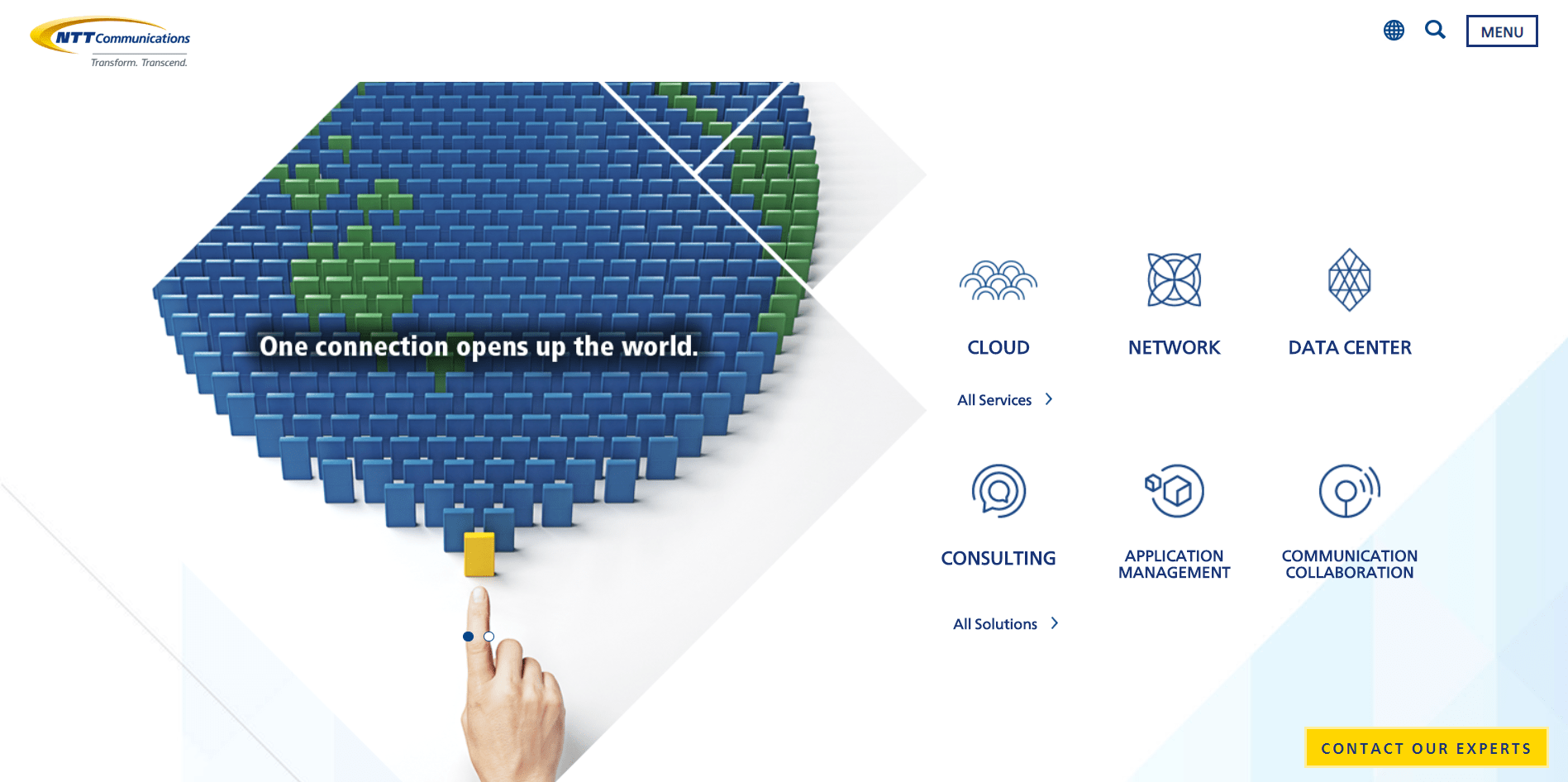 NTT provides enterprise-level, premium cloud server solutions. You will need to be savvy when it comes to the ins and outs of running cloud-based services as well as setting up your own websites or whatever else you want to serve your customers/visitors. You will have premium support services to call on, but it's not made for beginners or casual users.
Pricing and Support
NTT provides too varied a selection of configurable cloud server solutions to list them all here. They provide extensive whitepapers and a pricing calculator to help you figure out how much you will be paying. However, their pricing is based largely on the following factors:
Location: Each countries' data centers follow their own pricing for that country and in that country's currency.
Bare metal server: This is the actual machine your server will run on and depends on CPU, memory, storage, etc.
OS: Some operating systems are free (mostly Linux-based) while others have a monthly fee.
Storage: The speed and size of your storage can also be charged.
Bandwidth: 10 Mbps bandwidth is free while faster bandwidth is charged.
Rather than paying for a pre-configured bare metal machine, you have the flexibility to individually select the RAM, CPU, and storage resources that best suit your needs. The resources are typically billed based on hourly usage or a monthly fee calculated on an hourly basis. Additionally, the software is charged at a monthly rate. This allows you to customize your setup and pay for the specific resources and software you require.
As you might expect from such a high-end cloud hosting service, they do provide managed hosting services for things like security and availability. All products also come with the same level of support. Support is mostly handled through tickets but they also provide phone lines in certain countries where they operate, such as the U.S. and Japan.