NETdepot was established and started providing IaaS (Infrastructure as a Service) to individuals and companies as early as 1995, making them one of the oldest players in the industry. However, they've continually evolved with the times and still offer a highly modern and relevant service. They currently have three world-class data centers located in Atlanta, Georgia; Houston, Texas; and Los Angeles, California with the first SSAE 16 Type II facility being their flagship data center.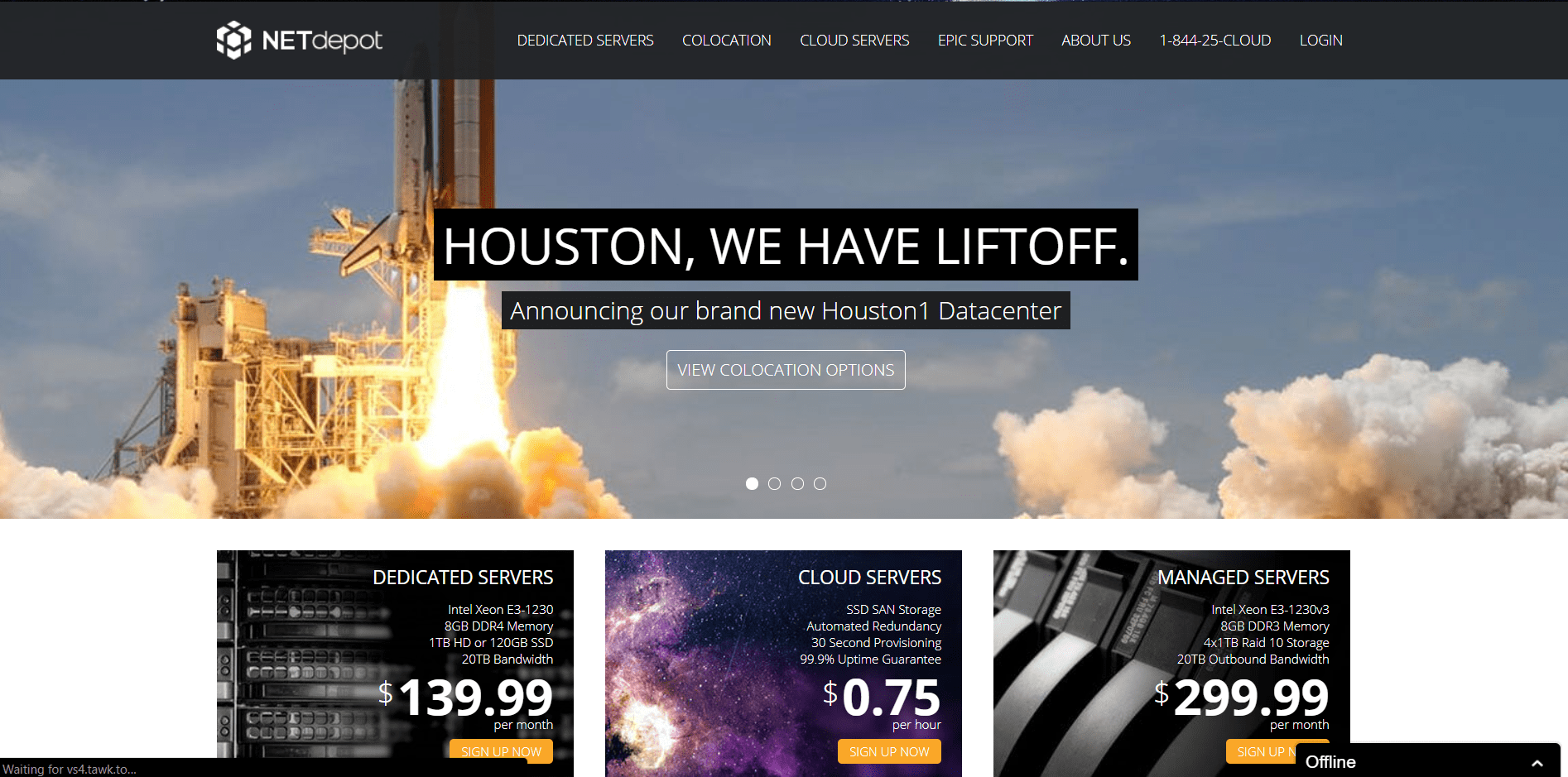 Features and Ease of Use
As a premium cloud and dedicated server provider, NETdepot doesn't offer many of the basic services typical of a shared hosting provider, such as domain registration and SSL certificates. They're essentially best for more intermediate users who already have existing websites but have outgrown their shared servers.
NETdepot does offers the following perks above and beyond a shared hosting provider, however:
Global CDN management
Private connectivity and network for cloud servers
Multiple data center locations around the United States
Secure VPN
Mobile-friendly server control panel for on-the-go access
Full server automation and root access
There are also a number of premium features of the NETdepot service that will make them highly appealing to high-end consumers:
30-second Provisioning: Their cloud server products are really on-demand and can be provisioned within 30 seconds if you're in need of immediate cloud computing.
Automated Redundancies: As is expected with a cloud service provider, all systems are equipped with automated redundancies and failovers, which means should any single piece of hardware fail, another will come in to take its place. This fully-redundant setup means no downtime for your websites.
SSD SAN Storage: All their products with SSD storage run on premium SAN hard drives with 20Gbps connectivity, ensuring optimal loading speeds.
Full Server Automation: The provisioning and redundancy of all their servers has been automated to release some responsibility from their customers.
Although they don't offer much in the way of pre-installed software or choice of OS, NETdepot does provide their own fantastic server management tools that makes it extremely quick and easy to provision new servers. Their configuration options also ensure that you can get exactly the type of hosting with the resources you need. The signup and purchase process could be modernized a bit, however.
Pricing and Support
Unfortunately, NETdepot doesn't offer any money back guarantees or refunds — except in the case of a catastrophic failure that drops their uptime below 99.9%. However, their billing is more flexible with options for monthly, quarterly, semi-annual, and annual billing. All plans come with 24/7 support and server monitoring:
Cloud Servers: You can choose from eight different cloud server configurations or contact them for a custom setup. There are also reseller options available but these will need to be set up on an individual basis with NETdepot. Cloud servers come with anywhere between 1 to 64 GB RAM, 30 GB to 1.28 TB of storage, two to 16 CPU cores, and 2 to 50 TB of bandwidth.
Dedicated Servers: Standard configurations are divided into single and dual CPU options. Just like cloud servers, there are custom and reseller options available upon request as well as a few managed server plans.

Single CPU: Three plans with free set up for the first two. Resources range from 4×3.2 GHz to 4×3.6 GHz CPUs and 8 to 16 GB RAM. they all come with 20 TB of bandwidth as well as 1 TB HDD or 128 GB SSD storage.
Dual CPU: Four plans with free set up for the first two. Resources range from 12×2.0 GHz to 24×2.2 GHz CPUs, 32 to 64 GB RAM, and 2 TB HDD/240 GB SSD to 2×2 TB HDD/2×240 GB SSD. They all come with 20 TB bandwidth.

Co-location: NETdepot offers colocated servers in its world-class data centers. There are three options available, each with different amounts of rack space and power.
Considering the premium level of hosting services they offer, NETdepot's prices are excellent value for money. You can provision a cloud server for around the same price as VPS packages from leading competitors – but get much higher reliability and better features.
NETdepot provides amazing 24/7 support with all of their hosting products. They pride themselves on not offering premium support packages as their standard support is already at a very high level. You can contact them via support tickets, live chat, or their U.S.-based phone line.  They also provide decent documentation and run a lively blog and press release feed. Their social media is also relatively active.