Net9 is a web hosting company based in Finland. While this vendor does offer shared web hosting solutions, its focus is mainly on video game server solutions. These include Minecraft, Counter-Strike, TeamSpeak3, Rust, S-ven Co-op, and Garry's Mod. Most Net9 customers are in Finland but this vendor also has a notable presence in France, Sweden, and several other countries in Europe. The Net9 website is available in Finnish, English, and Swedish.
Features and Ease of Use

Net9 hosting solutions include the following standard features:
cPanel control panel

24/7 server monitoring

Unlimited FTP accounts

Moogo website building tool

SSL certificate
Net9 data centers are located in France, Finland, and Sweden. Net9 uses powerful and advanced hardware in its servers to guarantee a smooth gaming experience regardless of the number of people playing at any one time. It uses enterprise-grade SSD drives and each server operates on doubled drives to make sure that gaming is uninterrupted, even in the event that one disk fails.
The hosting firm's servers are run as virtual servers (VPS) using KVM technology. The ratio of its virtual cores to its physical cores is 1:1 and the CPU usage is never restricted. Net9 sets up the server for its clients and manages the operating system, making it easy for any user to get started on its platform even with little or no experience.
For advanced users, the vendor provides SSH connectivity and full access so that they can run their gaming platforms with ease.
Some players that are banned from using a gaming platform can become a nuisance by launching DDoS attacks. Net9 promises all of the gaming websites that purchase its solutions that it has put in place state-of-the-art DDoS protection protocols that will keep their platforms safe for their users.
To make it easy for its users, both novice and experienced, to use its platform, Net9 has chosen the cPanel control panel. Users can access this easy to use admin tool even on their mobile devices. The control panel is available in many languages, meaning it is likely that you can use it in your local language.
Net9's Minecraft Server Platform is a relatively new offering and still in beta. The vendor promises to improve this offering and include it in many of its other products in the near future.
Pricing and Support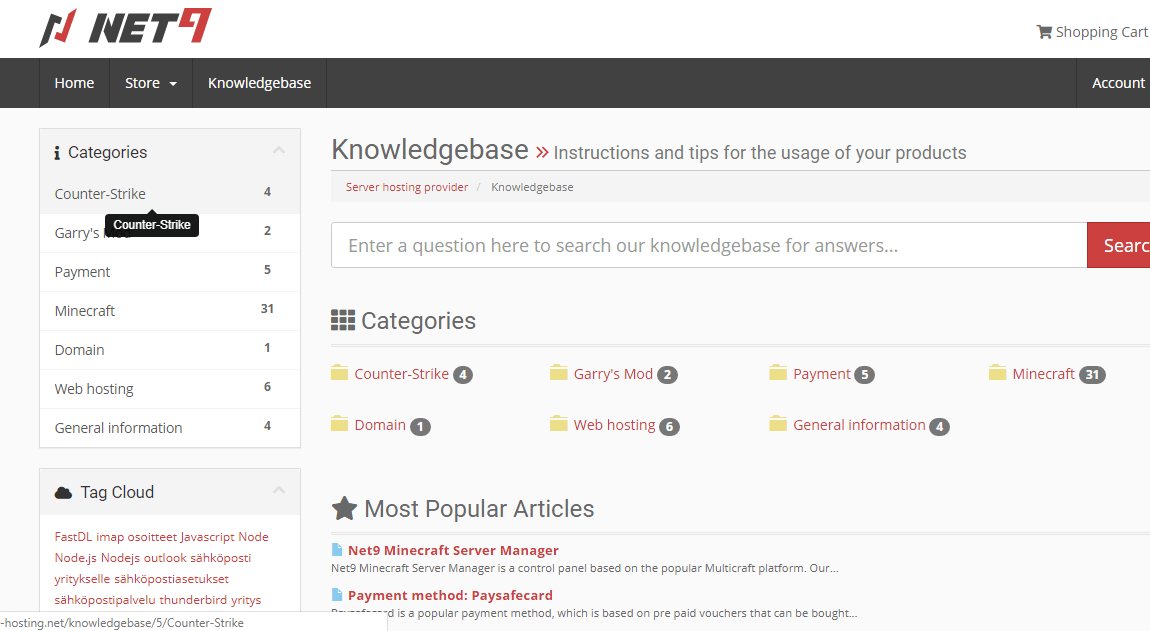 Net9 hosting prices are pretty cheap yet powerful enough to handle an array of resource-intensive games. The prices are listed in euros. The vendor offers flexible monthly, quarterly, biannual, and annual billing cycles.
I did not find any information on this vendor's website about a refund policy or uptime guarantee.
To contact this vendor, users can call, send an email, or chat with them live on Messenger, Telegram, or Skype. The vendor does not appear to have a ticketing system on its website, but it does have a fairly detailed knowledge base.
How much does Net9 cost?
Net9 offers plans from $4 to $8. The price depends on which type of hosting plan you choose. You can see the updated pricing table (updated weekly) below.

Which Net9 plan should I get?
My recommendation is to start with a cheaper plan. You can always upgrade later on. Net9 can help you with the migration to a more expensive plan. The increase in visitors many times takes longer than expected and you shouldn't pay a lot of money until the need arises. Of course, your needs may vary, and you can consult with a hosting expert from Net9 here.

How good is Net9's customer support?
Net9 is not ranked as one of our top web hosts. But that can also be a result of Net9 being a small, under the radar, hosting provider. There are advantages to a small hosting company – as a customer, you are more important to them. You can also check out our comparison of the most popular web hosting services here.