Austrian-based Nessus specializes in offering rack space in one of their high-performance data centers in Vienna, Austria. Their core competence is in providing high-availability server space that is thoroughly monitored and managed. They started operations in 1999 making them one of the first providers in this space and now have a number of huge clients.
Features and Ease of Use
Nessus does offer all the essential services you need from a hosting company, such as:
Domain registration
Multiple data centers
SSL certificates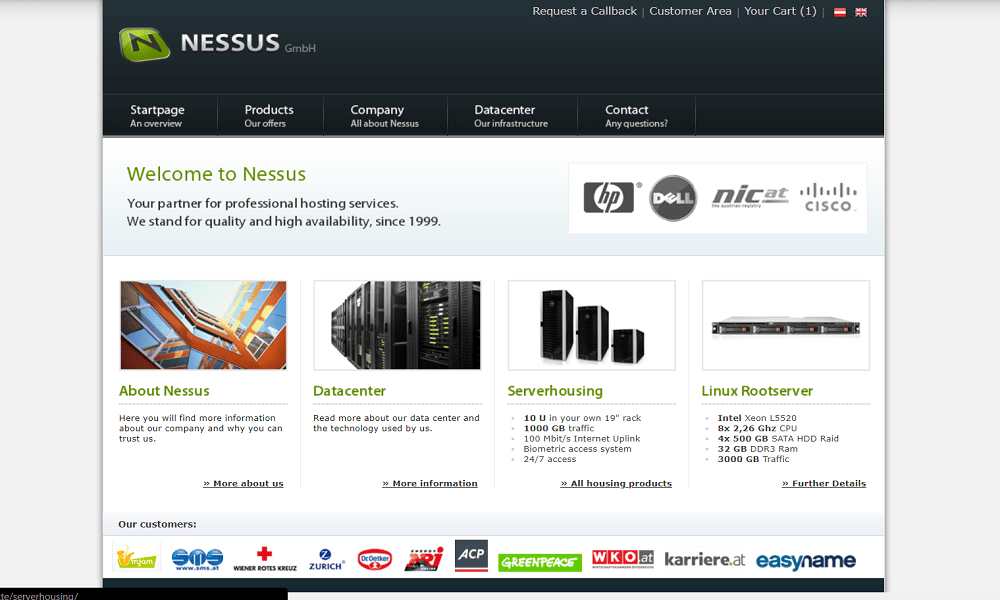 Most users who join Nessus will do so for one of their premium server space packages where they offer the following:
Interxion hosting: Interxion is one of Europe's largest colocation server providers that will help ensure uptime and redundancy.
HP Rootserver: Choose from a number of high-performance kits based off of HP Proliant DL server hardware.
Hosting services: Nessus provides a number of premium support services to help manage or improve your server's performance.
Fully-managed VPS: VPS plans come fully-managed by trained technicians.
You will need some know-how to run a Nessus web server unless you want to rely heavily on purchasing support services. You get a running server to do with as you please. The signup is quick and painless, but the whole experience is less guided than with some other web hosting providers.
Pricing and Support
Nessus products are divided into either web hosting server products or purchasing server space within one of their data centers. All products are offered on a monthly basis but there are no free trial periods.
Their web hosting is divided into two products. Both come with unlimited bandwidth and subdomains:
Personal Web Hosting: 1 GB storage, 250 Email, and FTP accounts, and 2 databases
Business Web Hosting: 4 GB storage, 500 Email, and FTP accounts, and 50 databases
Things get a bit more complicated when it comes to server space:
Standard Server Housing: You can purchase server space in Nessus' own data center in Vienna. You can choose from five options based on the resources, processing power, and kWh you require or use.
Interxion Server Housing: The options are very similar but are slightly more expensive. Your server will be housed in a colocated Interxion server.
HP Rootserver: These servers run on the latest HP server boxes. There are three options with varying amounts of RAM, data transfer limits, and storage. This is the most expensive category of server hosting.
Since their main client base consists of businesses with high availability and performance demands, they provide 24/7 monitoring and technical support for all their products. In addition, they offer several premium support services, such as server health monitoring, a readiness team, and server management. Rest assured that email and phone support are readily available. They've got you covered with comprehensive support to meet your business needs.