With experience going as far back as 1999 and hosting/domain registration services as far back as 2007, Nerdster certainly has enough experience.
They are one of the very few Australian hosting providers considered a leader when it comes to high-performance hosting and server space.
Currently, their data centers are still only based in Australia and they provide services in English only.
Features and Ease of Use
As a premium hosting provider that specializes in high-end VPS and dedicated servers, you can expect high-performance hardware, such as their dedicated servers based off the latest Intel Xeon processors. They offer:
Domain registration
SSL certificates
They also offer a few features that some users will find particularly appealing:
100% Managed servers: All of their products run on 100% managed servers so that you only need to worry about your website.
Magento/WordPress websites: Although they focus on Magento, you could also use WordPress (or other programs with Softaculous) to create your website.
Sucuri website security: All plans are protected by Sucuri along with specialized support.
You should have an incredibly easy time managing your Nerdster product. They manage the physical servers which means that customers can focus on the actual website management. However, they expect a certain level of know-how from their customers which not everyone might have.
Pricing and Support
Nerdster's pricing plans to start at the more expensive end of the spectrum and they definitely are one of the higher-end hosting providers. However, they do offer free migration and they don't have long lock-in terms for their products. Their products are divided into three main categories for individuals, resellers, and VPS servers with subcategories: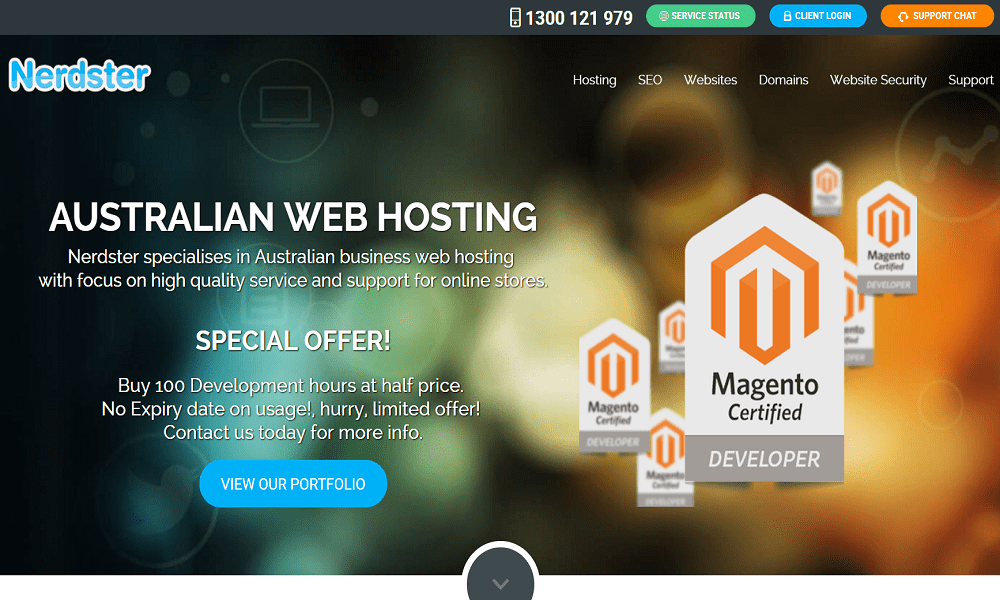 Web Hosting: cPanel and 100% managed shared hosting:

Basic: 5 GB storage, 5 GB bandwidth p/m, 2 Databases, 3 email accounts, no dedicated IP address, and limited domains.
Business: 25 GB storage, 25 GB bandwidth p/m, 20 Databases, 10 email accounts, one dedicated IP address, and more domains.
Basic: 40 GB storage, 40 GB bandwidth p/m, one dedicated IP address and unlimited databases, email accounts, and domains.
Add-ons: Addon services include additional emails, IPs, redundancy, and backups, security as well as excess bandwidth, and disk space.

VPS Hosting: These Linux-based VPS servers are 100% managed and come in four packages. All products come with unlimited emails and domains as well as superior support. What sets this plan apart is the amount of CPU, RAM, and storage resources as well as monthly bandwidth allocations and dedicated IP's. You can also add additional resources or Softaculous to install extra features.
Dedicated Hosting: We've got four packages that are powered by fully managed servers and equipped with top-end infrastructure. The main difference among these plans lies in the monthly bandwidth and allocated resources. Keep in mind, there are also setup fees that are charged separately. But hey, the good news is that you can customize your package by adding extra resources, Cloud Linux, Softaculous, and more. It's all about tailoring it to your needs!
As all their products are 100% managed, you will rarely need technical support for anything substantial. They still offer 24/7/365 technical support with priority support for VPS and dedicated server clients. You can reach support via tickets, email, or live chat. Unfortunately, there is no telephone support. There is a substantial knowledge base for your reference.