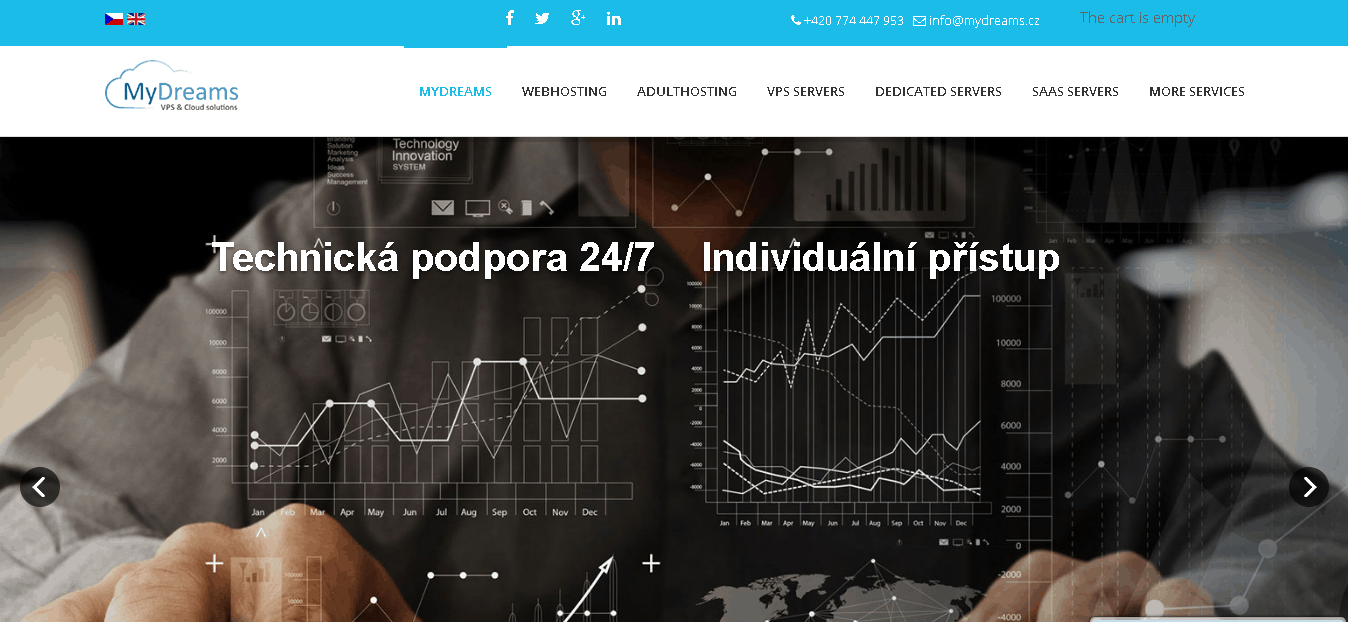 MyDreams is based in Hyskov, Czech Republic and has been in operation providing hosting and IT-related services since 2004. They have obviously used this time to expand their horizons with a vast spectrum of hosting solutions with great features and web hosting services. All their hosting products are GDPR-compliant and they operate in both Czech and English.
Features and Ease of Use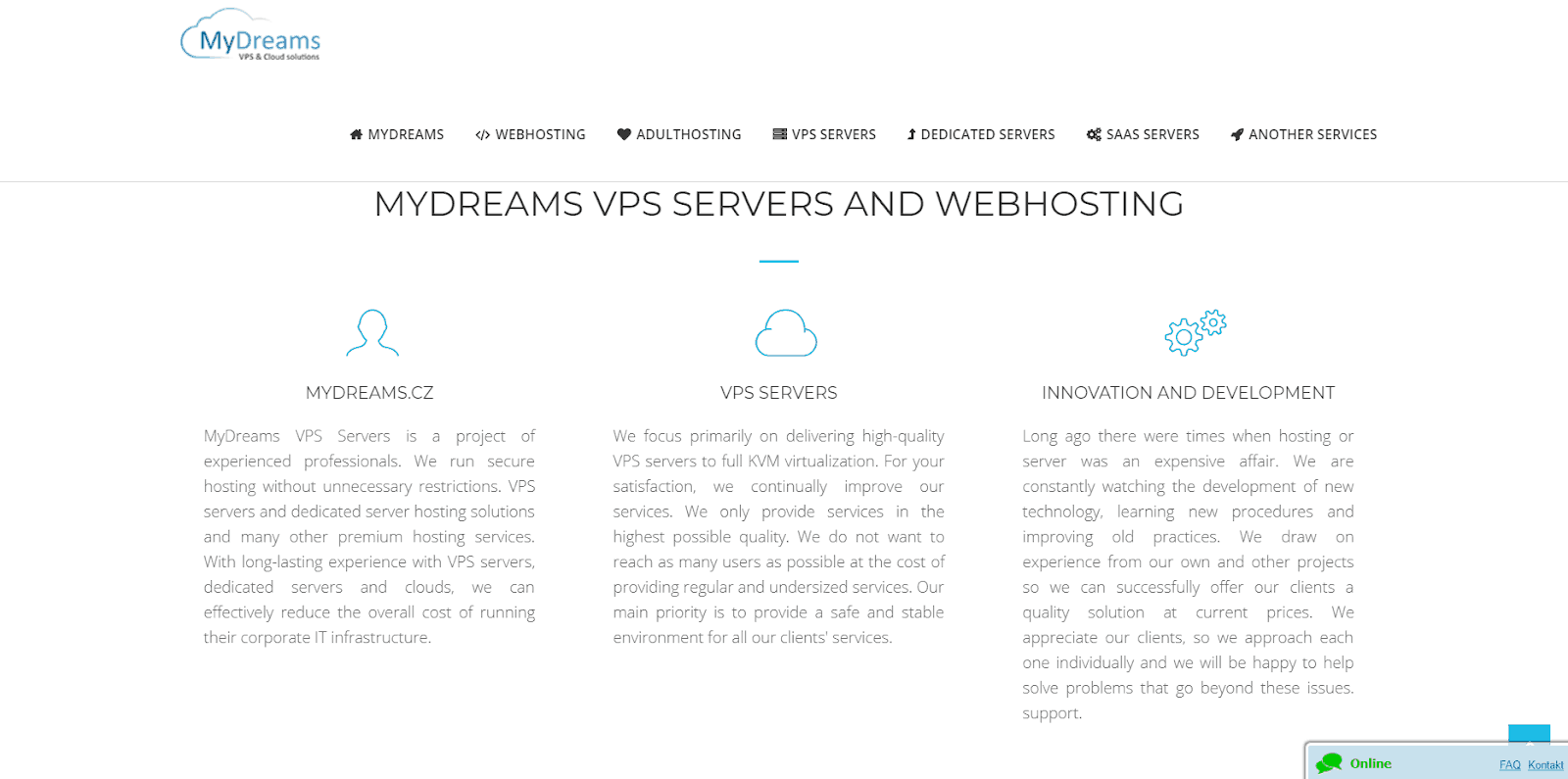 MyDreams offers a range of hosting solutions for specific purposes with a good selection of specifications for their VPS, adult hosting, and dedicated server products:
Multisite/multi-domain hosting options
Daily backups with free restoration
Domain registration services
Free or purchasable GeoTrust SSL certificates
Unlimited traffic with all plans
10GB web hosting storage, 150GB adult hosting, 100GB VPS, and multiple dedicated server configurations with RAID
Although the web hosting could do with more storage options, 10GB is adequate for most needs. You also get unlimited MySQL databases, FTP accounts, subdomains, and aliases. RoundCube and SquirrelMail email hosting with POP3, IMAP, and SMTP support is provided as well as antivirus software. With PHP web hosting, you can request that a CMS or other website software be installed for you, or you could go with the Prestashop hosting option.
They also provide high-performance adult hosting that's perfect for media-rich and traffic-heavy sites. These have high resources like 32GB RAM, 8 CPUs, and 150GB of storage. You also get optimizing software such as ionCube Loader. Unfortunately, these don't come with an admin panel. Both the adult hosting and VPS products come with CentOS 7.
Their dedicated servers that run on Dell or Supermicro servers also offer great performance with Intel Xeon E3/E5/Gold processors, DDR3 RAM, and up to 4000GB of SATA III RAID 5 storage. Their physical servers utilize 100 Mbps ports.
One of the best things about MyDreams is their goal-specific SaaS solutions which include VPN servers, SEO proxies, various tailored VPS solutions, etc. They also provide a range of other hosting-related services such as website design, online marketing and SEO, and corporate IT infrastructure solutions.
Pricing and Support
Uniquely, MyDreams allows you to choose your billing period by entering the number of months for the packages. Their basic PHP hosting is extremely cheap, but only for those who want to host their own website. The multisite and Prestashop hosting costs a lot more but is still quite affordable.
Their four adult hosting plans have considerably higher prices but offer dedicated resources specifically designed to handle the demands of running adult content or high-performance dating websites. These plans require a minimum billing period of three months.
The cheap VPS plans have extremely limited resources but are some of the cheapest VPS hosting I've seen. The standard packages are also very reasonably priced considering the resources. Billing for the standard VPS plans starts at one month but the cheap options have a minimum six-month billing.
Dedicated servers have monthly, quarterly, and annual billing at a 5% discount and there are seven options available at relatively cheap prices. Free SSL certificates are only provided with web hosting.
MyDreams offers 24/7 technical support services with all of their hosting products. You can reach them via email and phone as well as live chat. For dedicated servers, they also offer server administration or monitoring services at an extra cost. If the included services aren't enough, you can even contact them for a custom administration/monitoring agreement. They also provide a help desk that is useful but not comprehensive along with an informative blog.