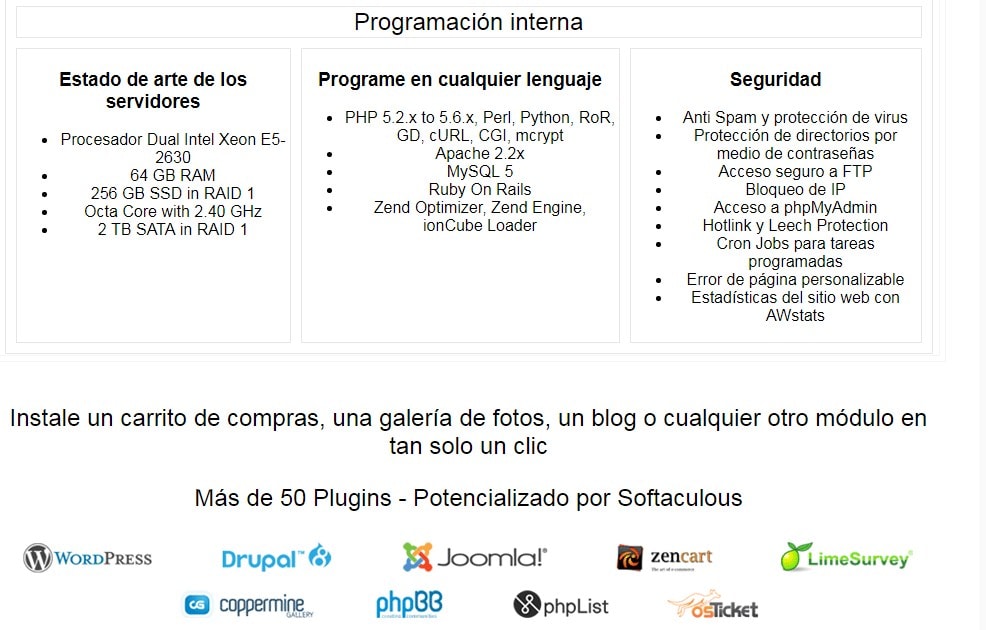 Established in 2010, midominio.com.co is a Colombia-based hosting vendor. The company prides itself on being among the top official domain distributors and hosting vendors in Colombia. It is also an ICANN certified registrar. It focuses on offering an array of web hosting solutions, including shared web hosting, dedicated server solutions, and domain name registration services. Its data center is located in Florida, U.S., and it has over 2,500 clients across Colombia. The midominio.com.co website is only available in Spanish.
Features and Ease of Use
The firm's hosting packages incorporate the following standard features:
PHP 5 support
Linux operating system
cPanel control panel
Fantastico
MySQL databases
Unlimited subdomains
SSL certificate
99.9% uptime guarantee
midominio.com.co servers are hosted in its modern data center located in the U.S. The data center uses powerful infrastructure operated by SAN, which ensures the full availability of websites. The data center is secured, integrated, and monitored 24/7. The company uses enterprise-grade servers powered by Intel Xeon Dual Processors.
It uses a robust, intuitive, and user-friendly WHM cPanel and Plesk control panel for easy management of data and files. The hosting provider offers a shared hosting package on Linux and Windows OS. Shared hosting solutions on Windows operating system include three plans.
The basic plan comes with one domain, unlimited disk space, bandwidth, and email accounts. The advanced package includes 10 domains, unlimited disk space, email accounts, and bandwidth.
Linux shared hosting plans run on Varnish Cache technology, which ensures websites are on constant high performance. It incorporates three plans. The basic plan comes with one domain, unlimited bandwidth, disk space, and email accounts. The advanced plan includes unlimited domains, disk space, bandwidth, and email accounts.
Although midominio.com.co has indicated on its website that it offers VPS server and reseller hosting solutions, it seems that these services are not currently available. The link to VPS indicates that the product is unavailable, and the links to reseller solutions are inactive.
midominio.com.co's clients need not worry about the safety of their data and information as it performs backup services after every five days for maximum safety. In order to safeguard private data, the company offers a variety of SSL certificates including 256 bit SSL certificates.
Pricing and Support
midominio.com.co's web hosting solutions are pretty cheap. It offers an inflexible annual billing cycle which most people would find uncomfortable to commit to. Its prices are all listed in Colombian peso. This vendor does not offer a money-back guarantee. It provides a 99.99% network uptime guarantee.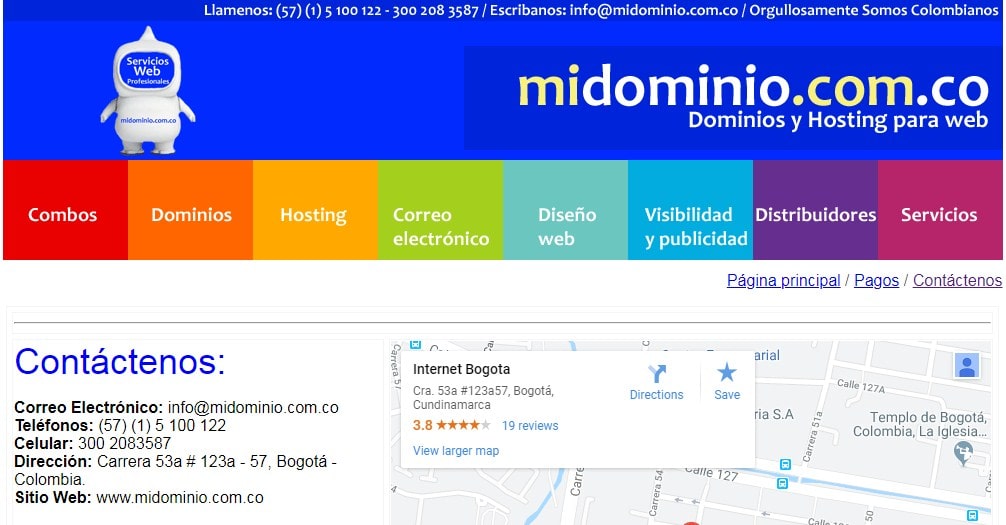 You can get in touch with its customer service team via telephone, email support, and Facebook, though it has no live chat or ticketing system. It offers 24/7 support to its customers. While the vendor never responded to my support email, its knowledge base and FAQ section helped answer some of the questions that I had.