Introduction
MediaCenter started life under the name Medimix-Trio Bt. in 1995, since when they have provided complete hosting solutions to their customers in Hungary. They currently offer a number of shared web hosting as well as Virtual Private Server (VPS) hosting solutions, and they pride themselves on providing high levels of availability, redundancy, and performance.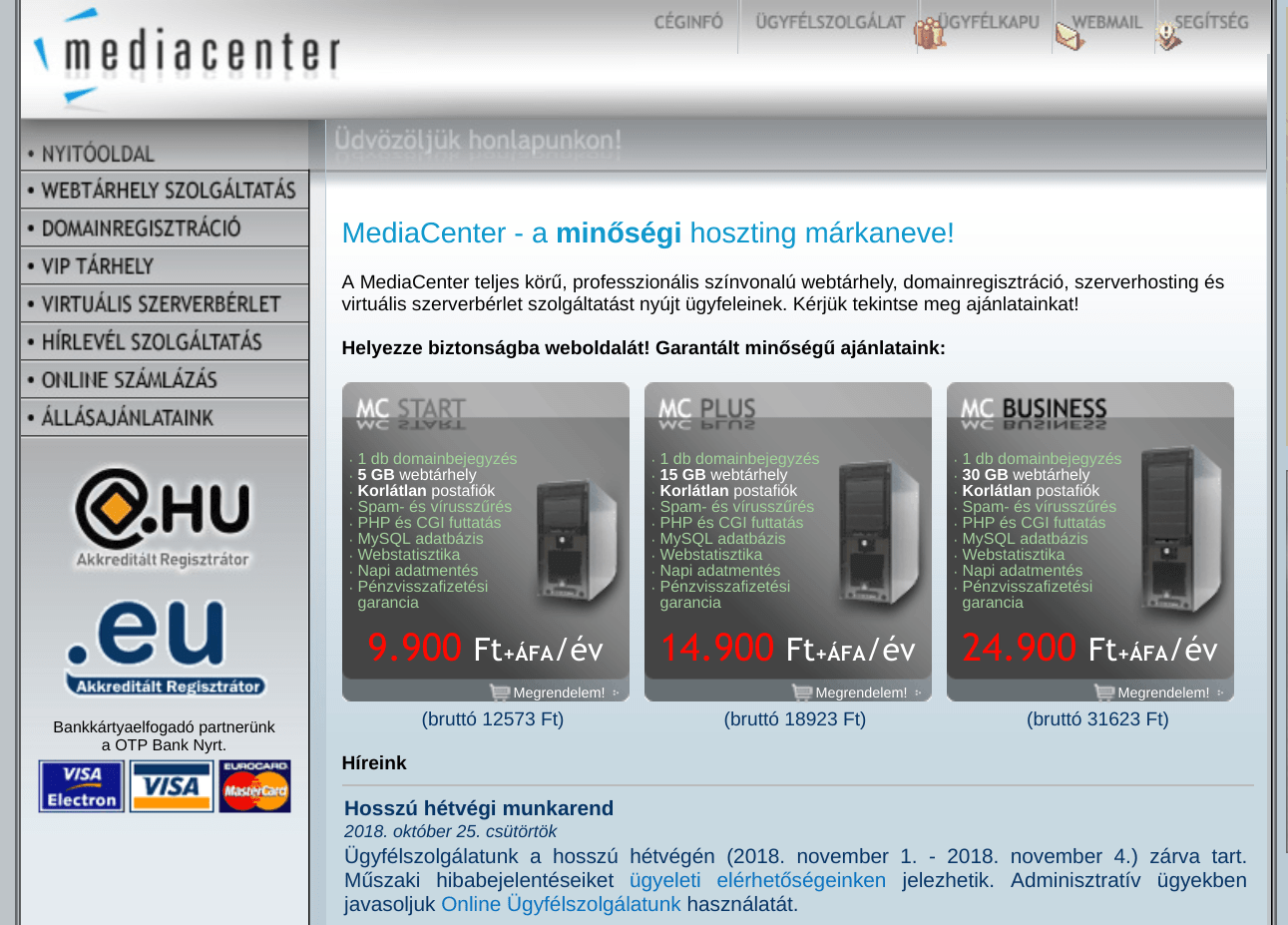 Features and Ease of Use
MediaCenter's hosting recipe provides all the ingredients you need to create a complete hosting solution, especially suited to those who want to host a website:
Free domain registration with web hosting
Free Let's Encrypt SSL certificates and optional RapidSSL certificates
SSD storage
SSL/HTTPS protocol support
Webmail with POP3 access
Backups and data recovery
Unfortunately, they only provide Linux-based hosting, although you can choose between a number of Linux flavors including Debian and Ubuntu. Their VIP hosting – which allows you to get a more stable and available hosting solution, somewhere between shared hosting and a dedicated VPS – is well worth the premium price. MediaCenter has also partnered with great providers like Let'sEncrypt, RapidSSL, and OpenVZ to provide complete hosting products.
SiteBuilder is a popular and extremely beginner-friendly website builder that allows anyone to create a website using supplied templates. They also offer a newsletter tool with a simple three-step set-up to spread the word about your latest promotions and news.
Pricing and Support
MediaCenter offers a number of additional purchasable services to improve your basic solution. They offer a money back guarantee, limited to the balance of your hosting time not already used. But you do have to justify your reasons for canceling.
Shared Web Hosting is billed annually and comes with one free domain plus a Let's Encrypt SSL certificate. Additional services include more storage, more MySQL users or databases, and data recovery. Unlimited data transfer and SiteBuilder are included. The options are:
Start: 5 GB storage, 100 MB database storage, 10000 emails
Plus: 15 GB storage, 500 MB database storage, 20000 emails
Business: 30 GB storage, 1000 MB database storage, 30000 emails
Business PRO: 50 GB storage, 1000 MB database storage, 50000 emails
VPS Hosting provides dedicated virtual server space with no setup fee; billed quarterly or annually. Based on OpenVZ virtualization and provided with Virtual Server, it can be scaled up instantly at any time with guaranteed 100% availability. Servers are based in Hungary with 100 Mbit bandwidth, 1 GB RAM, and 2 GB SWAP memory. Additional services include daily backups, SSL certificates, IP addresses, and DNS services. The options are:
VPS5: 5 GB storage
VPS10: 10 GB storage
VPS20: 20 GB storage
VIP Hosting is a special upgrade feature for shared web hosting on a low-load server, which means more available resources and greater performance consistency.
Although MediaCenter's prices start quite low, you will most likely want (or need) to purchase some of the additional services, which of course will drive up the price.
MediaCenter provides 24/7 technical support with all of their hosting products. You can contact them via ticket/email or their customer support phone lines. The superb staff go above and beyond the call of duty to answer queries as quickly as possible. They also provide a fairly decent knowledge base which isn't complete but provides instructions on all the most important aspects of hosting.
Summary
MediaCenter is a great option if you require fantastic customer support as well as highly available and consistent shared web hosting or server rental. If their base plans don't appeal, they have a wide range of additional services to enhance your hosting.
Pros:
SiteBuilder included with shared hosting
Low-load VIP hosting available
Free SSL certificates and domains
Cheap starting prices
Cons:
No Windows web hosting
No live chat support