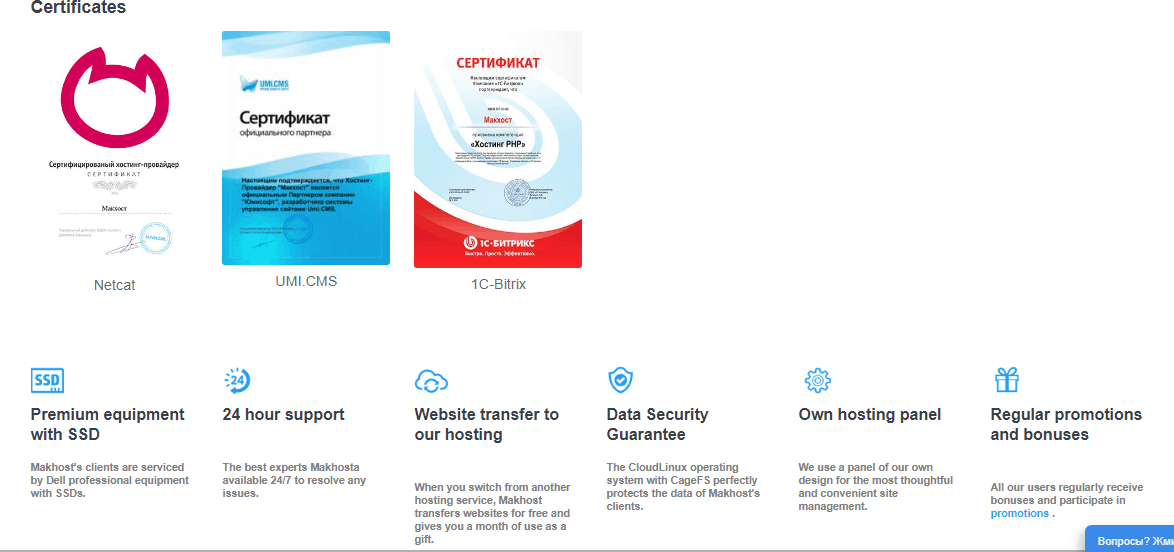 Mchost provides CMS hosting, shared hosting, and VPS solutions to its clients from more than 1,000 Dell servers that are located in Russia and the Netherlands. Its offices and support team are in Russia.
This company was founded far back in 2004 and has so far provided hosting for individuals, MSMEs, large investment companies, and even government agencies. Its portfolio encompasses more than 50,000 customers, and its website is in Russian only.
Features and Ease of Use
McHost's single CMS hosting plan provides enough resources for many medium-sized businesses. For the shared hosting, there are four plans, offering ample features that are more suitable for MSMEs.
Shared hosting customers will enjoy the following:
99.9% uptime
From 3GB to 30GB SSD
Unlimited traffic
Automatic backup every two days
McHost takes automatic backups every two days and stores five random copies of those that were taken over two weeks. The random backups are chosen based on selective dates when changes were made to your website. This ensures that significant changes are not lost.
However, it doesn't provide a free domain registration or free SSL. Indeed, the cost of domain registration is added at checkout, and it offers paid SSL certificates as a separate service.
McHost doesn't use cPanel. Instead, it offers its own custom control panel. From there, you can complete one-click installation of common CMSes like WordPress and Joomla!. If you don't want to deal with the installation of your CMS at all, you can take a CMS plan.
Mchost uses SSD, which means better performance. To support that, it deployed CloudLinux and CageFS in the shared servers for better security and performance of each customer.
Pricing and Support
McHost's prices are reasonable. That includes the shared hosting, CMS hosting, premium hosting, and VPS plans. However, given that the cost of SSL and domain registration is an add-on, you might want to stick with other hosts that provide them for free with the web hosting plan.
Aside from that though, the other features on offer are top-notch with a promise of high-performance. The setup time is 15 minutes, which is a bit more time than you might want, when most top vendors do it in seconds. After that, you can request a refund if you're satisfied, but there's no guarantee that you get your money back.
McHost offers 24/7 support through email, phone, and live chat. I asked some questions via live chat, and despite the website being in Russian only, the support agent replied in English with relevant answers.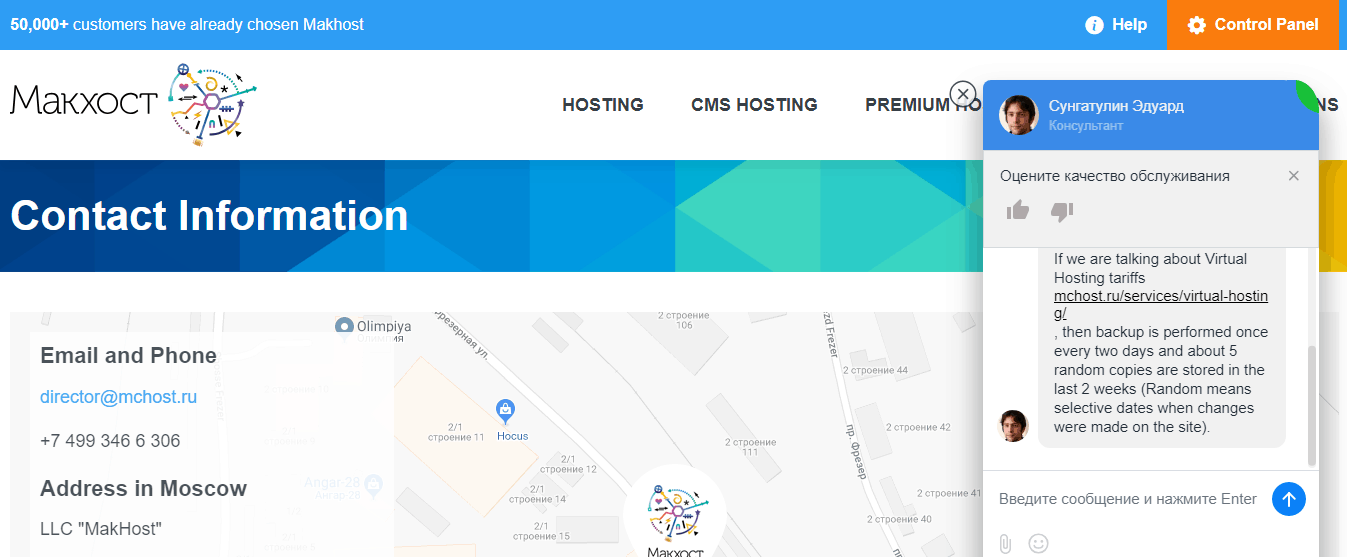 There's a help center as well with some tutorials.