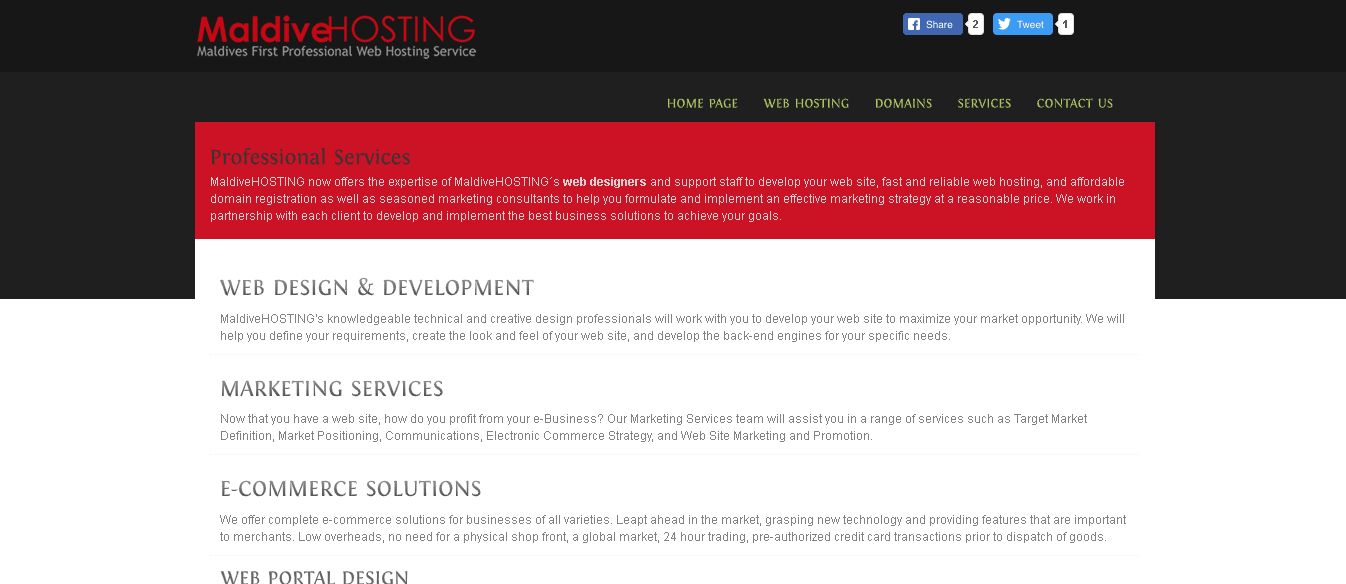 MaldiveHOSTING is the first web hosting company in the small country of the Republic of Maldives. The hosting company was started over a decade and a half ago with a goal of developing and maintaining excellence by offering superior services to businesses in Maldive and beyond. 
The hosting company specializes in offering shared web hosting, VPS servers, SSL certificates, and domain name registration services, but it does say that it will start providing reseller hosting, dedicated servers, and cloud server solutions very soon.
Features and Ease of Use

MaldiveHOSTING web hosting services include the following standard features:
MySQL databases

FTP accounts

Free domain names

99.9% uptime guarantee

IP addresses

cPanel control panel
MaldiveHOSTING web hosting platform is optimized for Joomla, where customers can conveniently install Joomla CMS for free. Moreover, its hosting services are powered by both Linux and Windows OS distributions, although the Linux operating system, more so CentOS, seems to be the only one available with most of its hosting plans.
MaldiveHOSTING virtual servers come with full root access, 64-bit and 32-bit compatibility OS systems, and are served with Virtuozzo control panel. If you are not sure if VPS will serve your interests, then you can always shift to shared hosting solutions.
The shared hosting solutions are divided into 10 packages, well displayed on the cart during the checkout process. At the entry-level is the MHC-COPPER that features 100MB disk space, 500MB monthly bandwidth, 10 POP3 accounts, and one domain allowed.
On the other hand, MHC-RHODIUM PLUS is the most advanced shared package and it includes 15GB disk space, 150GB monthly bandwidth, unlimited POP3 accounts, and up to 60 domains allowed.
Regrettably, many webmasters require backup services to safeguard their website data from loss, and the hosting solutions provided by the company lack these crucial support features. Furthermore, the hosting firm has not yet integrated its hosting services with SSL certificates. However, there is good news as SSL certificates are available as part of its add-on packages.
Pricing and Support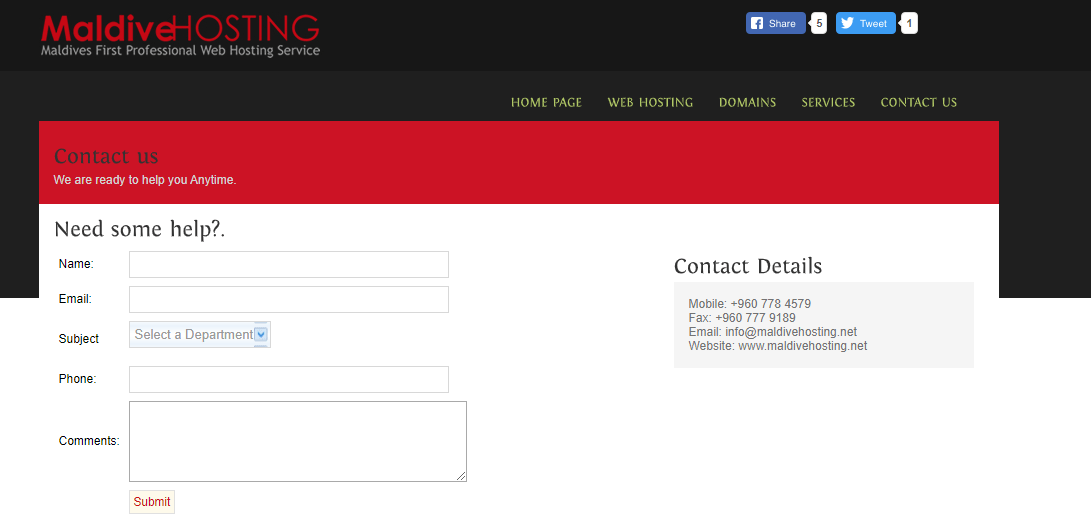 While MaldiveHOSTING services seem cheap, they include very basic features with notable-limitations. However, during the signup process, users get free .com, .net, and .org. domain extensions. The hosting solutions are offered with annual billing cycles and prices are listed in U.S. dollars and Maldivian rufiyaa. 
Customers also get the industry-standard uptime guarantee of 99.9%, but the hosting company does not offer a money-back guarantee or any return policy.
The customer support desk is available via several channels: telephone, email, or ticketing system. In addition, users can contact them via live chat, although it seems like it is often offline.
I sent this vendor a query via email but did not receive a response.
The MaldiveHOSTING knowledge base section has only three articles, as well.