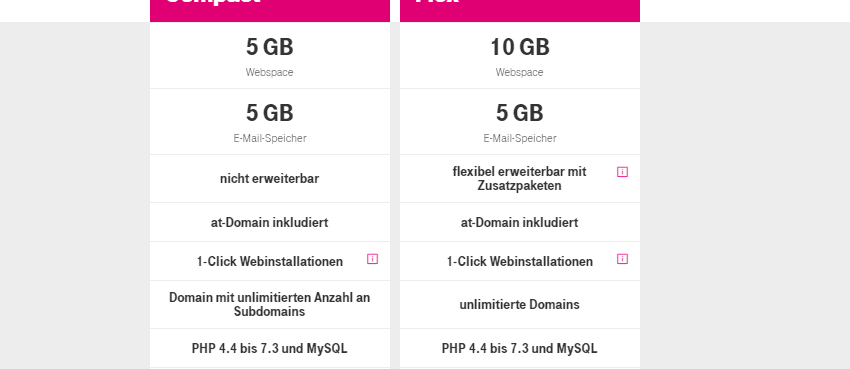 Magenta is an internet services company based in Austria. The company offers an array of internet solutions that include telecommunication services under T-Mobile, cellphones for sale, internet packages, and TV products. In addition, Magenta has another offering it calls Magenta Business, under which it offers web hosting solutions. Perhaps, because the vendor's hosting solutions are not its core business, its hosting offerings are pretty basic. The Magenta website is only available in German.
Features and Ease of Use
Practically all of the features that Magenta offers in its hosting packages are pretty basic. Some of them are:
Unlimited number of visitors

Unlimited subdomains

FTP access and database

One-click installer

PHP 4.4 to 7.3

MySQL database
Magenta's web hosting solutions seem pretty secondary and you have to dig deep into the website to find them. The solutions come in two basic packages: Webhost Compact and Webhost Flex.
Though there's very little difference between Magenta's Webhost Compact and Webhost Flex packages, the Webhost Compact package is more basic. It comes with 5GB webspace and is not expandable.
The Webhost Flex package has a few more features, including 10GB webspace, unlimited domains, and is flexibly expandable. This flexibility allows users to add other features such as an additional 30GB webspace, other databases, up to 10 FTP sessions, the option to use your own SSL certificate, data backups, and Cron Jobs. However, users have to pay extra for these add-ons.
With Magenta's one-click installer, you can easily install a variety of opensource applications with just a few mouse clicks. This tool allows you to install free applications like Parallels Presence Builder, Coppermine and Gallery photo galleries, WordPress, Magento, and Prestashop.
Pricing and Support
Magenta's Magenta Business hosting solutions are extremely basic yet they are also quite expensive. This is probably because the vendor leverages its popularity as an internet service provider to get hosting customers. The prices are listed in euros and users can pay for them on a monthly basis.
Magenta has no money-back guarantee and does not offer a network uptime guarantee either.
To talk to this vendor's support team, users can reach out via the various phone numbers listed on its website. The vendor has also included a contact form that users can use to send them a message as well as live chat.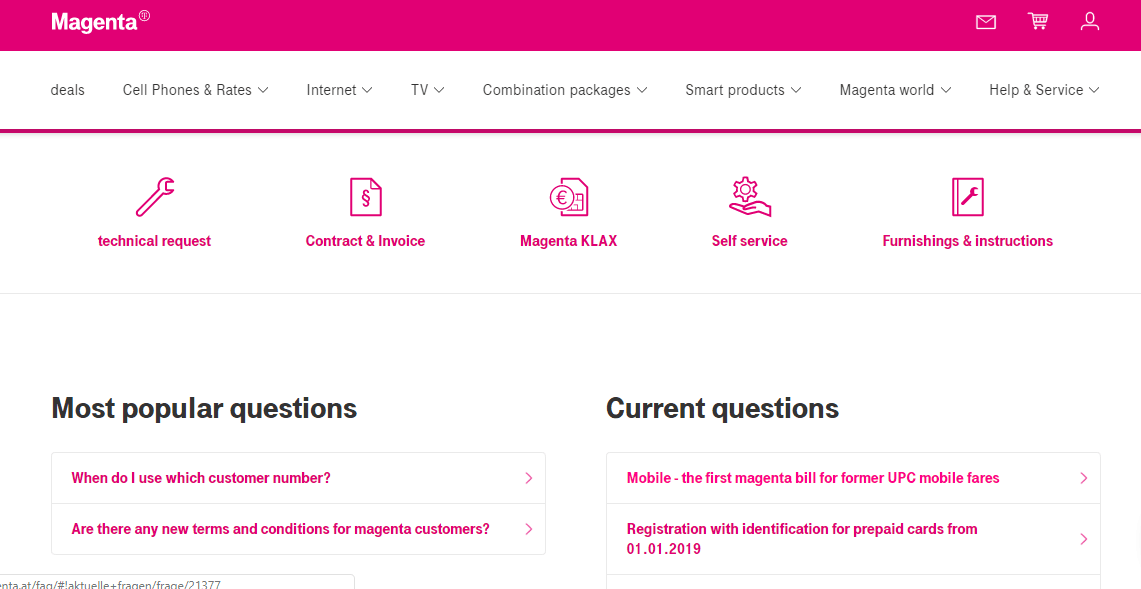 I did not find a ticketing system or a support email address. I sent a message via the contact form but surprisingly, never heard back from the support team. The Magenta website does not have a knowledge base or any hosting tutorials.