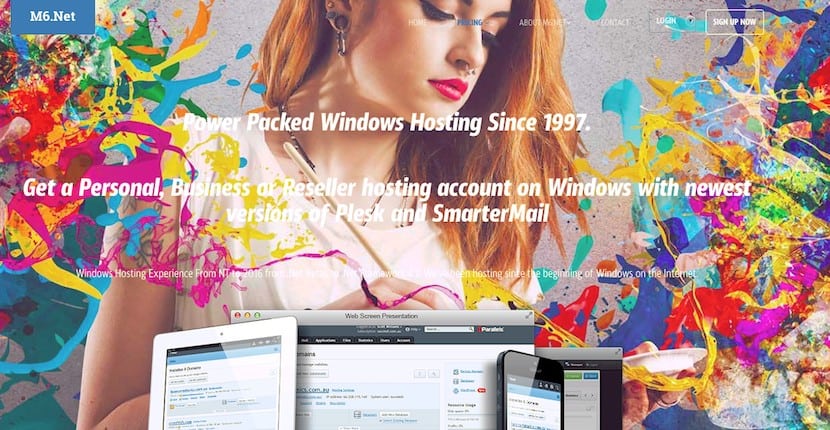 Founded in 1997, M6.Net is an Australian-owned hosting provider with a mission to provide the best possible Windows hosting services. Set up by a team of web developers, this is a well-established company that provides website hosting to customers in America and around the world. Their
servers are located in data centers in Dallas, Texas
.
Features and Ease of Use
M6.Net provides a range of Windows-based website hosting services for small and large business alike. The services they offer include WordPress hosting, personal hosting, business hosting, reseller hosting, Windows cloud hosting, and email hosting.
As standard, their website hosting packages include the following features:
99.97% average uptime in last twelve months – no uptime guarantee
Automatic daily backups, retained for three days
Domain registration, at additional cost
From ten to unlimited domains supported in higher-tier packages
SSL certificates available at additional cost
Unlimited bandwidth in all packages
From 20GB of web space to unlimited, depending on package

Unfortunately, M6.Net doesn't offer an uptime guarantee. They claim in their knowledge base that they achieved an average of 99.97% uptime in the last twelve months, while their newer servers achieved 99.99% uptime. These are great uptime averages; however, it's a little disappointing they don't offer a service level agreement to this effect.
All of M6.Net's packages offer unlimited bandwidth. While this is a great value-add for most website owners just starting out, it's important to consider the Terms and Conditions put in place by M6.Net. They note that they'll increase the bandwidth limits to meet their customers' requirements; however, if one account exceeds what they define as normal usage, these customers will be asked to upgrade, pay an overuse fee, or have their contracts terminated. What concerns me about this is that M6.Net doesn't clearly define what normal usage is, since their terms simply prohibit "abnormal amounts of website, email or any other traffic." That said, unlike many companies, they're very transparent about this policy and are in no way misleading.
What's really unique about M6.Net Hosting is their level of experience. They started in 1997 and were one of the first companies ever to provide Windows web hosting services. They're a team of developers who keenly understand the requirements of website owners, and as such they've crafted their packages and add-ons to meet the needs of their user base.
Pricing and Support
Their rates are very competitive compared to other local and international providers. Their pricing structure is also very simple and straightforward. They offer four main shared hosting packages: email hosting, WordPress hosting, personal hosting, and business hosting. The upper-tier packages support multiple add-on domains and give you a generous amount of storage at a price-to-performance ratio that's hard to beat.
M6.Net Hosting offers annual, biennial, and triennial contract lengths. They do not offer a monthly contract. The price is considerably reduced when you purchase a longer term. There is no setup fee.
Unfortunately, you will likely need to purchase a few add-ons in addition to the web hosting package. For instance, both domain registration and SSL certificates are billed separately from website hosting.
There is no free plan or free trial. However, they do offer a 30-day money back guarantee. Also, if you purchase an annual plan and cancel with 90 days, you are eligible for a prorated refund.
Customers can reach their support staff via email and a contact form on M6.Net's website. For technical issues, they do have 24/7 ticket and live chat support available through their customer portal, which are both excellent. However, I've found that their pre-sales support can be a tad slow at times; on the few occasions I contacted them via email, I had to wait over a day for a response.
What I really love about their website is their comprehensive knowledge base. While their main website is pretty basic, I often use their knowledge base to search for answers. Nine out of ten times, I could retrieve answers using their help documentation. They also have an Announcements page and Server Status page, both of which I found helpful in the rare event of an outage or issue with my website