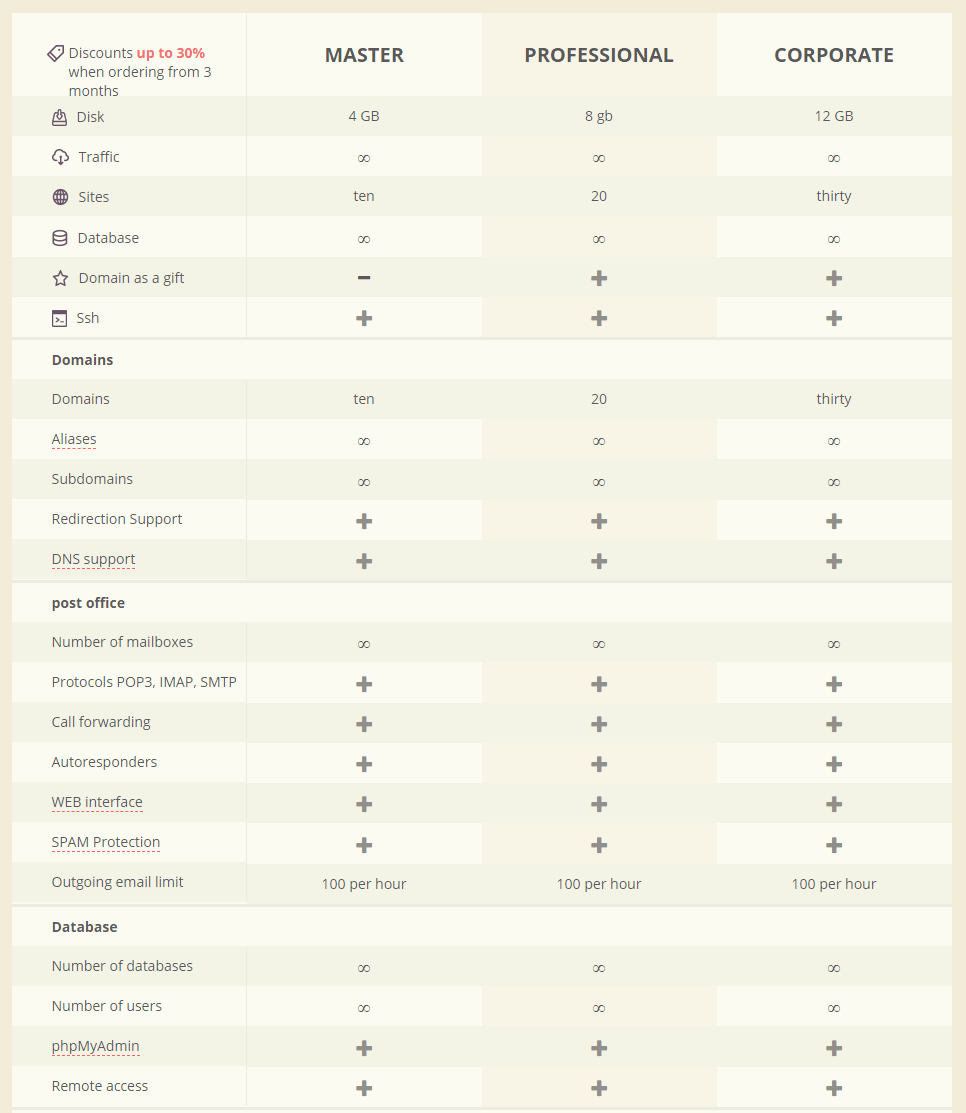 LITE.HOST is based in Russia with
servers also present in France and Germany
. It was formed in 2007 and has since acquired over
sixteen-thousand customers hosting over eighteen-thousand websites
on its servers. It employs
equipment from DELL, Intel, Supermicro, and HP
to ensure high quality of service to its customers.
Features and Ease of Use
LITE.HOST's features can be summarized as follows:
99.9% uptime guarantee
Daily and weekly backups (in separate storage)
Domain registration service available
Up to 30 add-on domains
Free SSL certificates
Limited storage but unlimited bandwidth
When the average website owner looks for a website hosting service, he often considers the ease of use. And in that respect, LITE.HOST does disappoint. It doesn't offer any one-click applications installer which is a must have these days for any hosting company. On its FAQ page, it does mention support for installing some CMS within a few seconds. You should, however, make sure that this support is offered in your hosting package as well, as not everyone can access this feature.
Similarly, there is no basic website builder, another disappointing factor for those users who do not have any programming knowledge. For the more technically knowledgeable users, there is a variety of control panels to choose from including cPanel, DirectAdmin, and ISPmanager.
One of the issues people usually report with shared hosting is downtime because someone else was using all of the resources on the server. LITE.HOST ensures you get your share of the server by creating limits for other users. For instance, in the most expensive package, users can, at most, use 50% of the core, 640MB RAM, and 240,000 files in addition to a limit on the number of connections and processes they can run at a time.
Pricing and Support
LITE.HOST's hosting packages are priced below the industry average and offer great features in return. There are three different plans: Master, Professional, and Corporate. None of the packages offer unlimited storage or add-on domains, but they do offer unlimited bandwidth, databases, emails, and ten, twenty, and thirty add-on domains respectively. These features are more than enough, even for multiple websites owners, provided they do not need too many resources to run their websites.
I was also surprised to see that there were different packages for beginners, which offer limited resources. You can host up to five domains in the beginner packages using up to 2GB of disk space. The beginner packages come at a bargain price, so if you only have a few websites to host, you could consider them and save some money.
LITE.HOST does not offer any money-back guarantee. However, you can terminate your contract at any time and get your unspent balance back. This allows you to opt for the service without worrying about losing all your money in case the hosting service doesn't work out for you. Simply fill out the contract termination form and get most of your money back.
There is no live chat when it comes to customer support, but the ticket support system is available 24/7 and support can be reached by phone and email as well. I sent them an email using the contact form on Sunday but unfortunately didn't get any response during the next 48 hours. On Tuesday, I sent an email using their email id and immediately got assigned a ticket number. Within the next two minutes, I got their response which was great.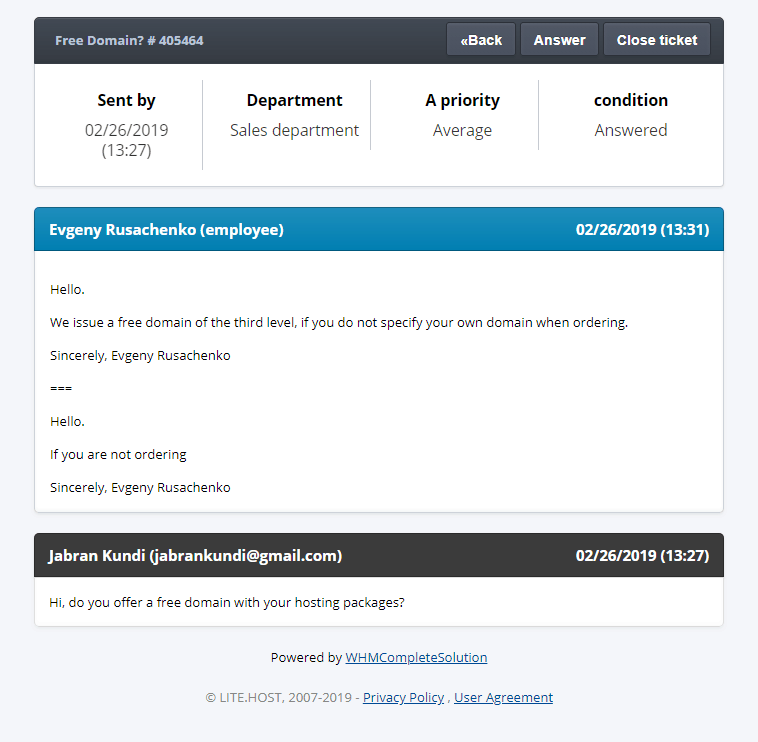 This makes me believe that they don't offer support on the weekend. The website doesn't mention this information, and my query didn't receive a response either. However, the fast response time is impressive, which is a good sign for the customer. Additionally, the response was provided in both Russian and English, which is another positive sign for international customers.