Limy VPS is a web hosting vendor that specializes in VPS and dedicated web solutions. The company does not offer shared web hosting services. Instead, the vendor focuses on the provision of managed and unmanaged VPS as well as dedicated server solutions. It has over 50 server locations distributed across many countries the world over. The Limy VPS website is only available in English despite offering web hosting solutions to businesses from many regions of the world.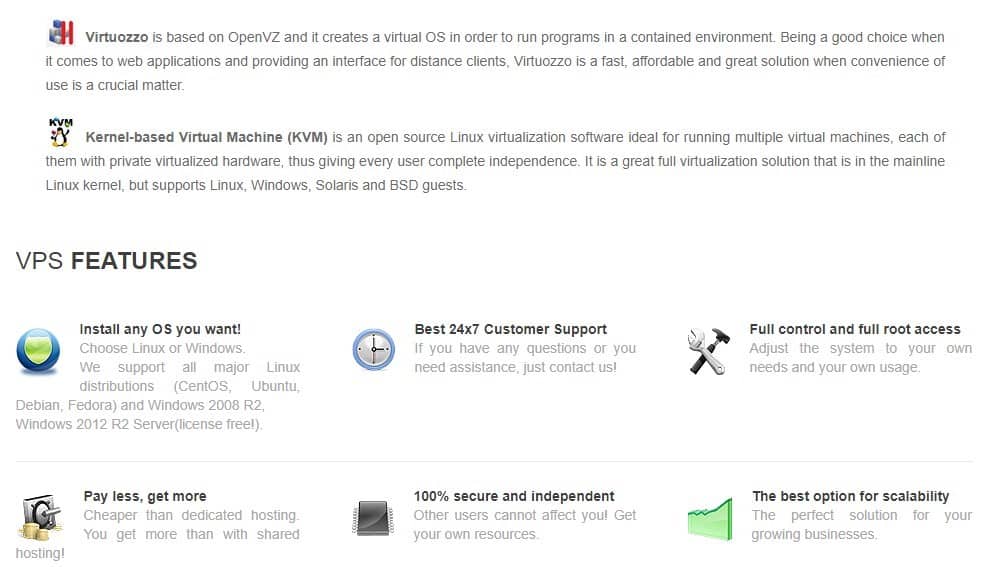 Features and Ease of Use
Limy VPS hosting services include the following standard features:
Windows and Linux operating systems
Full root access
Unlimited bandwidth
Virtual servers
Highly configurable dedicated server system
Free setup
Limy VPS servers use hardware virtualization technology. Virtualization hardware ensures the highest level of server resource sharing and compatibility. This means that a user's virtual machine will recognize the hardware configuration and utilize it fully. In addition, the hosting provider offers unmanaged KVM Windows and Linux VPS hosting running on both Linux and Windows operating systems.
The hosting provider employs isolation protocols to ensure that resource hungry websites do not affect other websites hosted on the same server. This ensures that the vendor delivers better security to its clients' websites.
What's more, its virtual servers are connected to high speed network channels with up to 2.5 GBit/s speed. Its use of both Linux and Windows operating systems allows users the choice of installing Linux CentOS, Fedora, Ubuntu, Windows XP, and Windows Server 2008 or such other supported operating systems.
It provides fully dedicated server management with root access, remote desktop connection, logs, and the ability to reboot, build, rebuild, shutdown, and restart. The vendor does not offer backup solutions to its customers. This means that users have to outsource this service, making its solutions less attractive, especially to people who prefer wholesome hosting.
Pricing and Support
Limy VPS has somewhat budget-friendly hosting plans. Unlike most vendors who offer basic SSL certificates for free, this vendor only provides them at a fee and as an add-on. The vendor's hosting solutions are listed on its website in U.S. dollars. Limy VPS has a flexible monthly billing cycle. It offers a 30-day money-back guarantee, no questions asked, and a 99.9% uptime guarantee. What's more, it offers a seven-day free trial for its VPS hosting packages.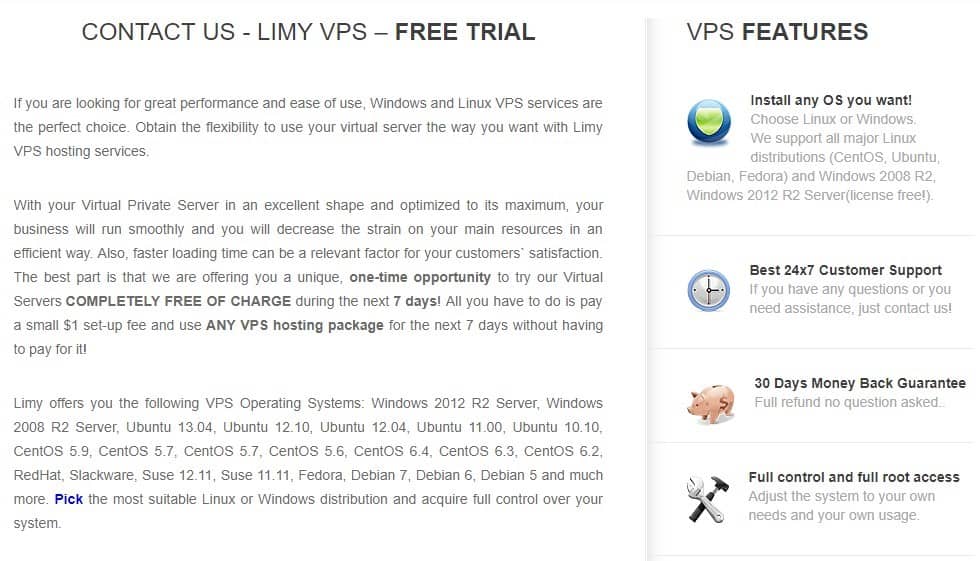 Limy VPS claims that its support team is available 24/7, yet it has a live chat as the only means to contact its support team; there is no telephone, email, or ticketing system support.
In my experience, I rarely find the support team available through the live chat. This means that customers need to leave a message and hope for a response from the vendor, but unfortunately, that hope is often in vain. I personally sent a message through the live chat and never received a response.
Limy VPS has no knowledge base on its website.