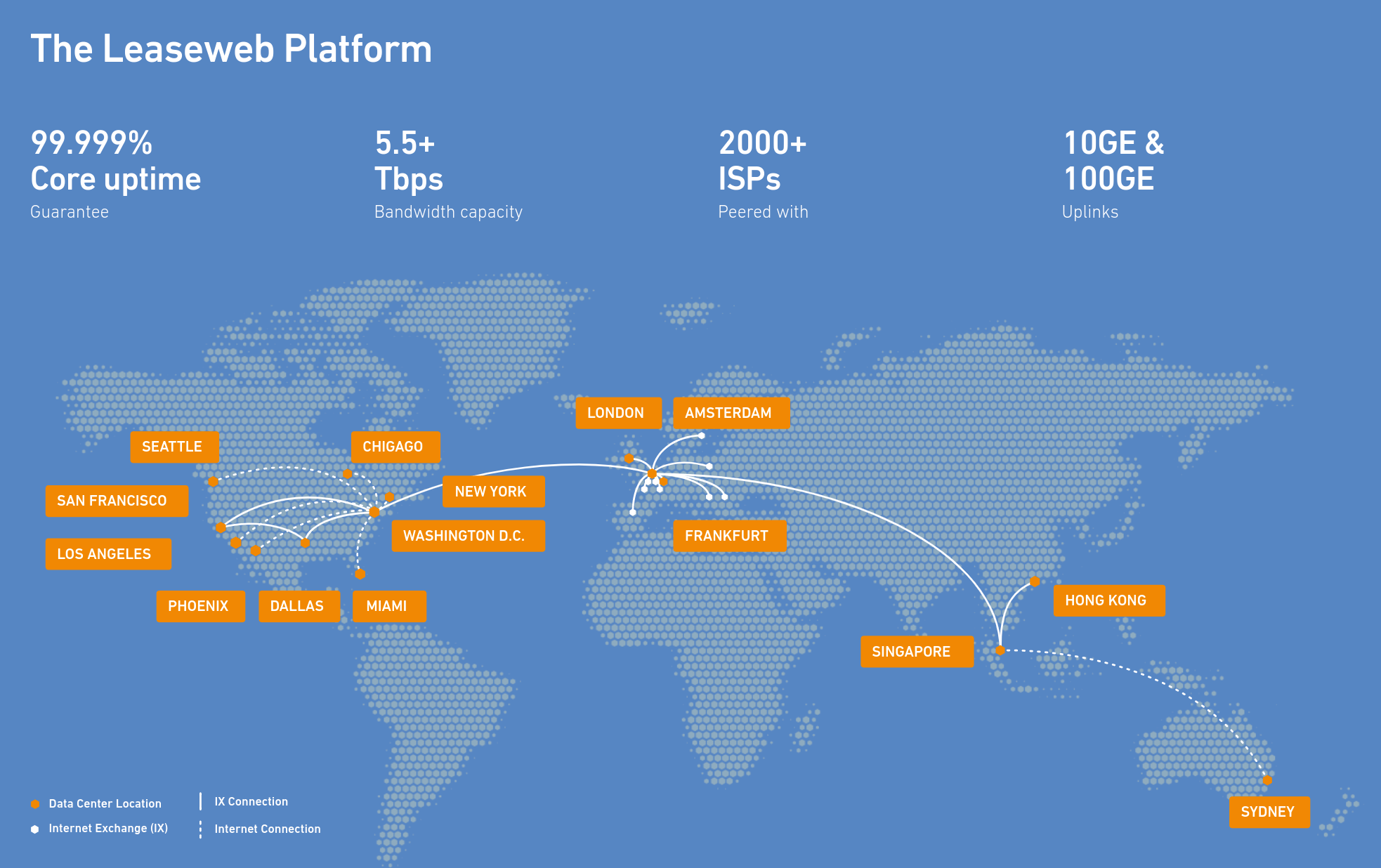 Amsterdam-based Leaseweb is a web hosting company with ISO certified data centers in Europe, the U.S.A., and Asia. With more than twenty years of industry experience under its belt, this company offers a range of hosting services including shared web hosting, private cloud, hybrid cloud, virtual cloud servers, and dedicated servers.
Leaseweb's platform boasts a 99.999% core uptime guarantee, and its website is in English.
Features and Ease of Use
Leaseweb offers four Linux (with PHP/MySQL) and four Windows (with ASP/MSSQL) hosting plans. With these plans, you'll get
250MB to 10GB disk space
25GB to 1000GB bandwidth
1 to 50 MySQL databases (for Linux)
1 to 50 MSSQL databases (for Windows)
Unlimited subdomains and domain aliases
DNS management
Statistics
Firewall, antivirus, and spam filter
Optional SSL certificate
Daily backups
In addition to the shared hosting plans, this provider offers seven VPS plans, several customizable dedicated servers across different international locations, and a comprehensive range of colocation solutions.
Leaseweb incorporates forty-three points of presence (POP) and twenty-nine internet exchange points around the world. It provides a user-friendly customer portal and a full-featured API to give its customers complete control of their hosting infrastructure.
System performance is boosted by enterprise-class storage and advanced technology such as an SSD caching layer, and the super-fast SAS drives can read/write data much faster than SATA drives.
To protect your data from disaster, Leaseweb stores it twice across separate racks. To protect your website, it offers DDoS protection for free, and it offers a CDN to provide an extra layer of security with increased performance.
Pricing and Support
Leaseweb's shared hosting plans are affordably priced, and you can pay for them using a currency (and by a method) according to where your server is located. Asian servers can be bought by bank transfer or PayPal. American servers can also be paid for using credit/debit card or direct debit.
You can choose from various billing cycles including monthly, quarterly, semi-annual, annual, biennial, and triennial. By purchasing a year upfront, you can enjoy a 7% discount. If you prefer longer terms, you can contact the company to inquire about the available discount. Additionally, if you're interested in a trial period, you can reach out to the company directly, even though it's not openly advertised.
Contact can be made by telephone, support ticket, fax (remember those?), email, online contact form, or live chat. I received a speed reply via the live chat channel: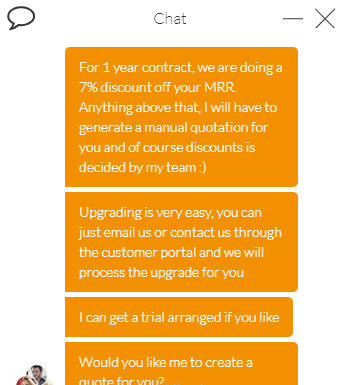 Those looking for self-help resources will find an API documentation page, a knowledge base, the looking glass (to check network connectivity), a status page (to see ongoing issues), and a blog (with several video tutorials).
How much does Leaseweb cost?
Leaseweb offers plans from $3.31 to $13.26. The price depends on which type of hosting plan you choose. You can see the updated pricing table (updated weekly) below.

Which Leaseweb plan should I get?
My recommendation is to start with a cheaper plan. You can always upgrade later on. Leaseweb can help you with the migration to a more expensive plan. The increase in visitors many times takes longer than expected and you shouldn't pay a lot of money until the need arises. Of course, your needs may vary, and you can consult with a hosting expert from Leaseweb here.

How good is Leaseweb's customer support?
Leaseweb is not ranked as one of our top web hosts. But that can also be a result of Leaseweb being a small, under the radar, hosting provider. There are advantages to a small hosting company – as a customer, you are more important to them. You can also check out our comparison of the most popular web hosting services here.