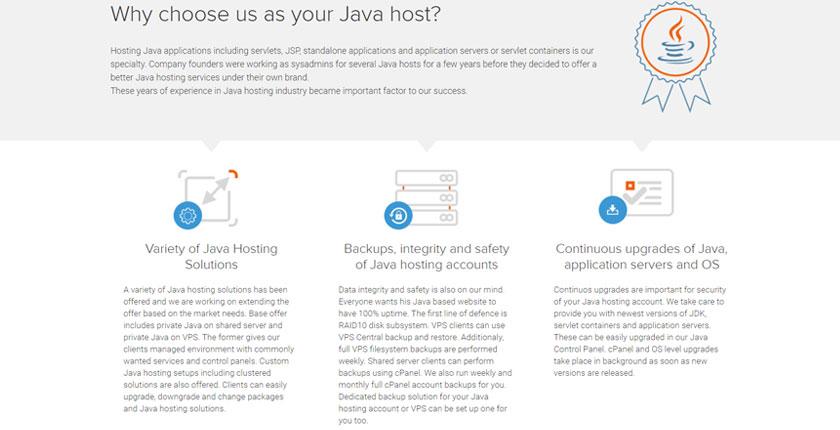 U.K.-based JVM Host specializes in Java hosting solutions, so it isn't your typical shared hosting provider. The company has been offering its services since 2010 and is known for its affordability and flexibility. Its services are primarily offered in English, although you can translate its knowledge base articles into French, German, Polish, Portuguese, Spanish, and Turkish.
Features and Ease of Use
JVM Host's main value-add is as a Java specialist that makes hosting affordable — yet without compromising quality. At JVM Host, you'll get the following general features:
Reliable servers with high uptime (though there's no uptime SLA in place)
Weekly and monthly cPanel backups
SSD RAID10 storage system
Unlimited add-on domains
Shared SSL certificates
What makes JVM Host stand out from similar service providers is its custom Java control panel. This gives you easy management options for your server and Java applications. Some of the most attractive features of this JVM Control Panel include:
Browsing Java/AppServer news and announcements
Browsing applications server logs
Viewing of resource usage
List of ports and protocols assigned to your servers
Verification of MySQL and PostgreSQL JDBC connections
Along with the JVM Control Panel, you also have the option to choose the traditional cPanel/WHM control panel. These two choices provide you with complete control over your servers.
You get free setup and instant activation with the purchase of any of JVM Host's hosting packages. Unlimited emails, unlimited add-on and parked domains, autoresponders, spam protection, and support for multiple programming languages are also included.
Pricing and Support
With JVM Host, you can expect affordable and low prices thanks to the company's "lowest prices guaranteed" policy. Plus, when you consider that each hosting account has its own dedicated Java environment (as opposed to the shared hosting environment most other Java hosts offer), it makes JVM Host's offerings even more attractive.
With the entry-level Tomcat package, you get limited but adequate storage of 10GB and bandwidth of 1TB. You can also specify your memory requirements according to the options available in JVM Host's packages.
JVM Host not only offers the standard packages listed on its website, but is also open to customizing packages based on your requirements. You just need to get in touch with them and ask for a quote. Before getting started with the service, however, you might want to make full use of the 30-day trial that costs less than a dollar.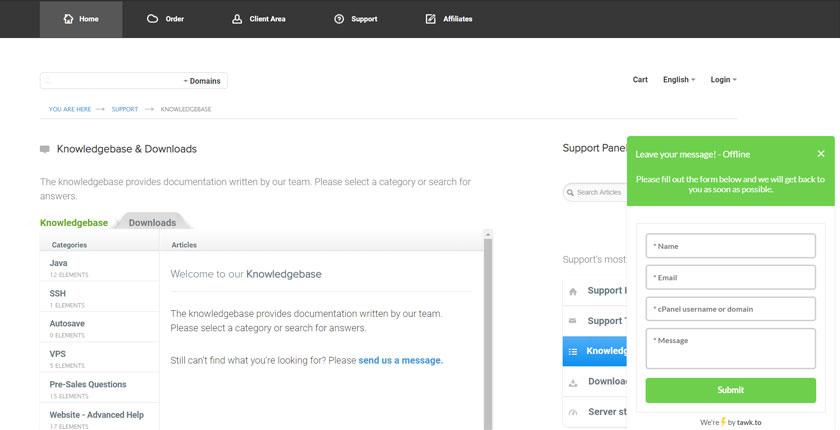 Support at JVM Host is above average. The knowledge base and tutorial sections are full of useful articles on how to manage your hosting account. You can also reach them by phone, a ticket system, or — as the company claims — live chat. However, JVM Host's live chat never seems to be online. I sent them an offline message but they failed to respond even after three working days, which was quite disappointing.