Jey Server is a web hosting company that operates from the city of Isfahan, Iran. The hosting firm was established in March 2014 and it has since grown substantially to acquire customers overseas in several countries across Europe. Today, it is listed among the top 30 largest web hosting companies in Iran with a market share of 0.01%. It offers Linux and Windows hosting solutions, VPS, and dedicated servers, among others. The Jey Server website is only available in Persian.
Features and Ease of Use
Jey Server web hosting solutions come with the following standard features:
The latest versions of cPanel/DirectAdmin control panels

Free SSL certificates

Free content management installation

Unlimited monthly traffic

PHP programming languages

MySQL/MSSQL databases

ASP.NET support

Both Linux and Windows platforms
Jey Server server nodes are distributed in multiple data center locations across the globe: Iran, France, Germany, the United States, Canada, and the Netherlands. 
Its hosting servers are equipped with the famous ClamAV antivirus, and are integrated with RAID 1 mirroring technology along with memory caching to help keep your data safe and secure, in addition to optimized hosting speed.
This hosting company does not impose any restrictions on the number of website visitors per day on its hosting services. However, it is important to note that the number of visits per day is limited by Jey Server's hosting plan. Therefore, before purchasing a plan, users should be advised to select the right hosting package for their websites so that they don't end up with a plan with resources they don't require.
At all account levels, Jey Server helps customers backup and maintain their backup copies on a regular basis. For this reason, the company performs free backup services at different intervals: daily, monthly, and annually.
Moreover, users can also purchase more advanced backup plans, that come with upgraded features such as storage space, memory, and bandwidth. 
The Jey Server website is only available in Persian and has a very lacking design. Some content on the website could not translate into English even with the help of Google Chrome's automatic translation feature.
Pricing and Support
Depending on the features included in each plan, Jey Server's web hosting services are relatively cheap. Moreover, the hosting plans are offered with flexible contacts, including monthly and annual subscriptions. 
However, the order buttons for Windows shared web hosting are static; my conclusion was that the plans might be out of stock. All prices are listed in U.S. dollars and Iranian rials.
Jey Server advertises a money-back policy on its website for its shared hosting plans. Nonetheless, virtual and dedicated server services are not eligible for cancellation and come across as non-refundable. None of this vendor's hosting plans include an uptime network guarantee.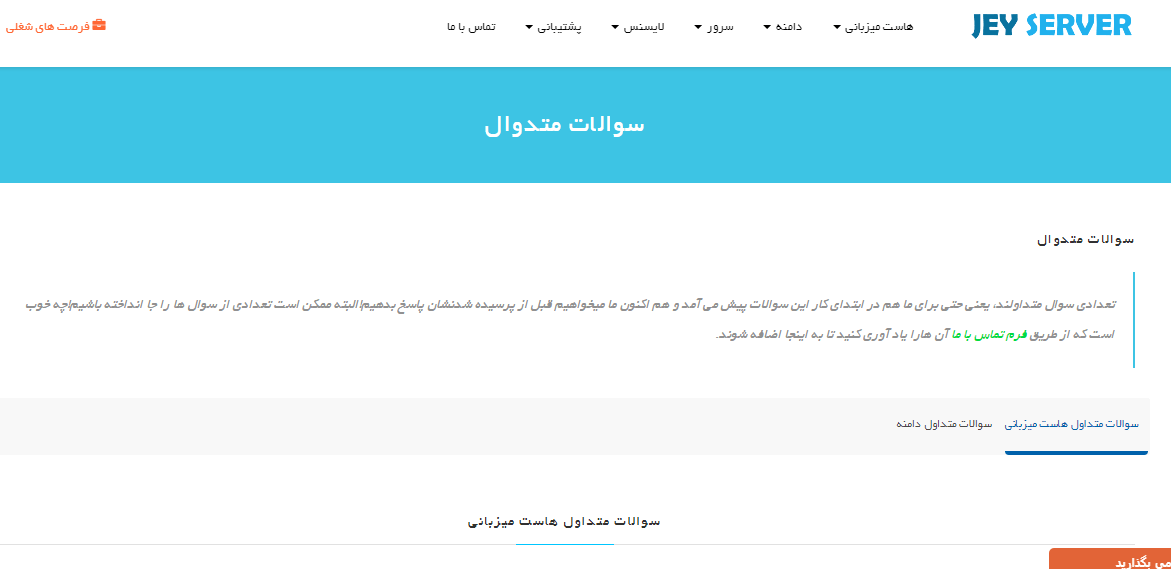 Customers can reach out to Jey Server's support desk via telephone, email, or live chat. Users can also send them a message through a contact form available on its website. That said, the vendor does not seem to have a ticketing system.
Although Jey Server has not defined a knowledge base, it has provided educational materials on its website.