JEAH is a New York-based hosting company with servers housed in the famous 111 8th Avenue Building along with big-name companies like Google and DigitalOcean. It's been around for quite some time — since 1999, in fact. JEAH operates a highly secure facility with redundant power supplies, top-level security, and 24/7 monitoring by technical experts. The company offers 100% UNIX-based virtual hosting as well as shell account access, mostly for those who want to run bots or similar programs.
Features and Ease of Use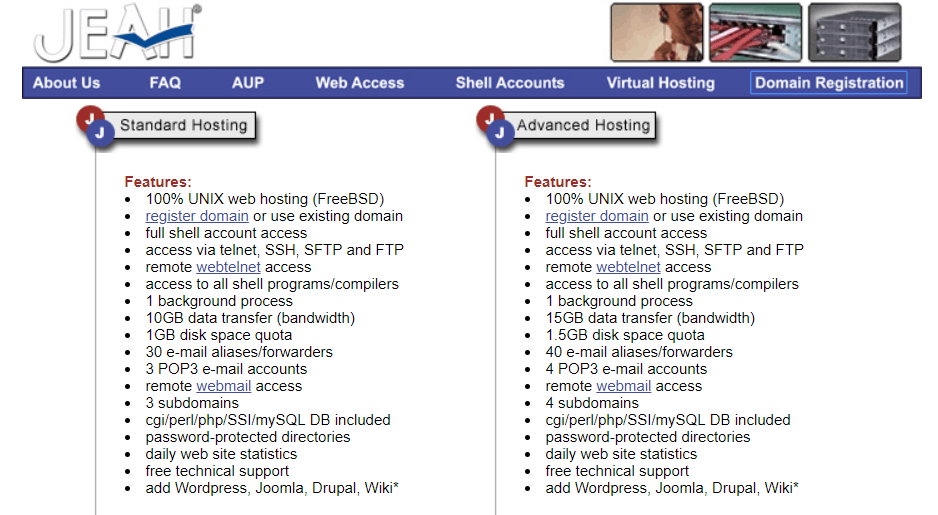 Since JEAH offers specialized virtual hosting for shell users, its feature set looks a bit different than that of most hosts. For one, it doesn't offer domain registration (though the service is available via JEAH's sister company, FYNE), SSL certificates, or a control panel. However, that doesn't mean you have to go without any typical hosting features as the company still provides:
Three to unlimited subdomains (depending on your plan)
Up to 5 GB of storage space
Up to 25 GB of bandwidth
Between 30 to unlimited email aliases and forwarders
Between three to unlimited POP3 email accounts
JEAH's hosting is 100% based on UNIX using the FreeBSD operating system, widely known as the most stable and secure of all the UNIX variants. This, combined with the company's special DDoS countermeasures, ensures a secure environment for your web hosting solution. JEAH also claims to have a "two-minute rule" for acting on any detected threats.
JEAH doesn't provide any control panel, so this platform may not be the most beginner-friendly. However, it does provide its customers with the tools they need to access their server. For example, it provides full shell account access as well as access to the server using telnet, SSH, SFTP, FTP, remote WebTelnet, and access to all other shell programs and compilers.
Perl, CGI, PHP, SSI, and MySQL are all supported. You can also opt to have WordPress, Joomla, Drupal, and Wiki installed for you, although this will come at an additional cost.
JEAH's powerful network, which includes 1Gbit connections to Level 3 transit providers like Cogent and Telx, supports its highly secure data center. The company relies on Cisco routers and utilizes 100mbps Category-5(e) wiring.
Pricing and Support
JEAH's web hosting catalog consists of four relatively straightforward plans. You'll find that prices are in the mid-range and start a fair bit higher than what can be considered "cheap" hosting. However, it's very competitive considering that JEAH is a highly specialized hosting service.
The most expensive plan comes with unlimited email accounts, forwarders, and subdomains. These are limited on the lower-tier plans. You can choose from monthly, quarterly, and yearly billing cycles. Note, though, that all monthly plans come with a one-off setup fee while annual contracts are discounted with all but the cheapest plan. Be sure to factor in the cost of domain registration and SSL certificates, as you'll have to procure these elsewhere.
JEAH also offers a decent selection of payment methods with credit cards, checks, money orders, online orders, PayPal, and Western Union.
Unfortunately, JEAH doesn't offer refunds for any reason.
JEAH provides contact details for email, tickets, and the phone. Ticket support is 24/7/365, but live chat is subject to business hours. To be honest, despite the company's claims of "abnormally responsive support," JEAH's support isn't the best and it can take very long to get a reply. On occasion, when reaching out via email support, I never even got a reply. JEAH doesn't offer a knowledge base, but there's a pretty extensive FAQ section.