iWay is a Swiss Internet Service Provider (ISP) that offers basic web hosting as a complementary service to their main offerings. They're not known for their hosting, but if you've already got other telecommunications or internet service contracts with them, they're a convenient option to go with.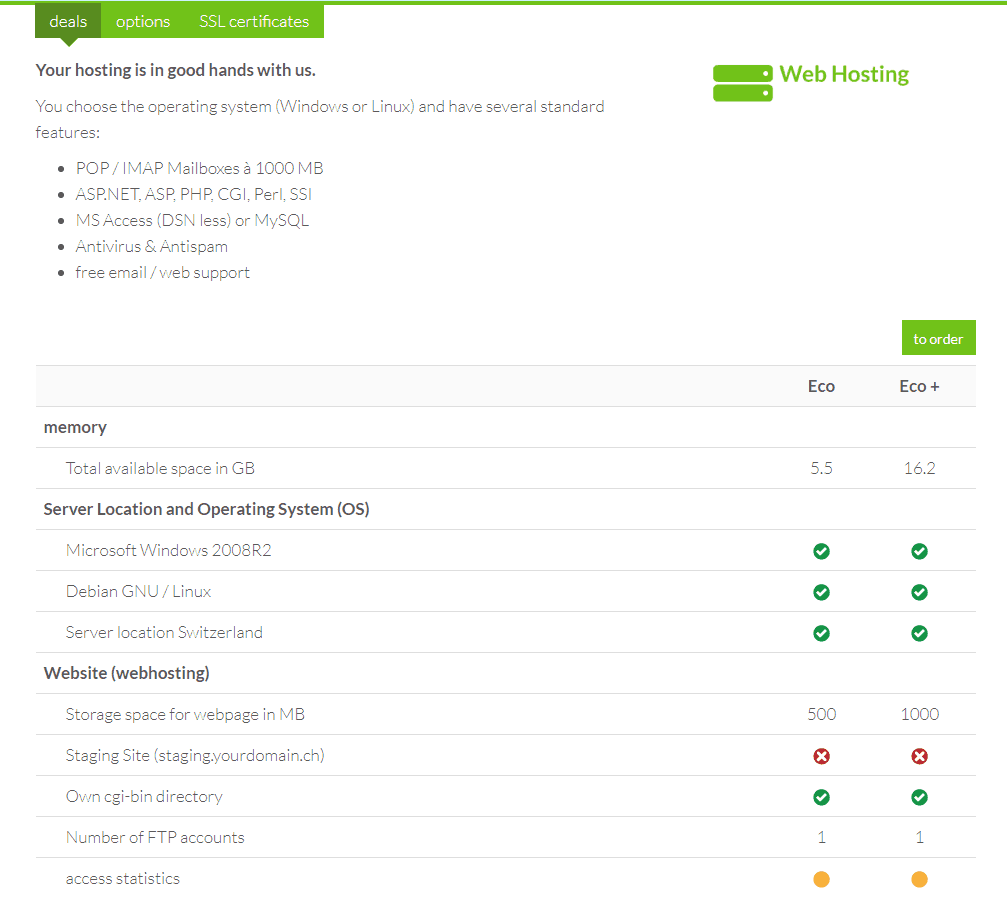 Features and Ease of Use
iWay's servers are located in Switzerland and are managed by a professional staff. You can opt for either a Windows-based hosting service or a Linux-based service. In either case, you'll have modern hardware and a reliable network at your disposal.
When it comes to databases and support for programming and scripting languages, iWay is rather disappointing. I'd highly recommend you take a closer look at their features before making a decision. For instance, support for ColdFusion MX, Java/JSP (Tomcat), Own DLL, and cron jobs isn't available.
Similarly, you won't get any MSSQL databases in their packages, and only one out of their two available shared hosting packages will give you a MySQL database to work with — and it's just that one database, so you're out of luck if you plan on installing many scripts. You can always add extra features, of course, but given that other hosting providers will offer these features as a standard part of their basic packages, it tells you that iWay definitely isn't focused on hosting as their mainstay.
You also won't get any beginner-friendly tools such as a website builder or one-click app installer, so you'll need a fair amount of experience to work around iWay's limitations — though quite frankly, if you had that technical experience, I'm not sure why you're going with iWay in the first place.
As expected, iWay doesn't include SSL certificates in their packages, so you'll have to purchase them separately. They don't have an uptime guarantee either.
Pricing and Support
There are only two different packages available at iWay. In both the packages, you can opt for either a Windows-based or a Linux based account. The disk space on offer is adequate, but not unlimited. Both allow a single FTP account and separate storage for your email. The number of email accounts that can be created is strictly limited to five and 15 respectively, which is disappointing. You can add more at an additional fee. MySQL databases are only available in the second package.
Packages for businesses are listed separately but even with these, the storage space is limited. It's in the business packages that all the features of iWay's hosting are available. But the expensive price tags means it doesn't make sense for individual users to go for the business packages.
It's worth noting here that they do ask for a small one-time installation fee, in addition to the regular hosting charges.
Customer support is offered through live chat, telephone, and email. For those already registered with them, a ticket support system is also available. They also have a huge knowledge base that should be enough to answer any questions you may have related to your account. People with little technical knowledge might still find it hard to resolve issues themselves, however.
Summary
iWay's packages aren't really eye-catching or inexpensively-priced; they're more of a convenient option than anything else. Extra features are available in case the user is interested, but they come with an expensive price tag.
Pros:
Reliable SSL certificates
Adequate storage and bandwidth
Linux and Windows options available
Support for ASP, ASP.NET, PHP5/7, Perl, SSI
Cons:
Limited packages
SSL certificates are expensive