Ipeer was founded back in 2006 and is currently based in Karlstad, Sweden. They have multiple offices in Sweden and one in India, while their data centers are located in their native country. Instead of focusing solely on low-cost solutions, Ipeer was established with the goal of working with the best technology partners to provide tailored hosting solutions that effectively meet all of their customers' needs. Their services are available in Swedish, Norwegian, and English.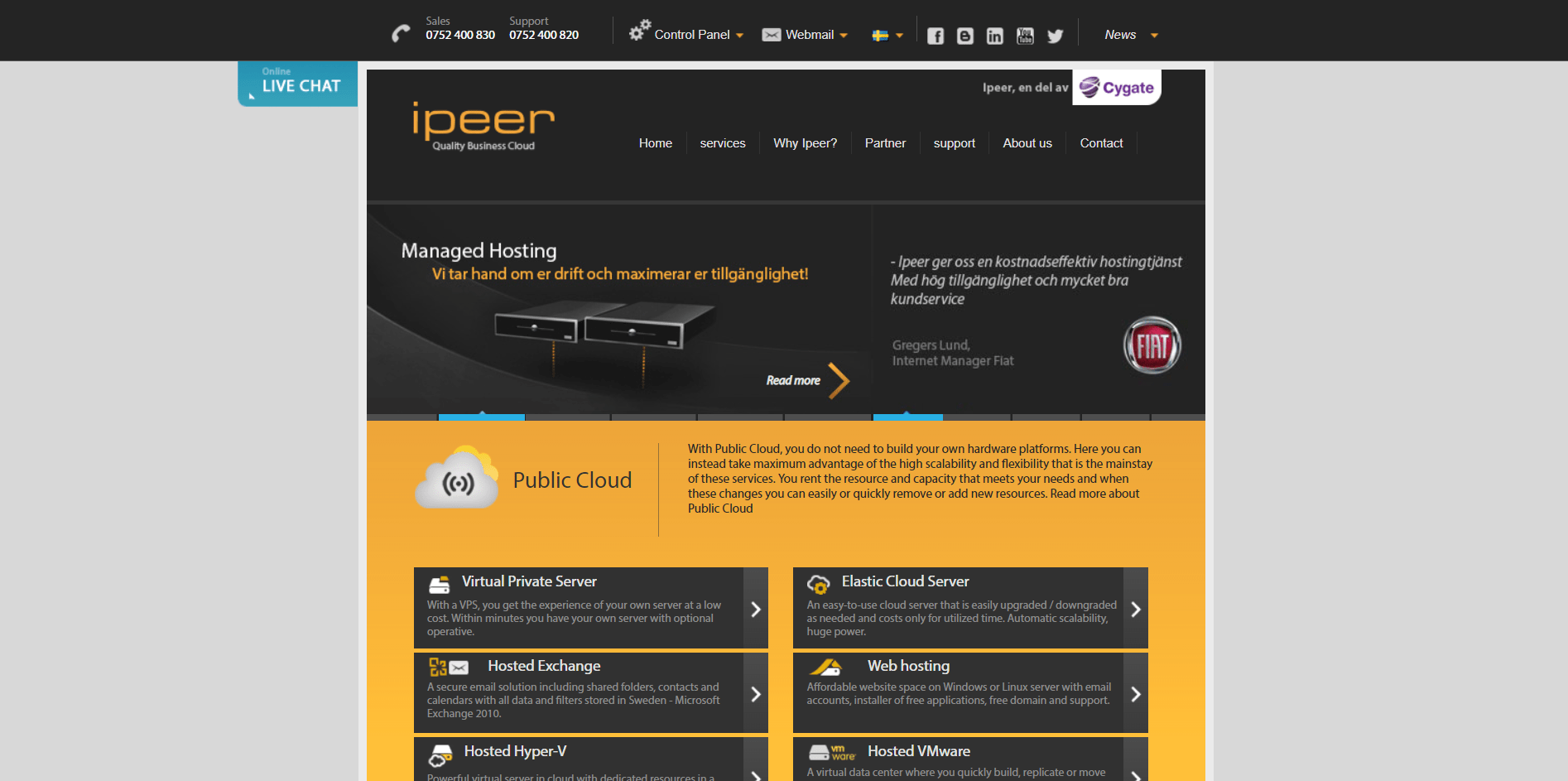 Features and Ease of Use
Ipeer provides both private and public cloud hosting, along with a more affordable shared hosting option. Through the various types of hosting and their additional value-added internet services, Ipeer eliminates the need for you to source for any other provider. Here's the minimum list of features you get with Ipeer:
Domain registration services
SSL certificates
Backup services
Email hosting
DNS management
Further, every type of hosting at Ipeer has at least one or two great features that make it an attractive option:
Off-site Backups: With their fully-redundant facilities suitable for server colocation, they provide off-site backups with most of their plans, ensuring that your data remains safe no matter what.
Automated Control Panel: Ipeer provides a powerful control panel with which you can automate the backup, upgrade, downgrade, repair, and reinstallation of your machine.
Software Platform-specific Hosting: Ipeer has partnered with the best IT companies to tailor their range of services for specific types of hosting, from operating systems to content management systems to enterprise-grade software such as Azure.
The biggest problem when it comes to usability on Ipeer is that their actual website and signup process can be quite confusing. It seems that even if you start the registration process by selecting a hosting package, you'll need to re-select this same hosting package further down the process.
Also, Ipeer doesn't appear to have an uptime guarantee for any of their hosting plans, although they do have SLAs that you can purchase for each category. These cover extended service hours, shorter setup times, quicker data and error recovery, and more.
Other than that, their actual hosting products are great, with Plesk provided as your control panel. You can also choose products with your preferred operating system or content management system pre-installed.
Pricing and Support
You can find a pricing category with a range of plans for almost any type of hosting at Ipeer. Most of their hosting services have both a Linux and Windows version, except where the type of hosting requires one or the other.
Shared hosting comes with a 30-day money back guarantee. The billing period depends on the type of plan:
VPS: There are five configurations that range from one to 16GB of RAM and 15 to 20GB of storage. The billing period is three months.
Web Hosting: There are two plans that are billed monthly, with the first being limited to 5GB of storage, 50 email accounts, and 40GB data transfer. The second provides unlimited storage, email accounts, databases, and 200GB of data transfer.
Dedicated Server: High-end dedicated servers with three configurations. Resources go from 16 to 64 GB of DDR4 RAM, 2 x 300GB SAS to 6 x 600GB SAS hard drives, RAID 1 to RAID 5, 6, 10, and 50 disk arrays. Billing varies from a three-month term to a biennial billing term. You also get three hours of free technical consultations every month as well as 13 TB of data transfer.
Another unique offering is their elastic cloud hosting service. This option means you can pay to use a certain configuration of resources per hour or per month. This is particularly attractive for developers testing out resource-intensive applications sporadically, or for websites that have irregular traffic spikes. You can also set up a custom dedicated server by contacting them for a consultation.
Their customer support is available 24/7 for all plans. You can contact their support staff via telephone, email, live chat, or by filling out the contact form on their website. The support team at Ipeer is amazing. Despite being a Swedish company, they provide excellent assistance in English. They are prompt in responding to queries and are generally friendly and proficient in handling technical matters.