IntoVPS is a Romanian hosting provider launched in June 2009. The company was founded on the premise of offering powerful, secure, and reliable VPS solutions at pocket-friendly prices. They serve thousands of customers spanning multiple countries in Europe as well as parts of the United States. IntoVPS is owned by Hosterion SRL, a full-service web agency with hosting as part of their extensive portfolio of services.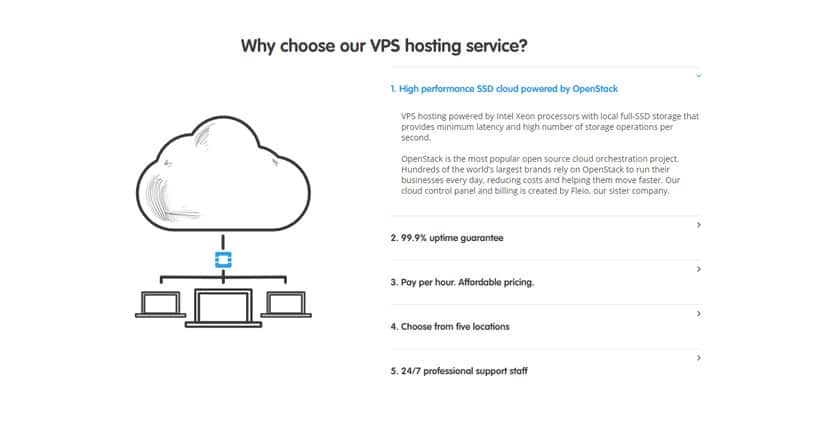 Features and Ease of Use
IntoVPS uses SSD-powered premium Intel Xeon servers in data centers connected to Tier 1 internet providers. Their full-SSD cloud network is powered by OpenStack. It provides a high number of operations every second and records very low latencies. IntoVPS chose OpenStack, an open-source cloud orchestration project, because of its popularity, efficiency, and cost-reduction benefits.
IntoVPS utilizes Fleio, a control panel built by their sister company. This is a billing system and self-service admin panel rolled into one, enabling customers to adjust any aspect of their public cloud hosting platform at will. Among its many features you'll find:
SSH keys that can be added and assigned as you wish
OpenStack routers, security groups, and DNS zones
OpenStack compute instances allowing you to create, reboot, shut down, rebuild, rescue, change root password, resize, add or remove IP addresses, create snapshots, and more
OpenStack networks and the ability to add IPv4 and IPv6 subnets
Domain name registration and management
Up to 99% of the software's source code viewable and available for audit
Furthermore, this vendor allows customers to choose their preferred VPS locations from a list of five: London, Dallas, Amsterdam, Fremont, and Bucharest.
IntoVPS guarantees an uptime of 99.9%, which is a tad low for VPS standards but still passable. However, what was more heartening was that my tests yielded zero downtime for the six months prior. All hosting packages are also deployed automatically, eliminating the long wait times you'll often see with VPS providers.
Pricing and Support
IntoVPS hosting plans are reasonably priced, particularly for the quality of premium service they offer. This vendor has a pay-per-hour pricing scheme that doesn't require customers to enter into long-term contracts or full-month commitments. This approach allows users to create a VPS any time they want and delete it whenever they choose. You are billed for only the period of time that you used the VPS. As is typical of pay-as-you-go pricing schemes, if you choose to pay per month, your hosting cost will be calculated up to the 28th day.
The downside of this vendor's approach is the fact that their pricing does not include additional features like a Windows OS license, traffic over-usage costs, extra IP addresses, DirectAdmin licenses, and so on. All of these will be additional costs to your monthly bill.
IntoVPS has assembled a team of highly skilled industry veterans to run their customer support. They're available 24/7 via telephone, email, and social media, though of course the latter option isn't recommended as the main channel. If you're an existing customer, they recommend that you contact them via your registered email address if you want fast support.
When I contacted them, they got back to me within 15 minutes on most occasions — definitely an above-average response time especially for the relatively inexpensive rates I'm paying. Sadly, they don't have a live chat or even a knowledge base on their website, which may prove difficult for DIY-inclined individuals.
How much does IntoVPS cost?
IntoVPS offers multiple plans priced highest to lowest. The price depends on which type of hosting plan you choose. You can see the updated pricing table (updated weekly) below.

Which IntoVPS plan should I get?
My recommendation is to start with a cheaper plan. You can always upgrade later on. IntoVPS can help you with the migration to a more expensive plan. The increase in visitors many times takes longer than expected and you shouldn't pay a lot of money until the need arises. Of course, your needs may vary, and you can consult with a hosting expert from IntoVPS here.

How good is IntoVPS's customer support?
IntoVPS is not ranked as one of our top web hosts. But that can also be a result of IntoVPS being a small, under the radar, hosting provider. There are advantages to a small hosting company – as a customer, you are more important to them. You can also check out our comparison of the most popular web hosting services here.