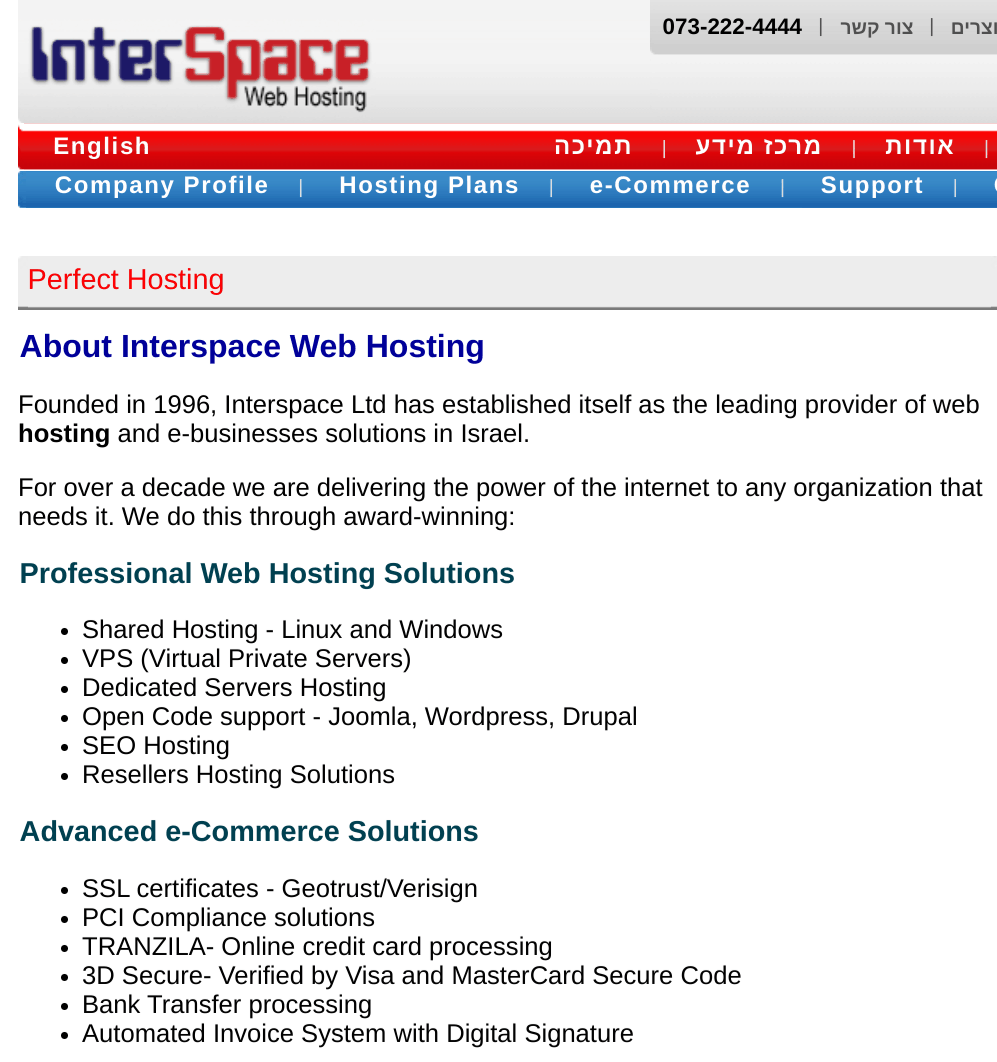 Award-winning Israeli host InterSpace was founded in 1996. It offers e-commerce solutions, Linux and Windows shared hosting, SEO hosting, reseller hosting, virtual servers, and dedicated servers (through its iServer service). This certified domain registrar also 
deals in website security solutions, SSL certificates, and software licenses.
InterSpace's website is unpolished and confusing, and it includes some broken links. You can switch from the Hebrew language into English, but the translation doesn't work well on many pages. Prices are displayed in U.S. dollars and Israeli new shekels.
Features and Ease of Use
InterSpace sells three Linux shared hosting plans and three Windows shared hosting plans. It doesn't provide much information about its hosting plans, but I can tell you that the key features are:
99.9% uptime guarantee

From 500 MB to 2,000 MB disk space

From 3 GB and to 24 GB monthly traffic

From 3 to 80 mailboxes
Due to the limited disk space, InterSpace's hosting plans are most suited to casual bloggers and small businesses.
If you want more resources, you'll have t turn to one of the VPS solutions (via the InterVision service) that provide up to 100 GB SSD webspace, 5 TB of monthly traffic, 4 GB RAM, and daily backups.
If you're serious about search engine optimization, you'll find that InterSpace takes SEO seriously by using multiple Class C IP addresses so that your websites appear to be on different servers. And if you're interested in e-commerce, you'll want to check out the Tranzila payment gateway.
Pricing and Support
InterSpace's prices appear to be high for the bare-bones features on offer, but I can't rule out the possibility that the vendor's website doesn't tell the whole story. Although you get a 30-day money-back guarantee that gives you a month to change your mind, I'd still advise contacting the company before making a commitment.
You can supposedly contact the customer support team via telephone, ticket, or email, but I have to tell you that my pre-sales approaches seemed to fall on deaf ears.
For self-support, InterSpace's website "Support" link leads to a set of several frequently asked questions pages, in addition to which there is a comprehensive knowledge base (which you'll have to let your browser translate into English):