InterSpace was founded in 1996 and by providing high-quality website hosting services, it has established itself as the leading company in this sector in Israel. They not only offer professional website hosting solutions but also have separate solutions available for those wishing to create their online stores. They are partnered with leading international companies such as Microsoft, Paypal, HP, and Intel among others.
Features and Ease of Use
InterSpace puts a lot of emphasis on its SEO services and uses Multiple Class C IP addresses to make your websites look like they are on different servers. This ensures that search engines like Google don't categorize all your websites into one family just because they have the same owner. This is a great advantage if your website's SEO is important to you.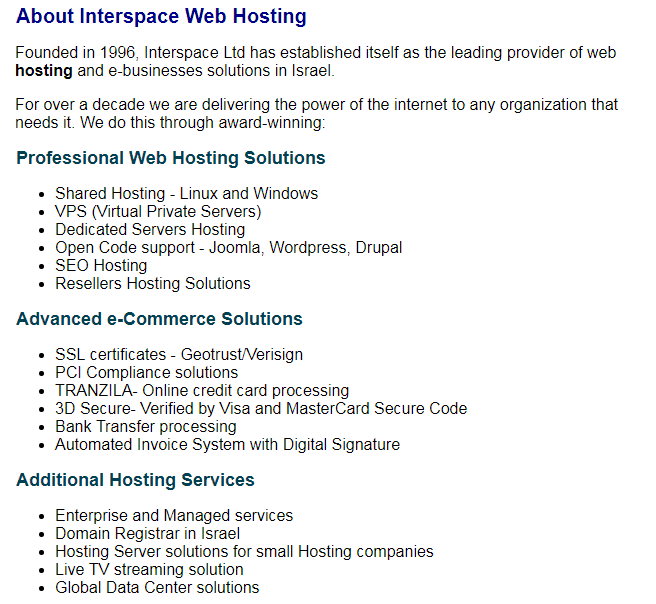 When it comes to e-commerce solutions, InterSpace offers the TRANZILA Payment Gateway which is one of the leading payment gateways for e-commerce websites. It offers useful features such as:
Automatic invoices with digital signatures
Secure online payments
Recurring billing services
Fraud detection and prevention
Other notable features of InterSpace's website hosting solutions include:
Cloud computing
Virtual Private Servers
Implementation of canonical addresses
Pricing and Support
Packages for both Linux and Windows shared hosting are divided into three categories: Starter, Mini, and Regular. Unfortunately, I could not find details of their packages. The website only says that they offer limited disk storage and a certain amount of email accounts with each package. They do offer all the usual website hosting features but they haven't displayed to what extent they offer these. All packages come with a thirty-day money back guarantee so you have enough time to check out the features and switch to some other host if it isn't to your liking.
InterSpace have an active presence on social media which I always find advantageous. They usually reply immediately on Facebook. They also have their own YouTube channel. You can get in touch with them through email or telephone, in case you don't want to take the social media path.
Summary
InterSpace's own website does not give the best first impression but they do offer good services for the casual blogger and small business. Those with greater requirements might either want to get in touch with them to find out more details or look elsewhere. For me personally, their website leaves a very bad impression, especially with outdated information such as Google's 2012 algorithm still posted on their website.
Pros:
Affordable
Good social media presence
Cons:
A hard to navigate website with no details about hosting packages
No live chat