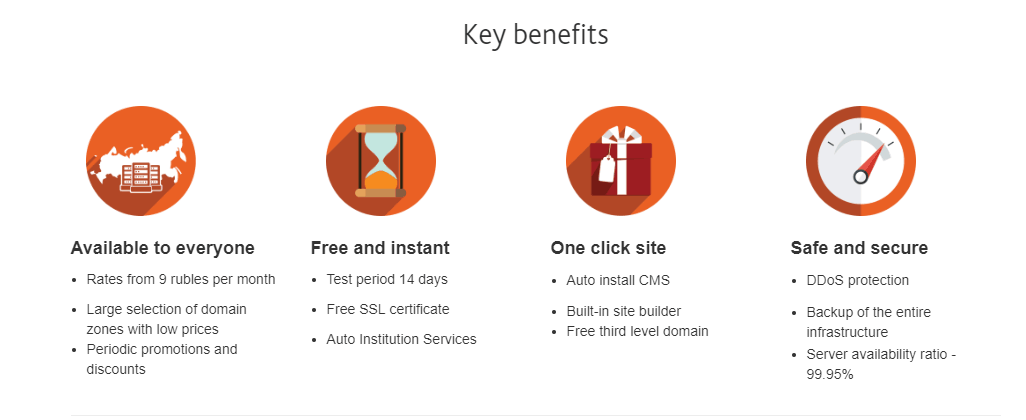 Inoventica Services started its journey in 1999. The company features among Russia's top five IaaS cloud providers. It's the nation's largest cloud service provider and has its own Slidebar infrastructure cloud. By drawing upon its industry experience of more than fifteen years, the company offers cloud services (PaaS, IaaS, SaaS, DaaS), cyberattack prevention system (InvGuard), and cloud management platform (InoSphere).
It also offers web hosting, VPS/VDS, dedicated servers, domain registration, and SSL along with several other web services. The website is available in five language options – English, Russian, German, Chinese, and Spanish.
Features and Ease of Use
Inoventica Services offers five virtual website hosting packages on Linux that support MySQL databases, have no traffic restrictions, use the Apache web server with PHP version choices (PHP 5.4 to 7.2), and come with:
ISPmanager control panel
80+ domain zones with low prices
Auto-install CMS (Joomla, Drupal, WordPress etc.)
Free SSL certificate
Cron support
CGI support
Automatic backups to the cloud (Dropbox, Google, Yandex, etc.)
Free website builder
Free third level domain
Two of these plans are designed specifically for landing hosting (which refers to hosting of the landing page) of one website (Landing and Tariff S). They differ in terms of disk space (250MB – 5GB), and the number of databases (one – unlimited). The remaining three – Tariff L, XL Rate, and Unlimited vary in terms of disk space (10GB – unlimited), and the number of sites you can host (three – unlimited). With these plans, you can buy additional services, which include a 1C-Bitrix license and an additional dedicated IPv4 address.
Inoventica Services also offers four virtual website hosting packages on Windows, six dedicated servers, six VPS/VDS servers on SSD, six Windows VPS/VDS servers ((Hyper-V) on SSD, six Windows VPS/VDS servers, five virtual servers on Linux with IPv6, two VPS for developers with flexible settings, and three VPS Forex plans suitable for all brokers. Two VDI (virtual desktops) plans, four backup hosting plans, and several other web services are other offerings of the company. The server uptime guarantee offered by Inoventica Services is 99.5%.
A unique feature of the company is its invGUARD DDoS protection. This network attack protection system spots suspicious activity and harmful effects, monitors network traffic to the server's IP address, and helps prevent DDoS attacks.
Auto installation of popular CMSes and an integrated site builder, which will help even novices' create their websites easily, are other unique and user-friendly features of Inoventica Services.
Use of RAID 6 for redundancy and fast SSD disks for high speed are the company's other unique features.
Pricing and Support
The Linux and Windows web hosting plans available with Inoventica Services are very cheap. As expected, the Windows plans cost more than the Linux plans. You can pay for these plans in RUB (Russian Rubles) via PayPal, Visa, Mastercard, electronic payment options, bank/postal transfer, online banking systems, mobile payment, and payment terminals (details provided on the website). The available billing periods are monthly, quarterly, half-yearly, annual, biennial, and triennial.
The company offers a free trial of 14 days for its Landing, Tariff S, and Tariff L Linux hosting plans, while the other two Linux plans come with a two-day trial period. You'll have to register on the company website to get these free trials. There is, however, no trial period on offer for the Windows plans.
Inoventica Services provides 24/7 technical support, and you can contact their customer support through multi-line phone and email. Existing customers can also use their personal account page to reach the company's customer service. When I contacted them via email, I received a prompt reply.
The company offers an FAQ page on its Russian website version that has some tutorial-like posts but the Russian screenshots could be a problem for people who don't know the language.