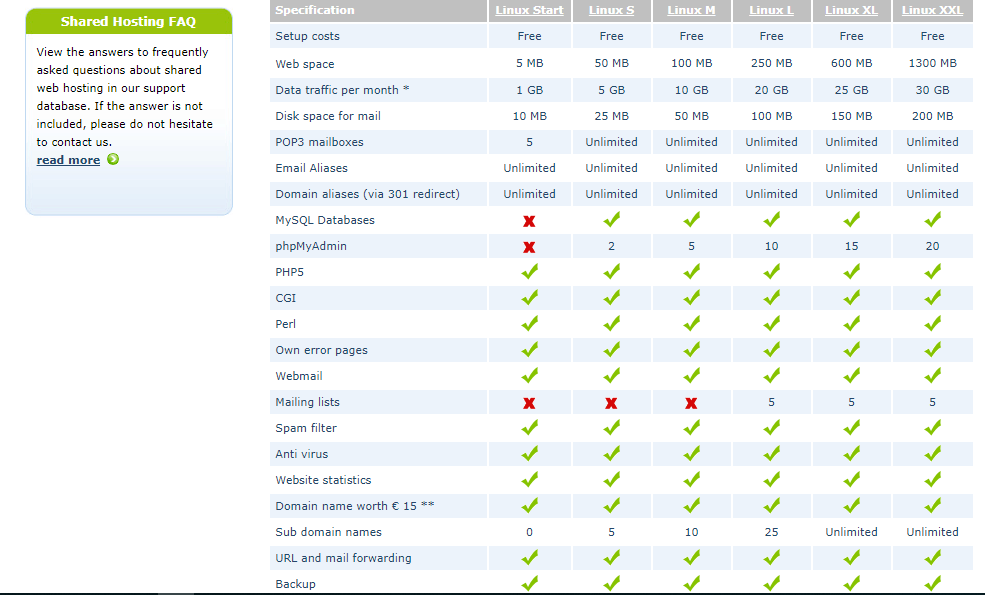 IN is a veteran web hosting company established in 1998. The hosting firm is based in the Netherlands, but it has a strong presence in Belgium. IN's biggest attractions are innovation and automation. And thanks to this automation, the vendor has registered over 60,000 domain names under its own brand. Its offerings include shared web hosting, reseller hosting, dedicated servers, and SSL certificates, among other services. The IN website is only available in Dutch. 
Features and Ease of Use
IN website services incorporate the following standard features:
MySQL, MS Access, or MSSQL databases

FTP access

Free domain name

Webmail, autoresponder, catch-all 

Daily backups

Antivirus, anti-spam check

PHP standard activated

CGI and Perl also available
IN uses some of the best possible hardware and software infrastructure distributed across several data center locations. The data centers are in Belgium and the Netherlands.
The hosting company uses performance-oriented HP dedicated servers with full root access and SATA storage drives that are configured with RAID 1 architecture. Customers can also get RAID 0, 1, and 5, and offsite backups with up to 10GB backup space.
IN offers customers a choice to select between Linux and Windows OS platforms. Linux hosting works well for users who want to use HTML, Flash, PHP, CGI, and Perl. Also, it incorporates MySQL databases.
With Windows platforms, the services feature frameworks such as ASP or ASP.NET in combination with MS Access or MSSQL databases. Clients can also request to use MySQL databases on their Windows platforms.
At all account levels, IN provides its customers with an OS-dependent control panel, and the control panels come with a one-time surcharge fee. However, the cost of the control panel on Linux servers is almost 10 times cheaper than the control panel on Windows platforms.
Pricing and Support
Though IN hosting prices might seem affordable at first glance, the hosting solutions require customers to commit to annual contracts. Moreover, the hosting solutions charge most of the add-on requirements, even basic features such as a control panel, that are offered free of charge by other vendors. Prices are listed in euros.
None of the IN web hosting solutions come with a refund policy. In addition, while the hosting firm boasts of high reliability, it does not commit to an uptime guarantee.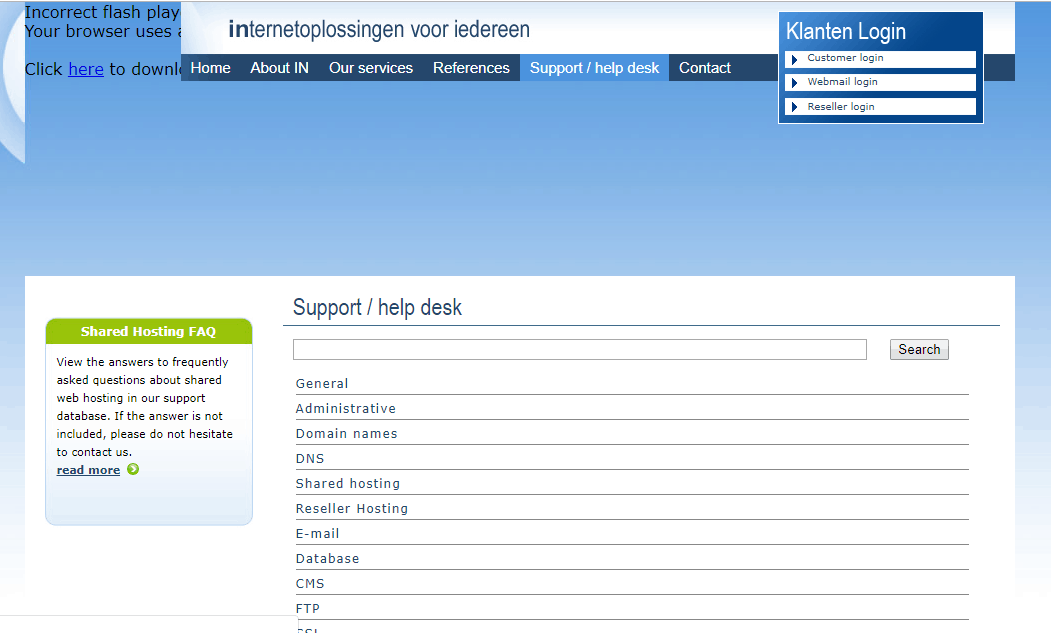 Potential clients can contact the IN customer desk via telephone or email. Unfortunately, these are the only available means of contact. The hosting firm does not have a ticketing system or live chat support.
As a way to complement its support system, the hosting provider has a knowledge base section with quite a number of articles.