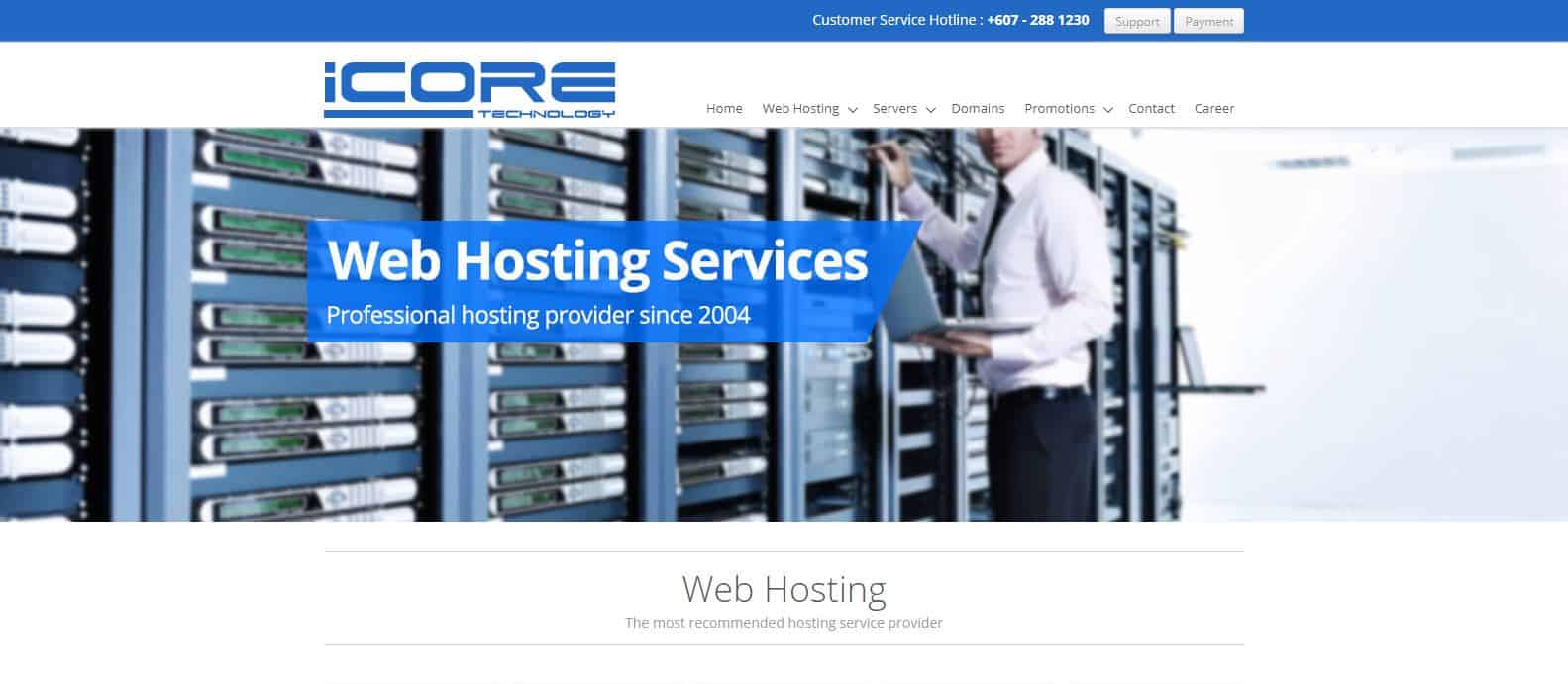 Based in Malaysia, iCore Technologies has been offering domain registration and website hosting services for close to two decades. Some of the most popular brand names In Malaysia use iCore Technologies, which speaks volumes of their services.
Features and Ease of Use
iCore offers a wide spectrum of services including hosting for websites, emails, e-commerce, forums, and much more. Here are the highlights of their hosting features:
99.9% uptime guarantee
Daily, weekly, and monthly backups available
International, country, and custom domains registration possible
Unlimited add-on domains hosting
Both free and paid SSL certificates
Unlimited storage and bandwidth available
If you decide to move to iCore, you can opt for the free migration service. They list the process clearly on their website and rely on you to provide them with a full cPanel backup. If that's not possible, they can still help you with the migration by copying files through FTP but you may have to deal with some technical issues. It's best to just get in touch with them and inquire beforehand what technical steps will be needed on your end.
The ability to host multiple domains even on the cheaper packages is what makes iCore Technology stand out. Granted, the limited bandwidth and storage reduces your ability to host too many websites, but being able to host 20 domains on the GX20GB package, for instance, is definitely worth the price. Not to mention the fact that unlimited domains can be hosted at a reasonable price, too.
They offer Linux based hosting accounts only with the option of cPanel or DirectAdmin control panel. SSL certificates are free, but you have to option to opt for the premium Comodo PositiveSSL certificates as well. While they do offer modern and fast infrastructure, not all aspects of their hosting services are stellar.
For instance, they don't mention anything related to e-commerce readiness. The absence of value-added services and tools for beginners or people with no technical knowledge is also a slight worry. In short, they disappoint on the two main aspects people look for these days, namely ease of use and e-commerce readiness.
Pricing and Support
At iCore Technology, you have five different plans to choose from. They are GX10GB, GX20GB, GX30GB, GX Unlimited, and Semi Dedicated. The names reflect the amount of storage you receive in each given plan. You get limited bandwidth if you opt for plans with limited storage, and only the GX Unlimited and Semi-Dedicated plans offer unlimited storage and bandwidth. In addition to that, these two packages also offer unlimited add-on domains.
You could argue that the availability of 30 add-on domains in the GX30GB package is adequate for people with multiple domains, but the limited bandwidth restricts you from hosting too many websites anyways. Hence, for anyone with multiple websites, GX Unlimited is the right plan to choose, and it is fairly priced too. All packages include free SSL certificates and unlimited databases.
The iCore Technology staff can be reached via telephone, fax, email, and Skype. In order to create tickets for any issues you might be facing, you have to register with them (which you already have if you are a customer) and complete the ticket form. They do have a live chat option but it's only available during working hours. Their FAQ section is also worth reading through if you're thinking about signing up with them as it answers lots of questions you may have in the future.
How much does iCore Technology cost?
iCore Technology offers plans from $2 to $24. The price depends on which type of hosting plan you choose. You can see the updated pricing table (updated weekly) below.

Which iCore Technology plan should I get?
My recommendation is to start with a cheaper plan. You can always upgrade later on. iCore Technology can help you with the migration to a more expensive plan. The increase in visitors many times takes longer than expected and you shouldn't pay a lot of money until the need arises. Of course, your needs may vary, and you can consult with a hosting expert from iCore Technology here.

How good is iCore Technology's customer support?
iCore Technology is not ranked as one of our top web hosts. But that can also be a result of iCore Technology being a small, under the radar, hosting provider. There are advantages to a small hosting company – as a customer, you are more important to them. You can also check out our comparison of the most popular web hosting services here.