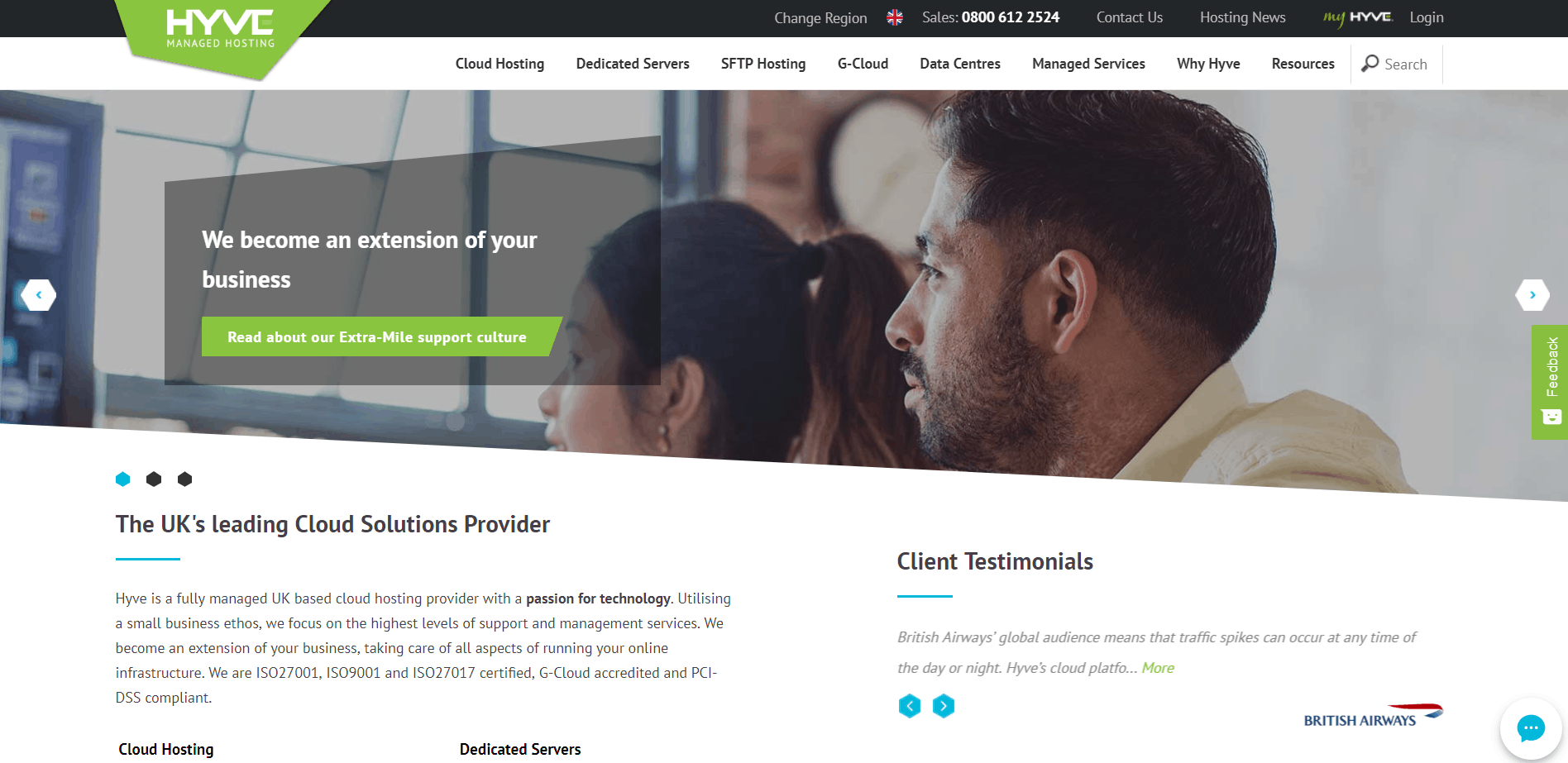 Hyve Managed Hosting is a cloud hosting solutions provider based in the United Kingdom. This vendor specialises in the provision of
mission-critical cloud hosting to businesses in the U.K
. as well as several other countries, including France, the United States, Germany, and India. Hyve Managed Hosting began their operations in 1999 and now operates out of an impressive network of 35 data centers worldwide.
Features and Ease of Use
Hyve Managed Hosting has invested a significant portion of their resources to establish powerful data centers worldwide to provide reliable and robust cloud hosting solutions. They've now got centers located in the United Kingdom, the United States, Canada, China, Australia, France, Spain, Italy, Singapore, Japan, Colombia, and Brazil. Essentially, no matter where you or your target audience may be located, they've got a data center that can cover your geographical region.

Hyve Managed Hosting has a number of public, hybrid, and private cloud solutions in addition to dedicated servers and colocation services. Their platforms can even support popular CMSes such as WordPress, Joomla!, Magento, and Drupal, and if you're a developer you can customize a platform specific for hosting your applications. In short, whatever you may need to host, Hyve Managed Hosting can customize a cloud hosting package for you.
This high level of customizability also means they don't have any pre-made packages available, however. You'll have to contact them to get a quotation regardless of how basic your web hosting needs are.
That said, whatever your customized package may be, the standard features you'll get with your package include:
Seamless scalability – As is typical of a cloud hosting platform, you'll get instant scalability of your cloud resources and can respond to any spikes in traffic at the click of a button. This makes your hosting solution extremely cost-effective.
Fully-automated offsite backups – No online business today can survive without a proper backup plan. Hyve Managed Hosting combines proven online and disk technologies to simplify offsite data backups. The company uses Iron Mountain's LiveVault to automatically and continuously backup the data of all the websites they host to achieve uninterrupted business productivity.
High availability on all virtual machines – Hyve Managed Hosting offers a 99.999% uptime SLA with their HPE BladeSystems and HPE 3PAR tiered storage arrays on VMware.
Content Delivery Network (CDN) – Hyve Managed Hosting's CDN provides their customers with the perfect platform for the delivery of both multimedia and static content worldwide.
Intrusion prevention and DDoS defense – Hyve Managed Hosting's solutions include built-in intrusion prevention as well as DDoS defense. This comes free with every package, though the level of protection depends on your business requirements.
Note that Hyve Managed Hosting does not allow their users to send unsolicited emails to more than five recipients. Anything beyond this limit is considered spam. While their efforts to deal with spam are to be celebrated, just five recipients seems a little overzealous and could impede a company's genuine sales and marketing efforts.
Pricing and Support
Hyve Managed Hosting does not indicate the prices of any of their hosting plans. To find out their price range, users have to contact the vendor and request a quote. This is obviously a letdown, especially for business owners who wish to compare several web hosting companies before making a decision. Therefore, while Hyve Managed Hosting markets themselves as a hosting vendor that provides good value for your money, it's not easy to analyze the truthfulness of that claim.
You can contact the Hyve Managed Hosting support team via the website's live chat, their U.K. or U.S.-based telephone hotline, email, support tickets, or their contact form. They also have physical offices in the U.K. and U.S. that you can visit.
The company has an extremely detailed knowledge base covering pretty much every topic past users have brought up, in line with their "extra mile" support culture that goes above and beyond to serve every customer. Their ticketing system is also incredibly efficient, quickly processing every customer request regardless of the time of day. I opened a ticket late at night (London time) and was amazed by their fast response. In just under 30 minutes, I got a comprehensive answer and step-by-step guidance for all of my questions.
How much does Hyve Managed Hosting cost?
Hyve Managed Hosting offers multiple plans priced highest to lowest. The price depends on which type of hosting plan you choose. You can see the updated pricing table (updated weekly) below.

Which Hyve Managed Hosting plan should I get?
My recommendation is to start with a cheaper plan. You can always upgrade later on. Hyve Managed Hosting can help you with the migration to a more expensive plan. The increase in visitors many times takes longer than expected and you shouldn't pay a lot of money until the need arises. Of course, your needs may vary, and you can consult with a hosting expert from Hyve Managed Hosting
here
.
How good is Hyve Managed Hosting's customer support?
Hyve Managed Hosting is not ranked as one of our top web hosts. But that can also be a result of Hyve Managed Hosting being a small, under the radar, hosting provider. There are advantages to a small hosting company – as a customer, you are more important to them. You can also check out our comparison of the
most popular web hosting services here
.